You are adventurer in your soul. You must see what lies over the next ridge. You bathe in the rivers and sleep under the stars and rise again with the new morn. Hearthstone is your beard scent.
THE IDEA
When we begin imagineering a new product, the first thing we must conjure to mind is a place, and how one would feel in that place, and the scents floating on the air there.

Then we turn to our fantasy artist client friend Brian Busch to illustrate it, this time telling him a tale of a doomed journey though, shoot, just draw Yosemite Valley with a light somewhere.

For a autumntime beard line like what would become Hearthstone beard oil, balm and wax, we dreamed of the bleak late days of the year, when the land is crisp and dry and settling down to sleep, and the only scents of comfort and warmth come from home and hearth.
THE SCENT
To create the deep, delicious, familiar scent we were after, we first turned to pipe-reminiscent Tobacco Leaf, Clove Bud, and Beeswax, all hammering away at one's sense memory.

To conjure deep and ancient woods and ruins of unknowable beings we chose precious Fossilized Amber, earthy, rare Agarwood, also known as Oud, and resinous, mysterious Myrrh.

And finally, to get the mouth watering, we layered rich Coffee Bean, darkly juicy Blood Orange, Bergamot to summon a wisp of Earl Grey tea, spicy sharp Black Pepper to cut the sweetness, and just the tiniest touch of Caraway, hardly noticeable, but enough to put the comforting idea of freshly baked bread somewhere in the back of one's mind.

THE FORMULA
Our beard goods may smell spectacular, but they wouldn't be as popular as they are without base formulas that do what they're supposed to do: make your face AND beard hair soft, supple and controllable.

With protective barrier oils like *Castor and Avocado, fast absorbing oils like *Grapeseed and Sunflower, nutrient-packed oils like Hemp, Borage, and Vitamin E, as well as luxurious liquid silk-like Oat oil, these formulas are carefully engineered by barbers to give your beard just what it needs.

*present in balms and waxes, as well as beard oils

THE MYTH
Sometimes the photo shoots come first, sometimes the mythology comes first, but as they are made, each product takes its place as a location on our map of the Realm of Beardsgaard.

Being big old fantasy nerds, we write a mythological story centered on that location, which also enters our Dungeon & Dragons world in which we game (find BeardsgaardBarbers on Twitch!)

And most fun of all, we take clients, locals and friends out into nature, dress them up in costumes and shoot them. With camera, to create the characters and scenes of products just like...Hearthstone.

You would be forgiven for not knowing this 100 year old grotto was in the woods behind the government center behind the train station, but be known, if you deface it like so many dickheads do, the forest fae WILL curse your fun parts to fall off. You have been warned.
Beard Oil
Beard Balm
Beard Wax

THE SCENT INSPIRATION
Night settles across the wilds, untouched by man for eons. Centered in a glade of crumbling ruins rests a stone of eternal flame that smolders with scents of comfort, familiar and perhaps eternal.

NATURAL PERFUMERY
River Peak Apothecary products are formulated with the tenets of perfumery in mind, their scents imparted with natural ingredients like essential oils, CO2 extractions and select Absolutes.

This one is for crisp, dry evenings when the mind wanders to home and hearth
TOP NOTES
Blood Orange
Bergamot
Black Pepper



MIDDLE NOTES
Clove Bud
Beeswax
Caraway



BASE NOTES
Tobacco
Coffee Bean
Myrrh
Agarwood
Fossilized Amber

FOR MOISTURE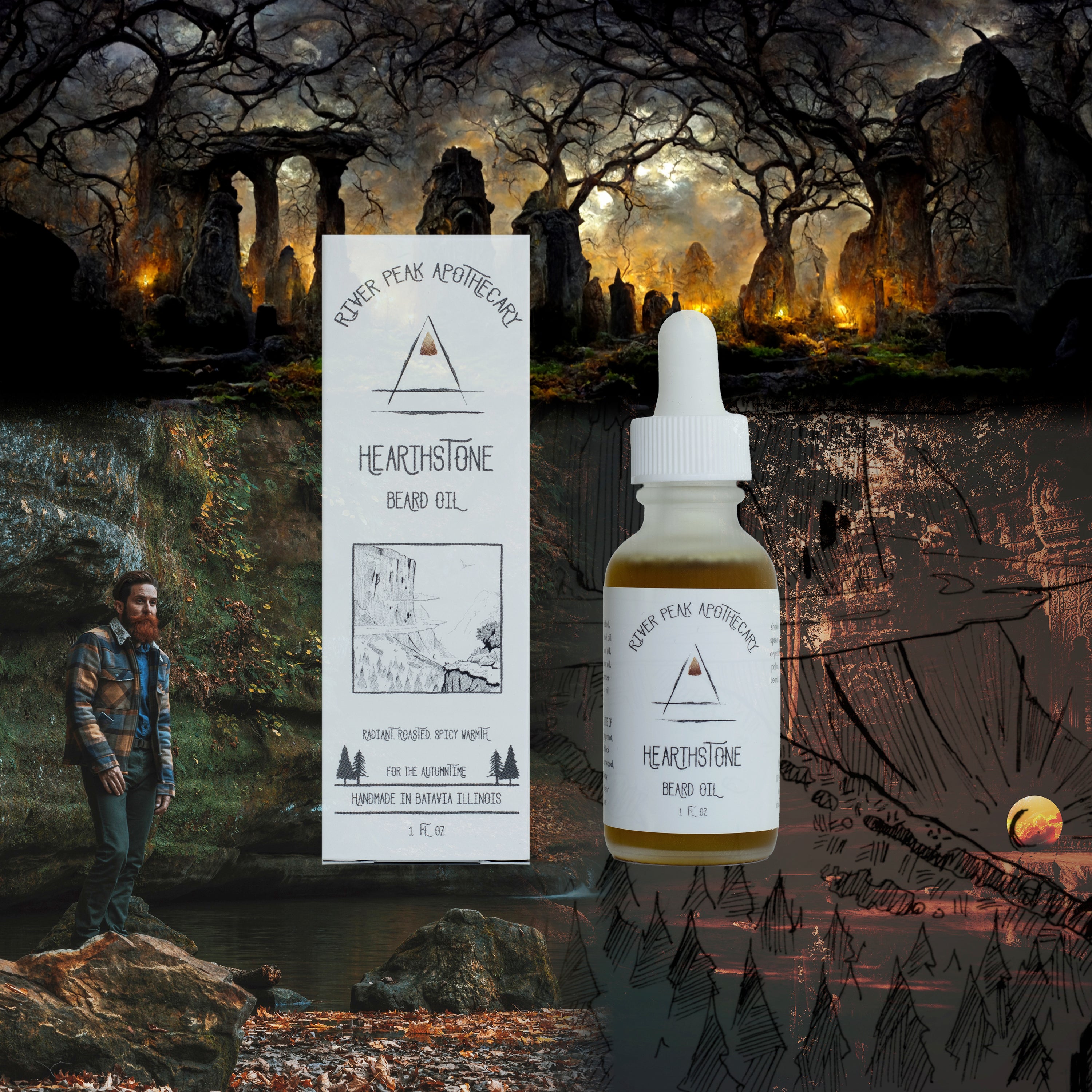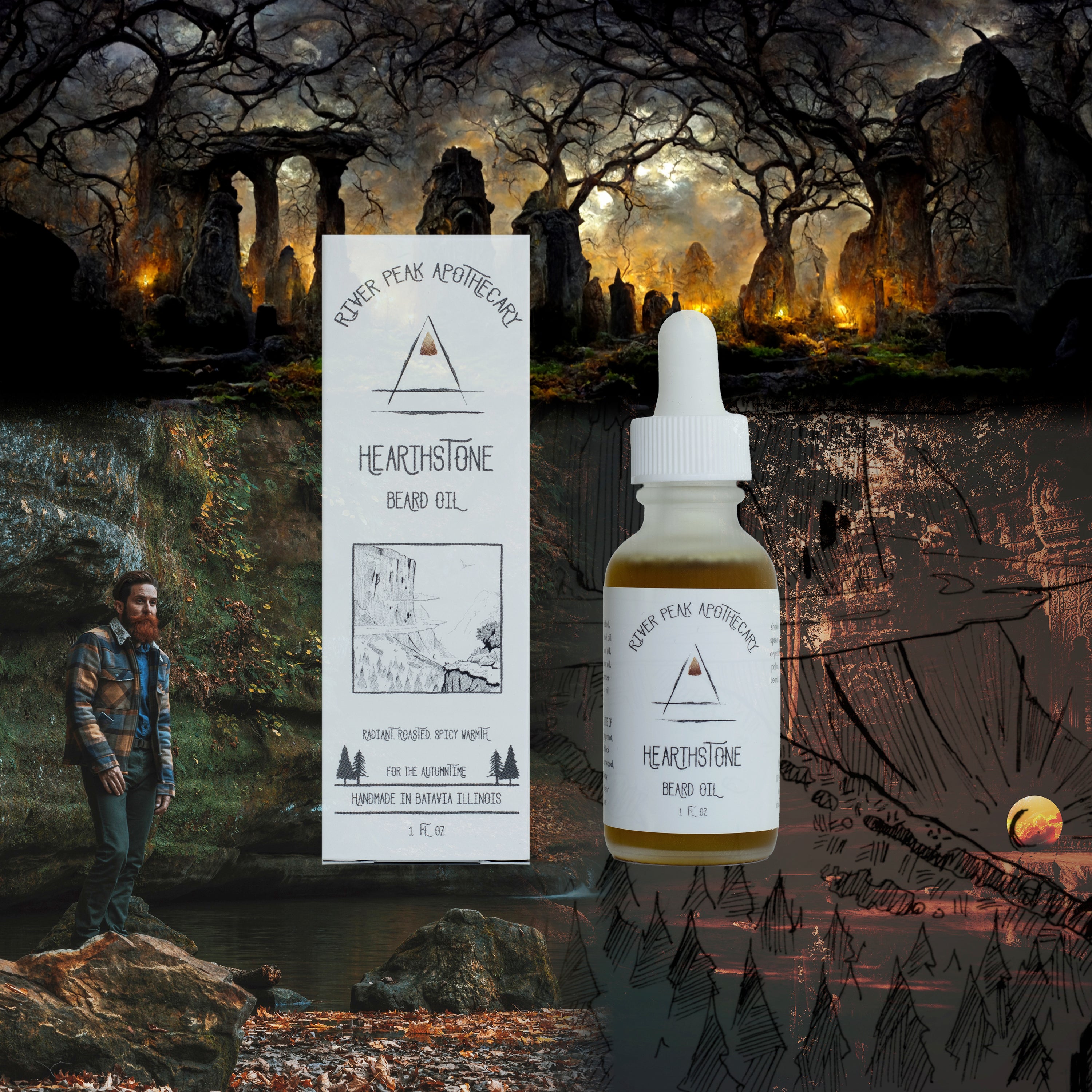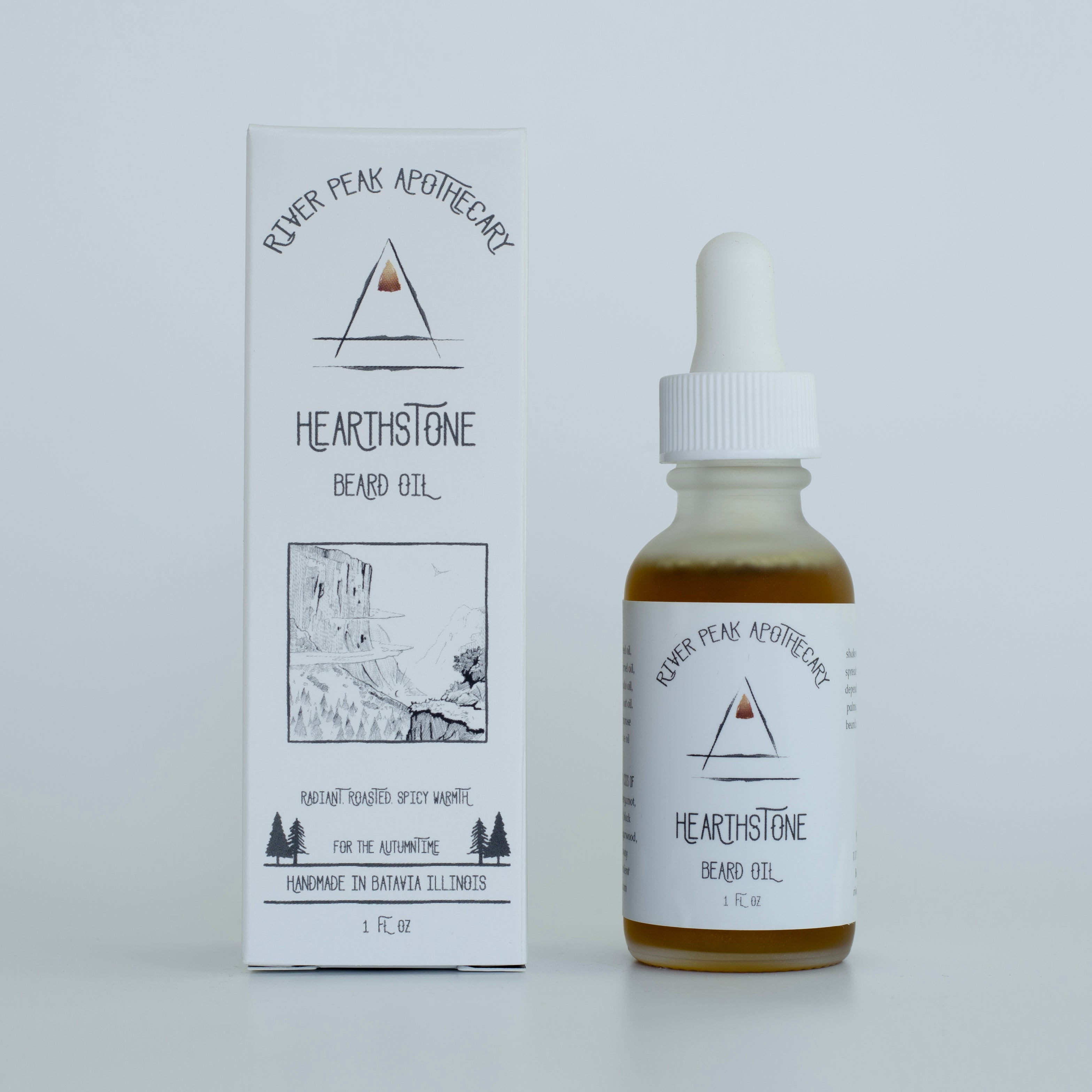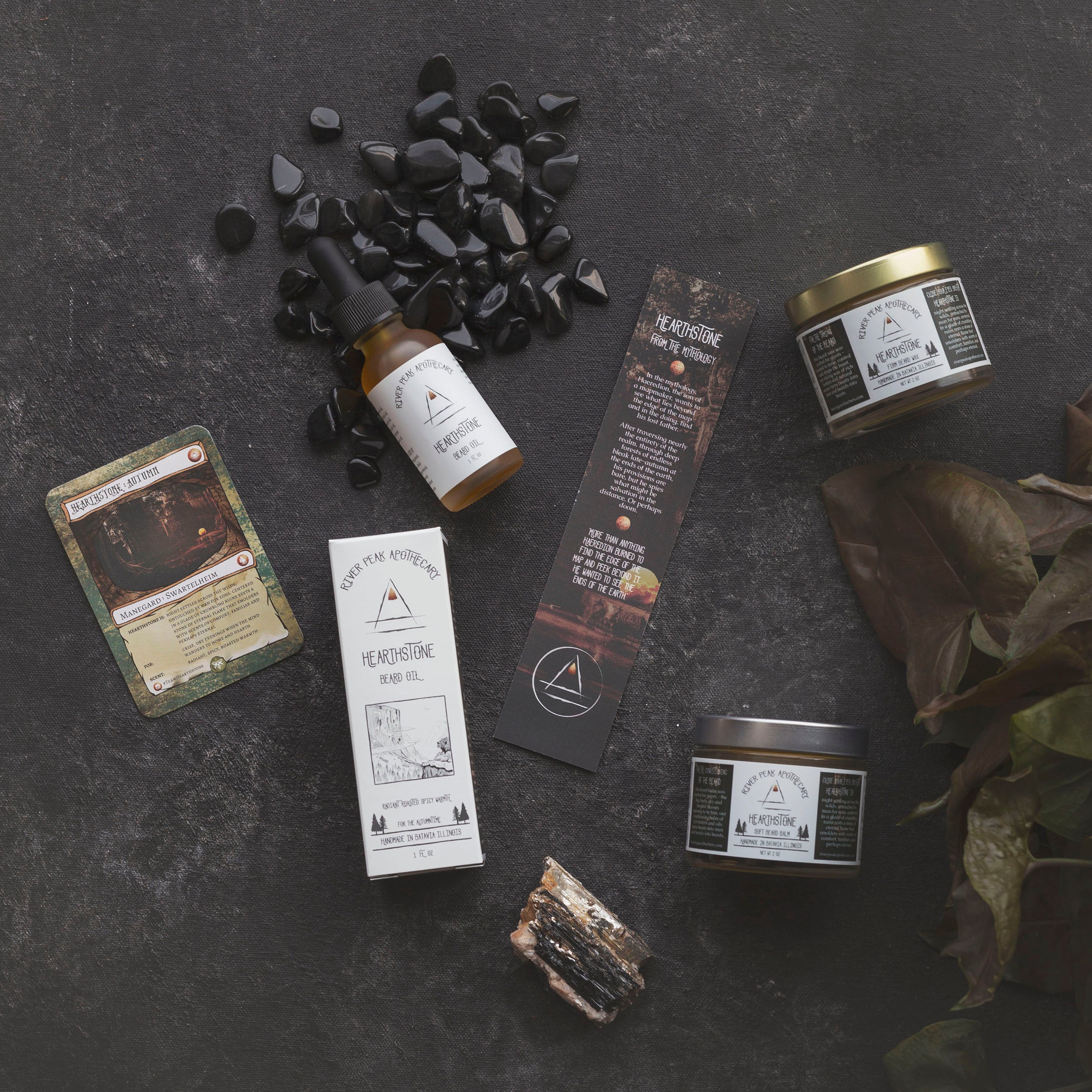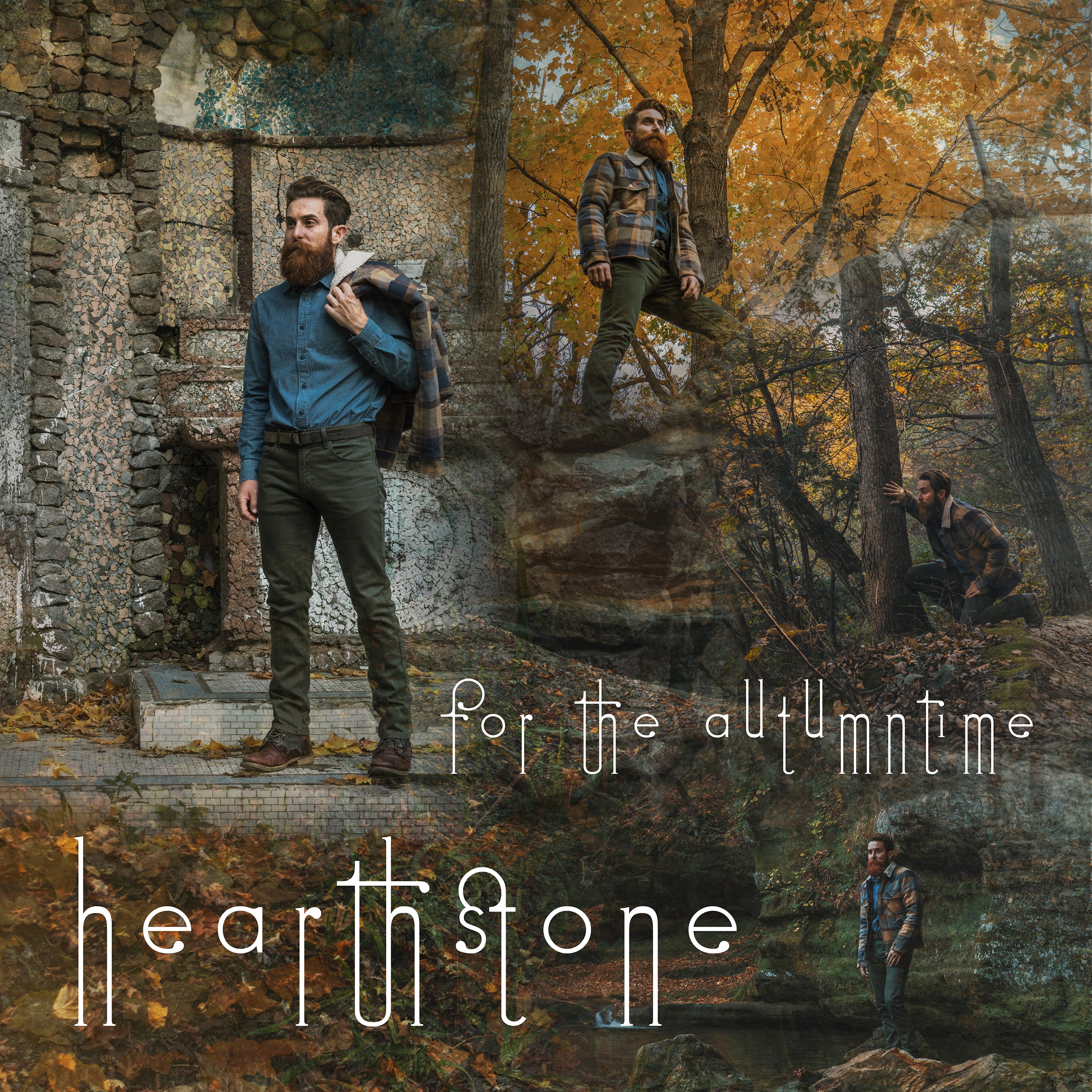 Hearthstone Beard Oil • Autumn
$ 26.00
FOR BOTH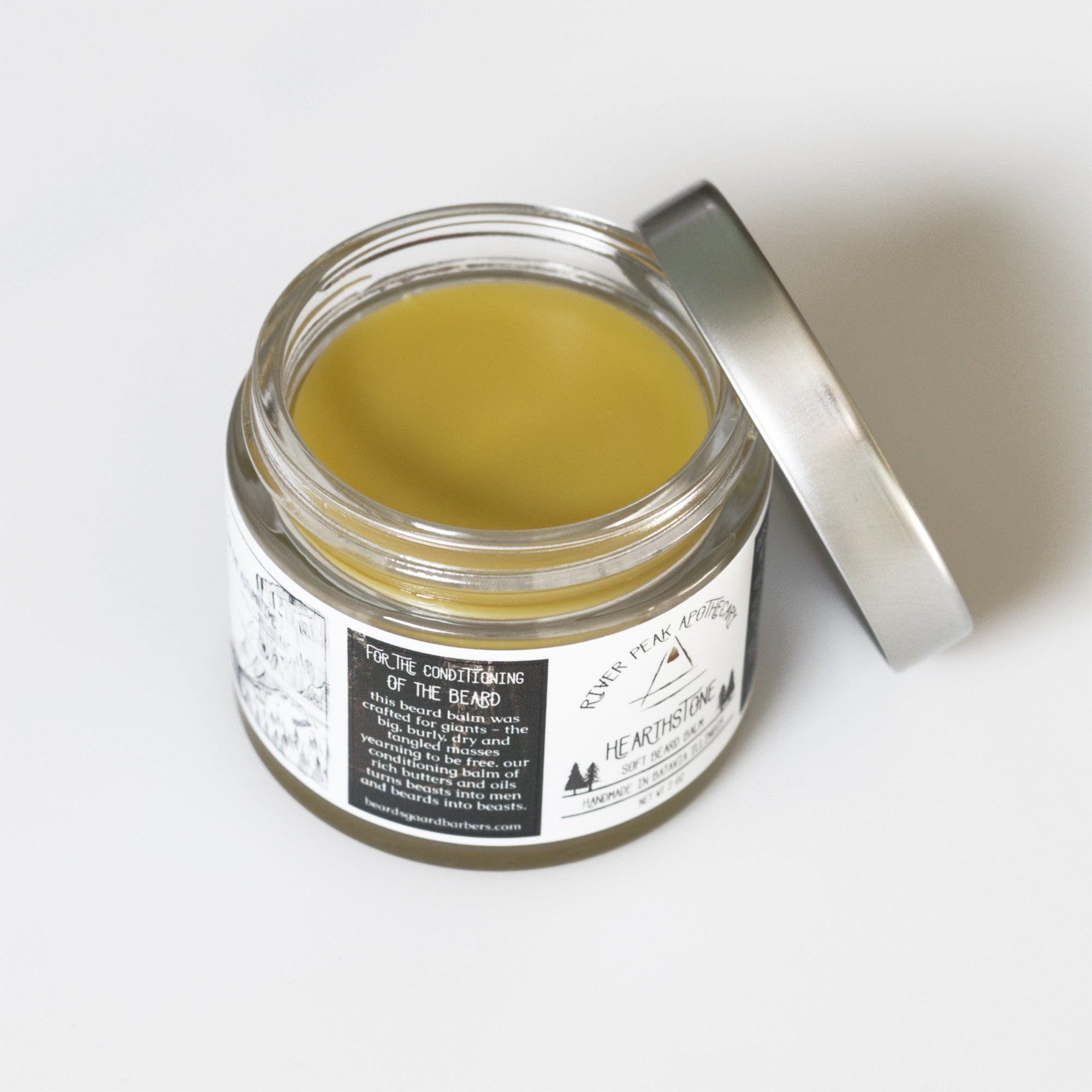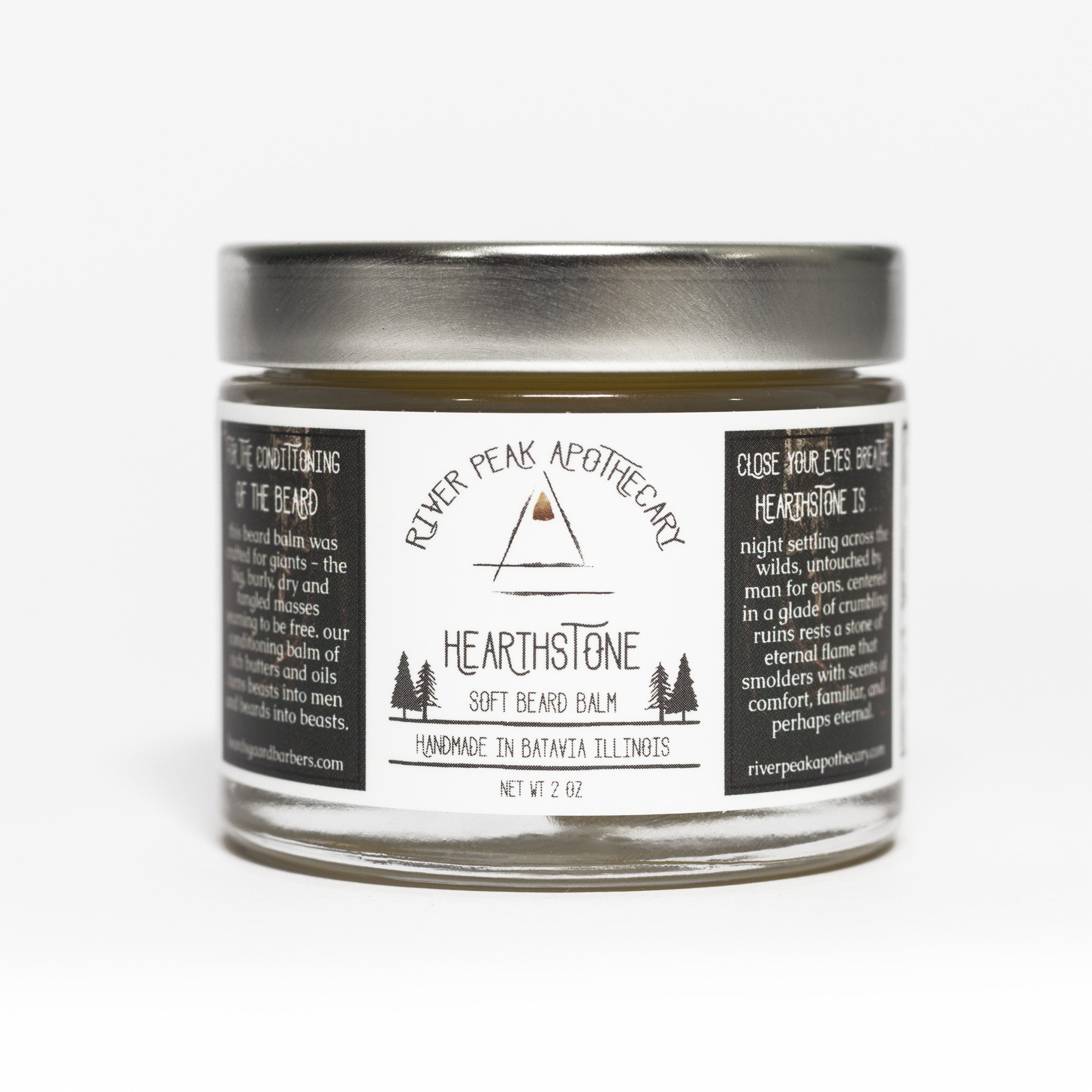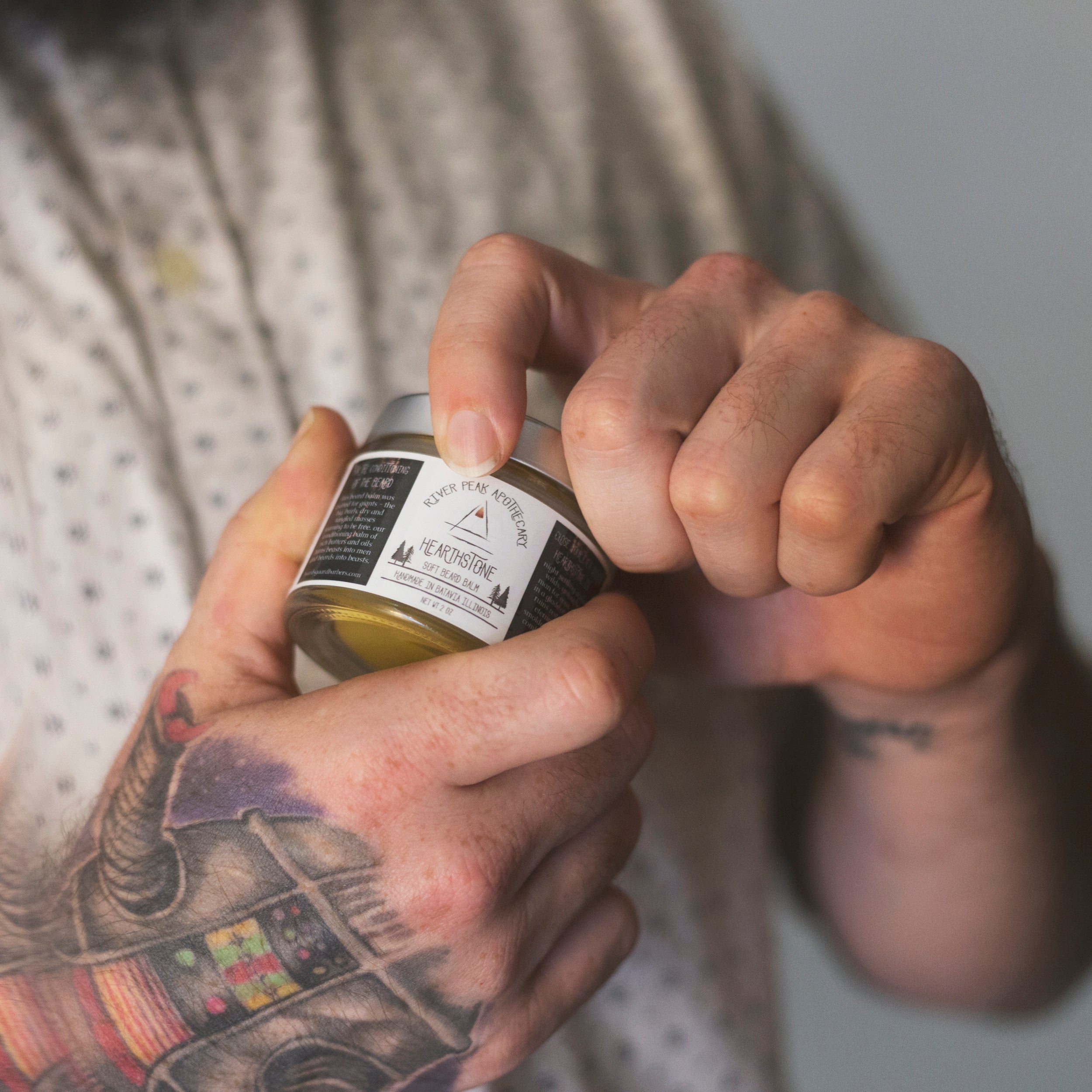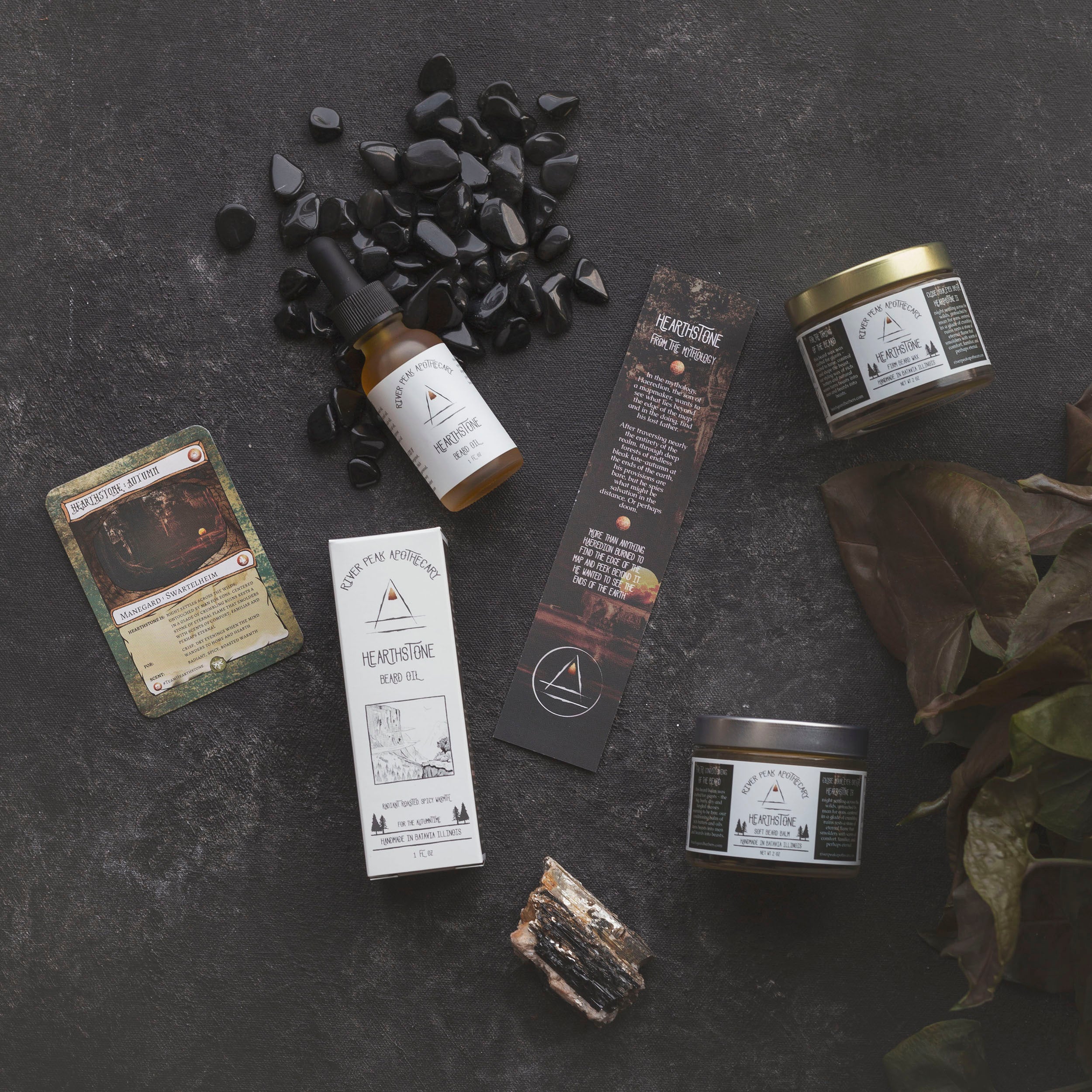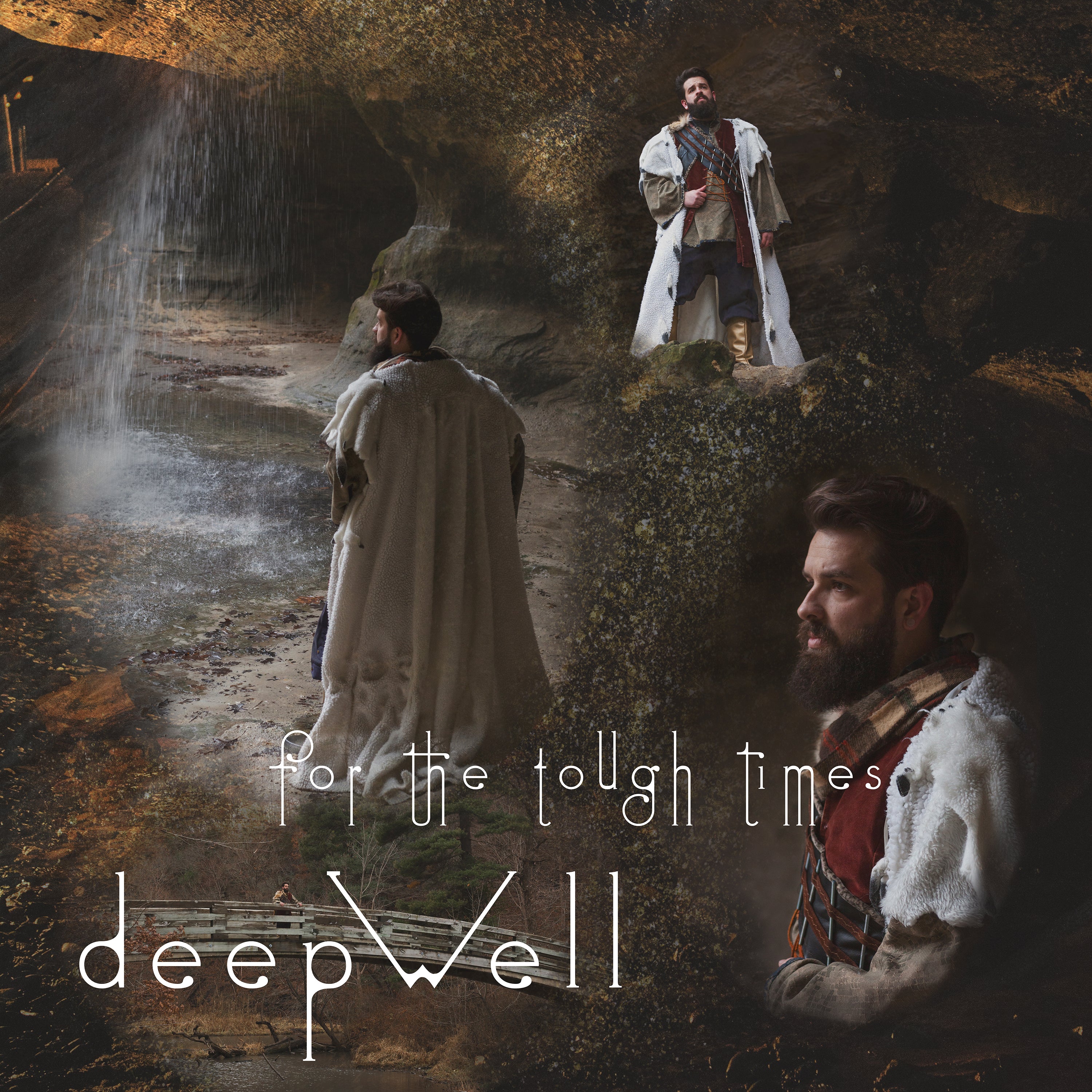 Hearthstone Beard Balm • Autumn
$ 30.00
FOR CONTROL
FOR INDECISION
THE FACE • THE HAIR • THE MODEL
What happens when you take decide to illustrate the first part of the epic fantasy story in a vast mythological universe that currently exists only in your head with a real client out in nature for the first time? The start of what would become an obsession and part of our life's work.

We have often joked that we started two businesses to have the excuse to run around in the woods in costumes with camera, buuut, it's only so much a joke.

This is pretty much our favorite part of work, and despite the mud and bugs and sweat and occasional poison ivy, we can't get enough of it.
Locations: Gunnar Anderson Forest Preserve • Geneva, Illinois
& Starved Rock State Park • Oglesby, Illinois
Being our first photo shoot with just Blademaiden and our model Dan, we had no behind the scenes photos from this shoot, just other visits to this local gem of a State Park. Not pictured, a nip of good whiskey to share when we got to the waterfall at the end of the long trail.
One of our founders grew up deeply obsessed with Tolkien, and fantasy in general, so the fact that this business is set in a fully mapped fantasy Realm shouldn't be much of a surprise. The fact that said Realm has its own World Anvil might be.
Of course it doesn't end there. It's said that there are no happy endings, because nothing ends. With over 5000 years of history and bloodlines and mythology, we may never run out of stories to tell. Because you may come for the beard oils and scrubs and lip butters and whathaveyou, but you keep coming back for the epic tales of wizards and elves and god-powered, power hungry gerbils.

And three jars of beard butter at a time, because y'all are maniacs.
This is a taste one of those stories...
In the mythology, Haeredion is the son of a mapmaker in the early days of the Realm, living an idyllic life in Midgard. But his father doesn't come back from one of his expeditions, and his son begins a journey to follow in his footsteps.

And indeed he does, traveling through the Day Elf lands of Alfheim and into the barren Night Elf kingdom of Svartalfheim, where the water no longer flows and plants no longer grow. Vast and wild, it is also empty, at least to human eyes.

But nearing the end of his endurance, he finds hope in a light in the distance, and stumbles upon ruins where he finds the source of hope he seeks. Is it a sign of his missing father? Something entirely else? Nothing at all? Haeredion will never tell.

With all that detail and lore poured into one season of JUST beard products, you can imagine how much care we put into researching, formulating and making them.

There are far more product launches and lore to come, so be sure to follow along on Facebook, Instagram, YouTube, and now TikTok, sign up for our newsletter at the bottom of the page. We're so glad to have you in the fellowship, fair frand.
FOLLOW US IN THE WEBS OF INTER