You are wizard in your soul. You stroll alone through deep, ancient forests. You have only turned a few insolent fools into frogs. You prefer cloaks to coats. Frostwood is your beard scent.
THE IDEA
When we begin imagineering a new product, the first thing we must conjure to mind is a place, and how one would feel in that place, and the scents floating on the air there.

Then we turn to our fantasy artist client friend Brian Busch to illustrate it, this time telling him an incredibly convoluted story involving 1000 years of bloodlines that led to the creation of the character he himself was to play, for photoshoot purposes.

For a wintertime beard line like what would become Frostwood beard oil, balm and wax, we dreamed of ancient frosty forests in the land of always winter.

THE SCENT
To create this stroll through a deep and ancient hoarfrost-dusted forest, we first turned to Oakmoss, which smells of literally that, overlaid by snow laden crisp Balsam Fir and Black Spruce needles.

To conjure the mythical Ironwood trees we chose Atlas Cedarwood, with Cypress Leaf playing the ice in the upper branches.

On the ground, Vetiver is the permafrosted earth, and Blue Yarrow the winter herbs that grow in the land beyond the Wall of Winds.

THE FORMULA
Our beard goods may smell spectacular, but they wouldn't be as popular as they are without base formulas that do what they're supposed to do: make your face AND beard hair soft, supple and controllable.

With protective barrier oils like *Castor and Avocado, fast absorbing oils like *Grapeseed and Sunflower, nutrient-packed oils like Hemp, Borage, and Vitamin E, as well as luxurious liquid silk-like Oat oil, these formulas are carefully engineered by barbers to give your beard just what it needs.

*present in balms and waxes, as well as beard oils

THE MYTH
Sometimes the photo shoots come first, sometimes the mythology comes first, but as they are made, each product takes its place as a location on our map of the Realm of Beardsgaard.

Being big old fantasy nerds, we write a mythological story centered on that location, which also enters our Dungeon & Dragons world in which we game (find BeardsgaardBarbers on Twitch!)

And most fun of all, we take clients, locals and friends out into nature, dress them up in costumes and shoot them. With camera, to create the characters and scenes of products just like...Frostwood.

This photo was taken within a week of the images for our spring and summer beard oils, all on the island of Maui. It's hard to believe this was taken halfway up a volcano on a tropical island, but Hawaii has surprises galore if you head off the beaten path.
Beard Oil
Beard Balm
Beard Wax

THE SCENT INSPIRATION
Translucent frosted firs above and a crisp blanket of nettles below, breath and wind and the crack of bending ice are all that stir in the lengthening shadows of the living ancient wood.

NATURAL PERFUMERY
River Peak Apothecary products are formulated with the tenets of perfumery in mind, their scents imparted with natural ingredients like essential oils, CO2 extractions and select Absolutes.

This one is for pristine, icy days in the deep woods under endless slate grey skies
MIDDLE NOTES
Balsam Fir
Blue Yarrow
Cypress Leaf

BASE NOTES
Vetiver
Oakmoss
Atlas Cedarwood

FOR MOISTURE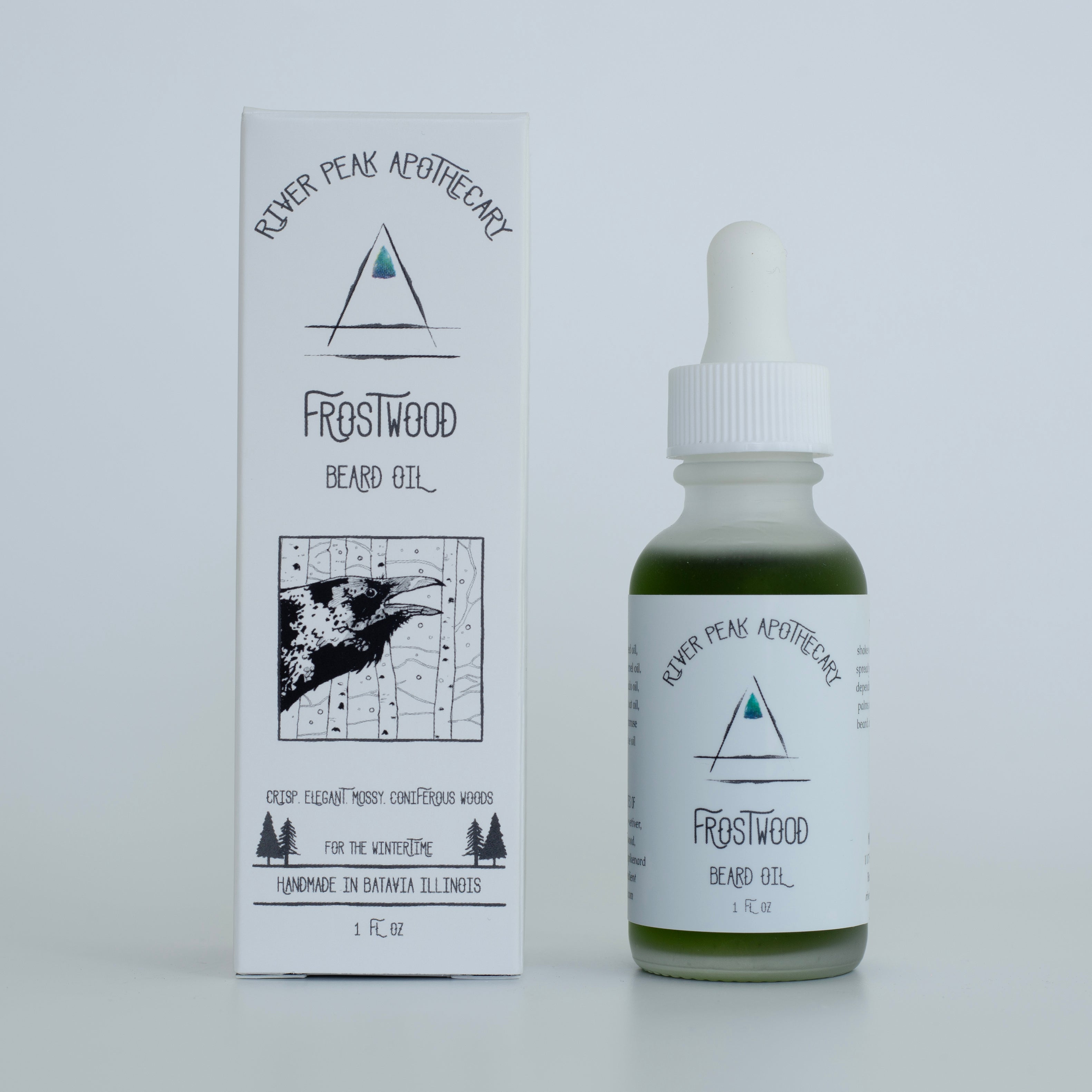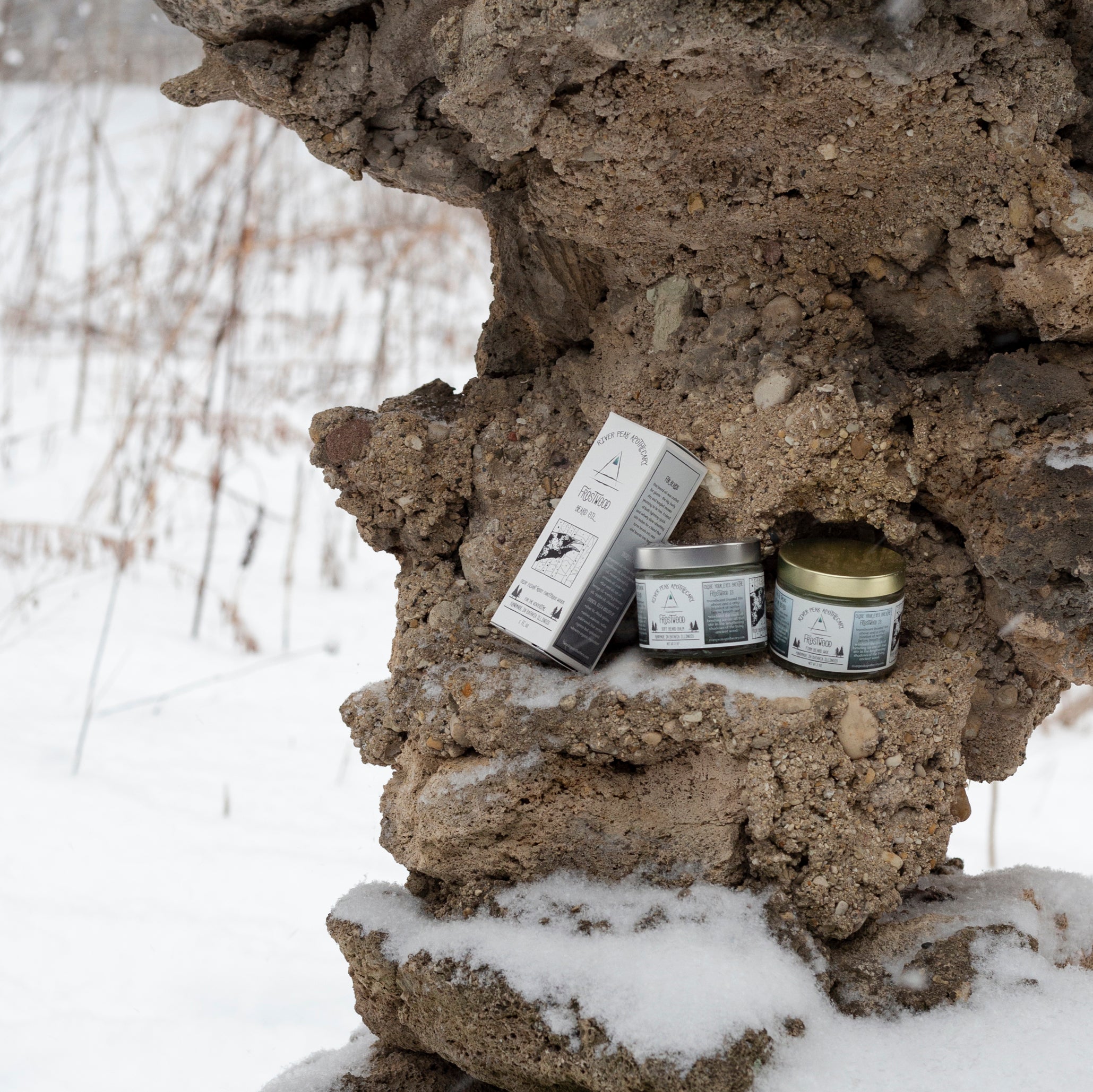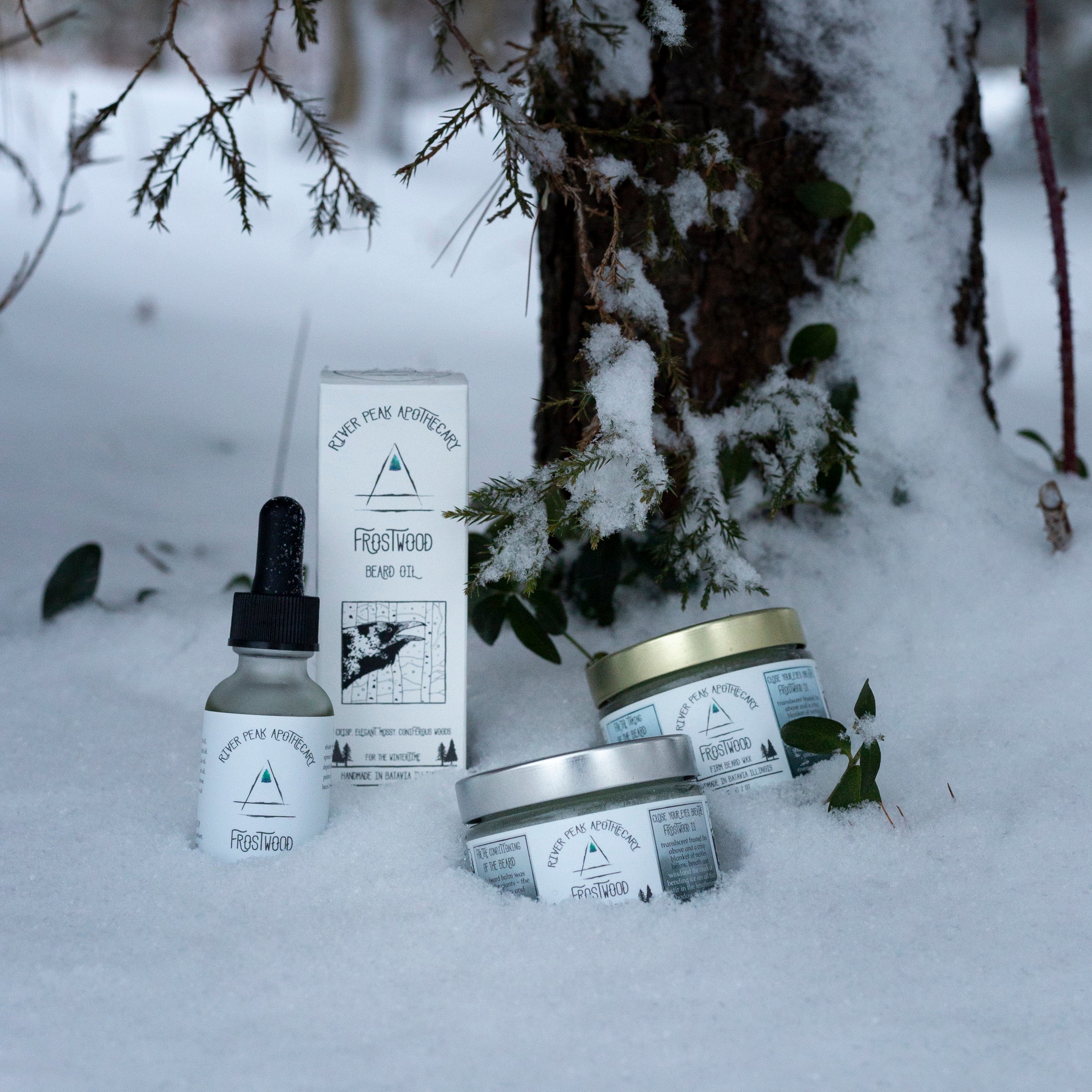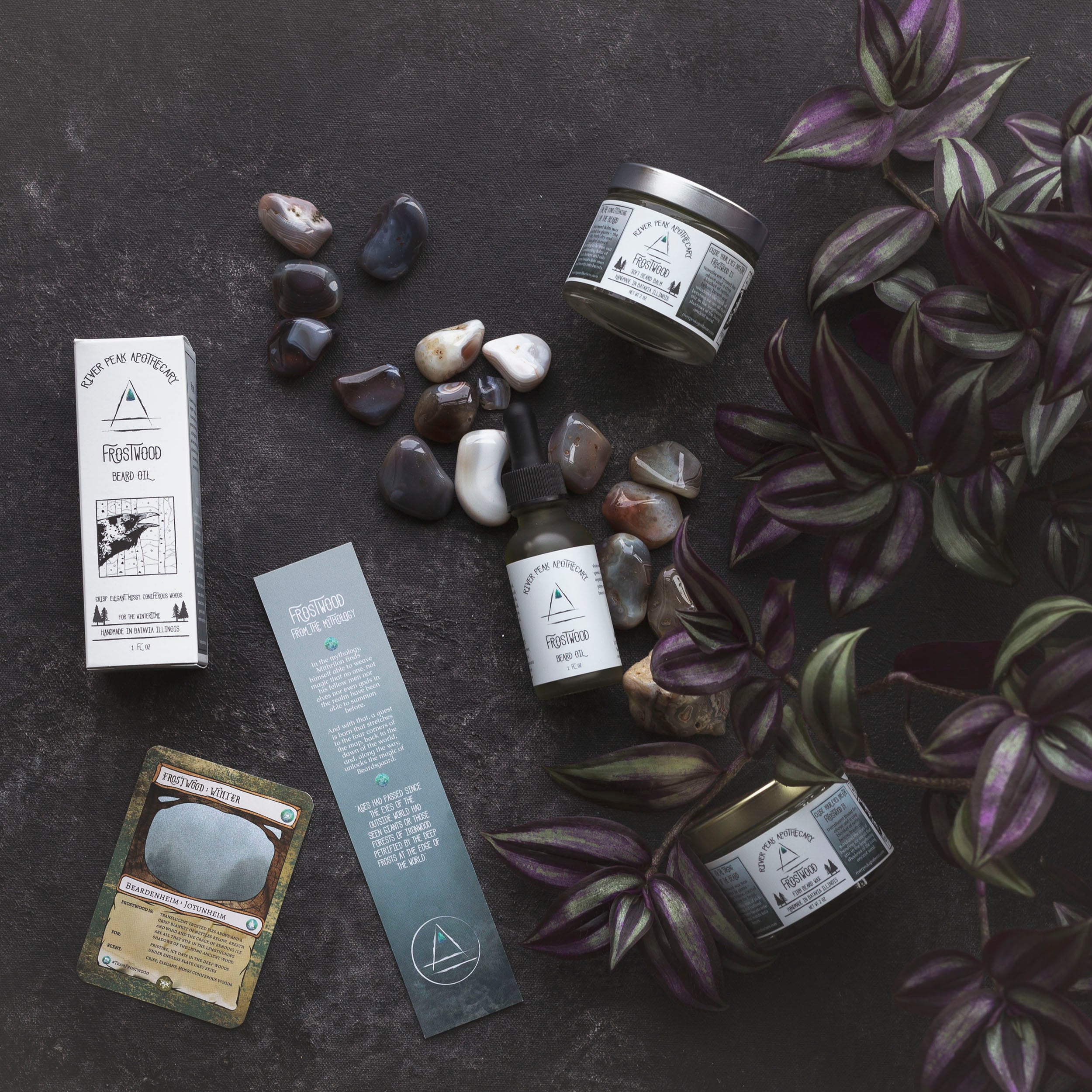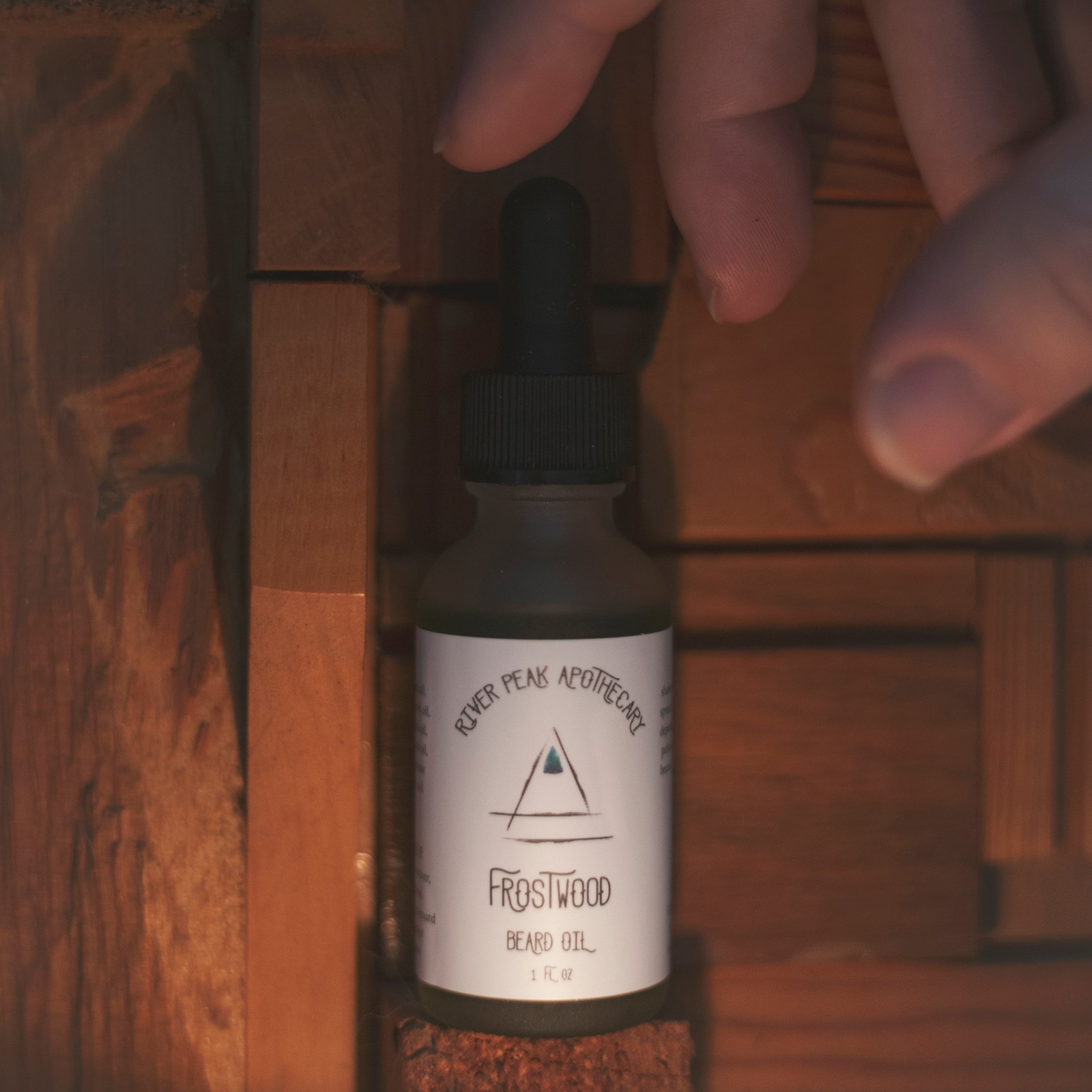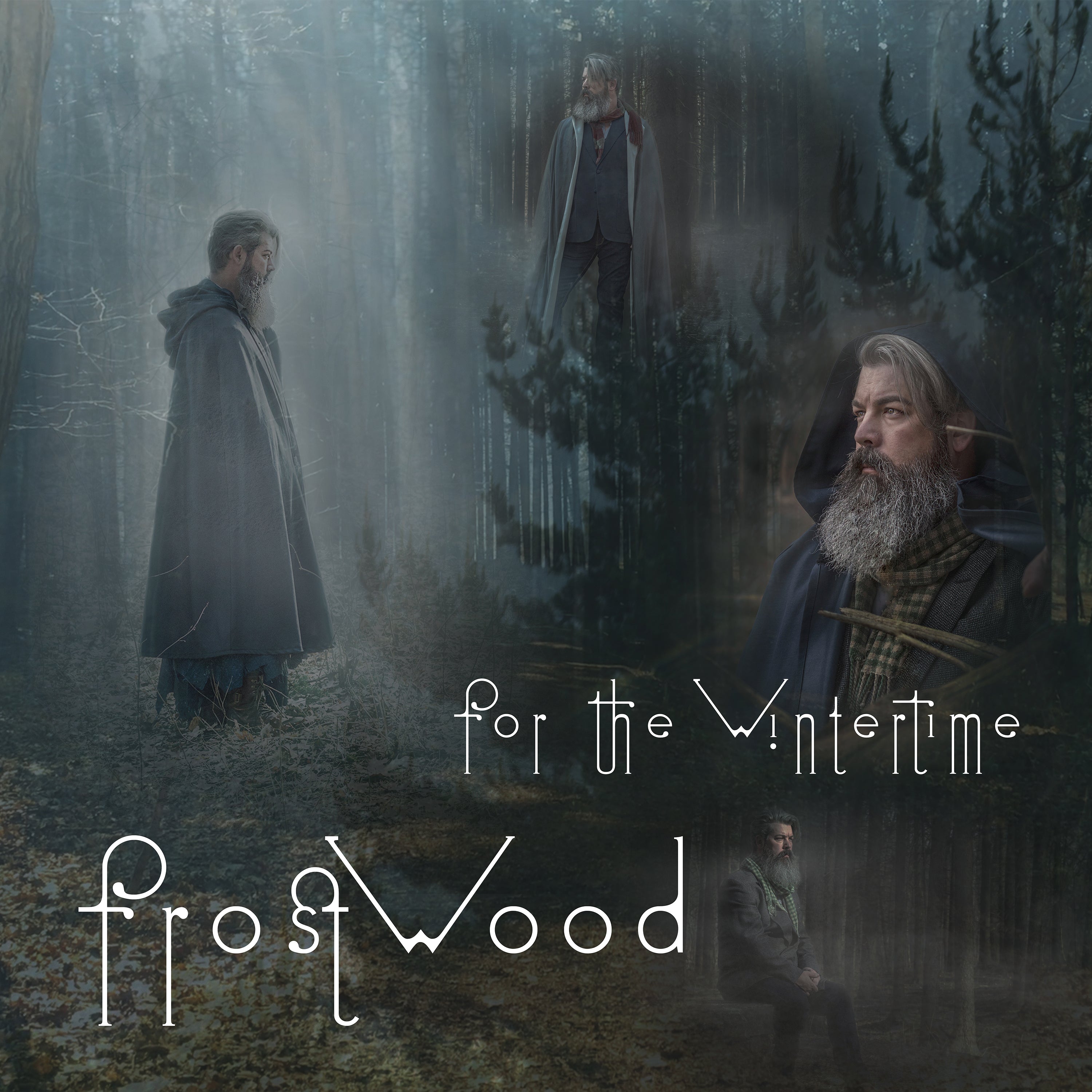 Frostwood Beard Oil • Winter
$ 26.00
FOR BOTH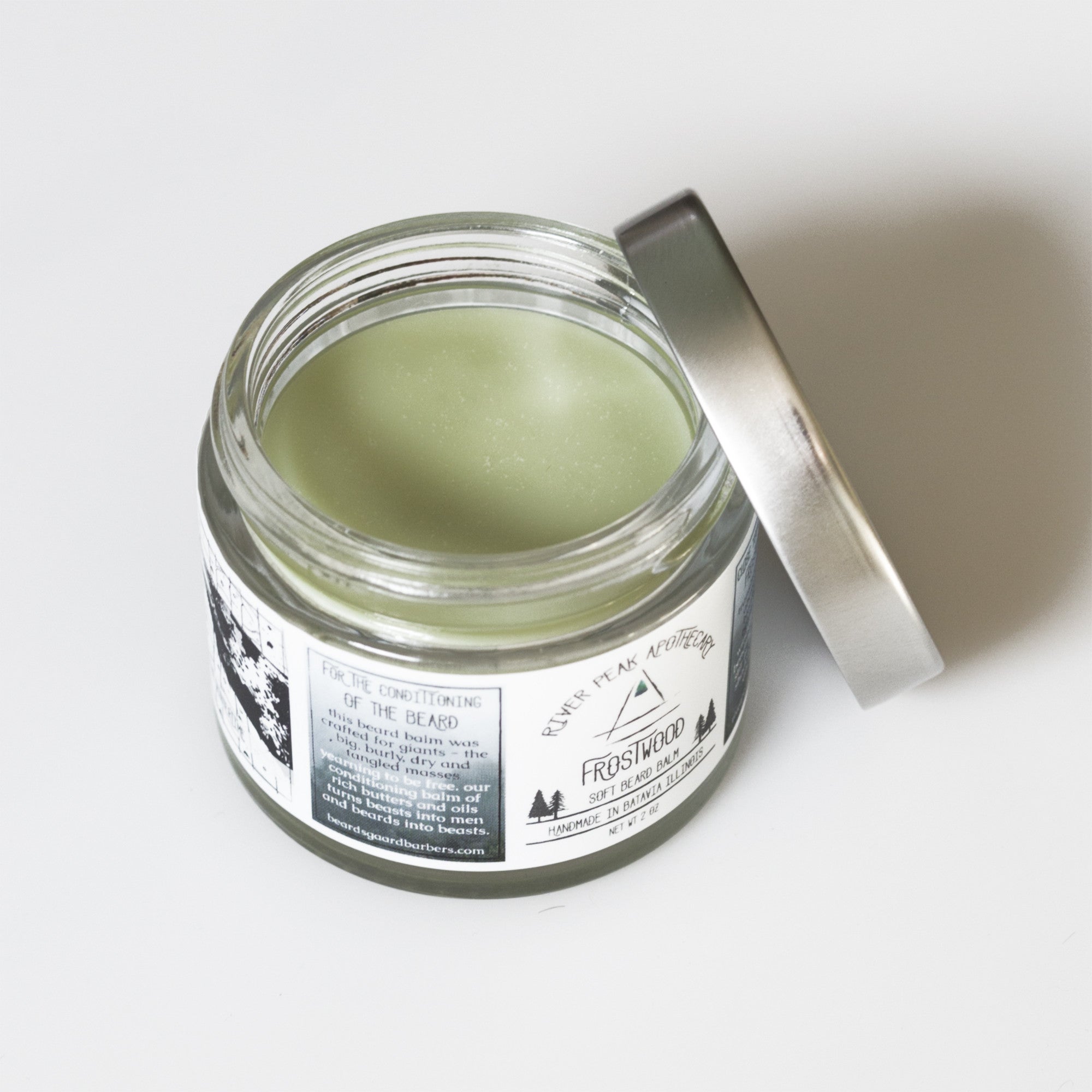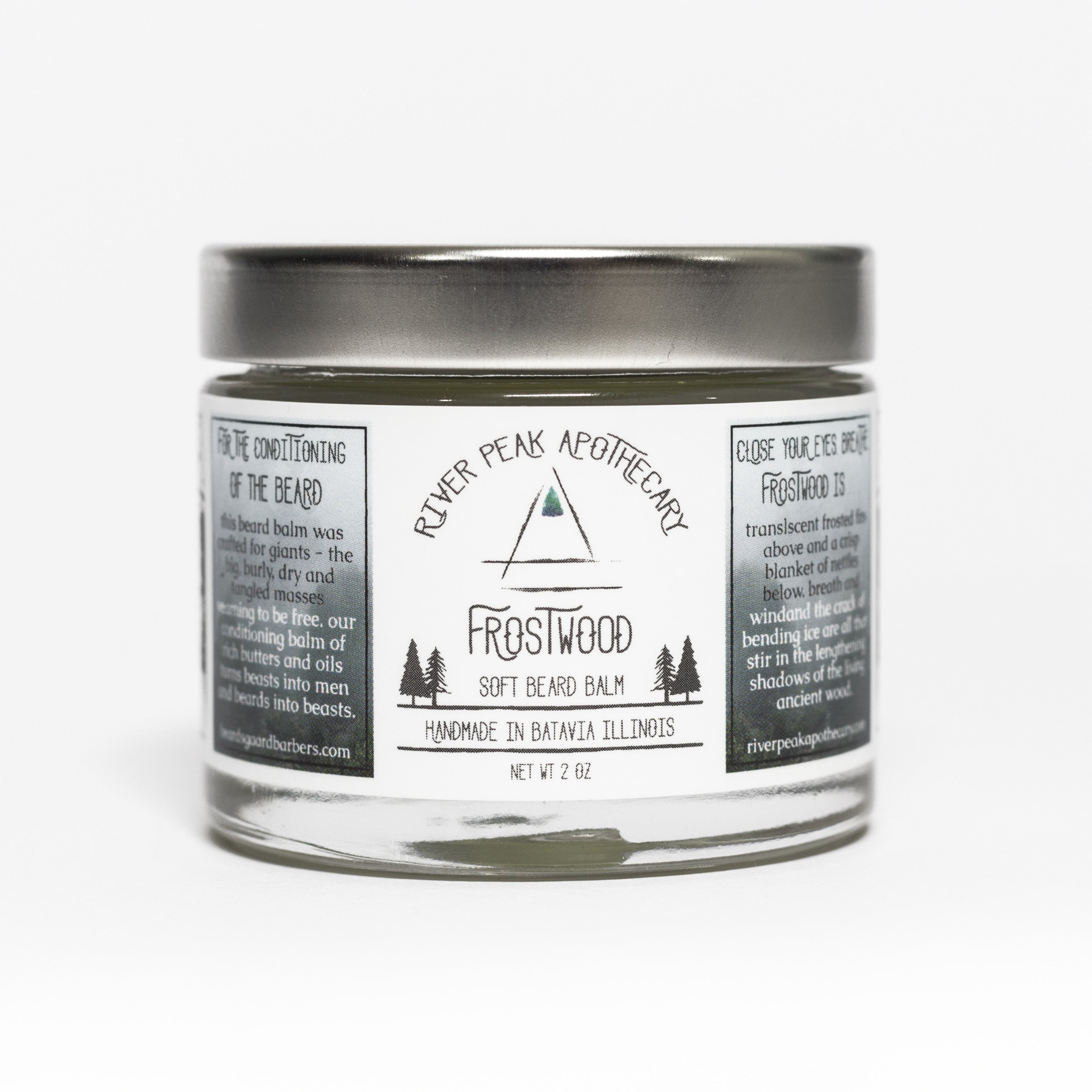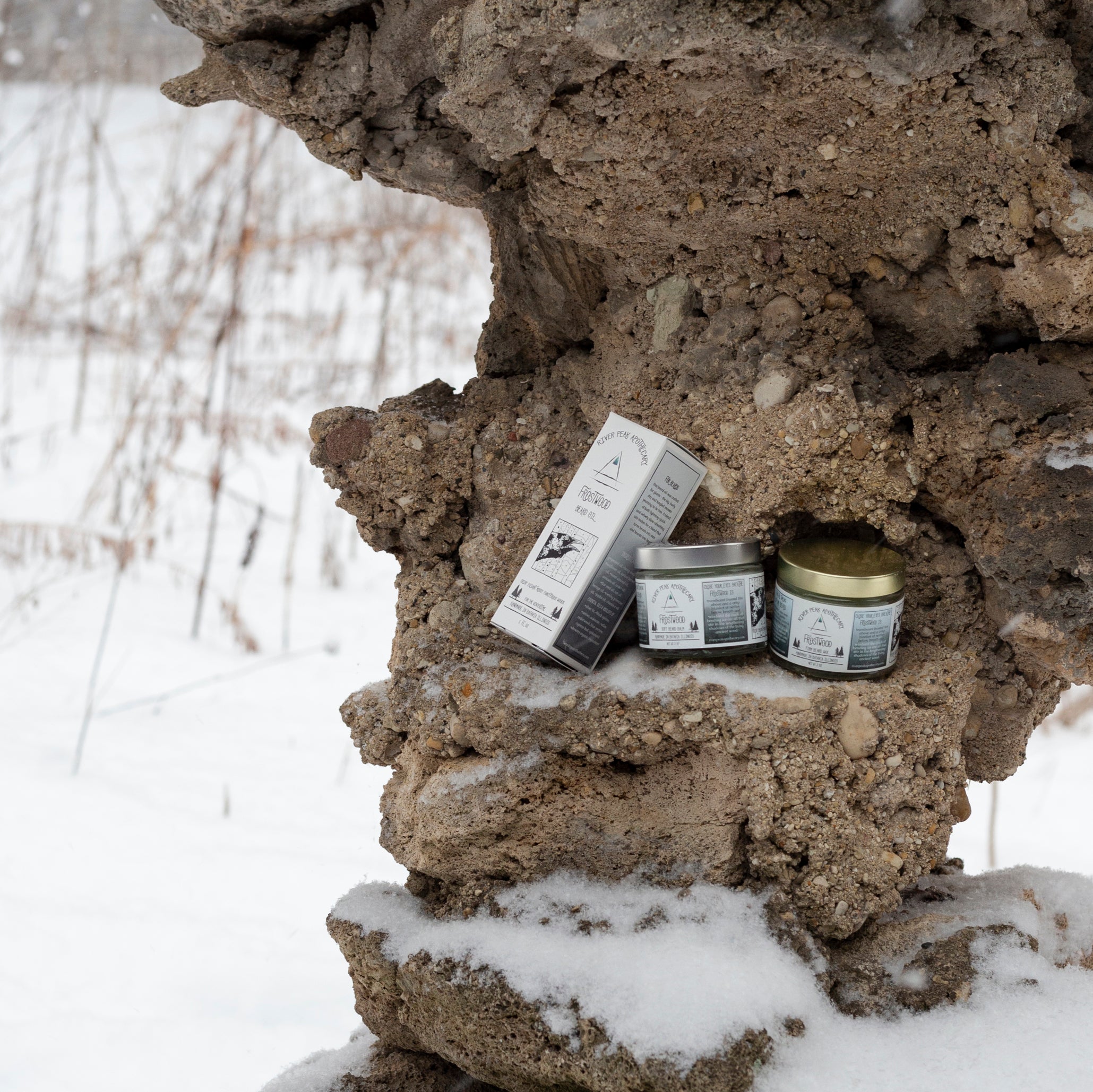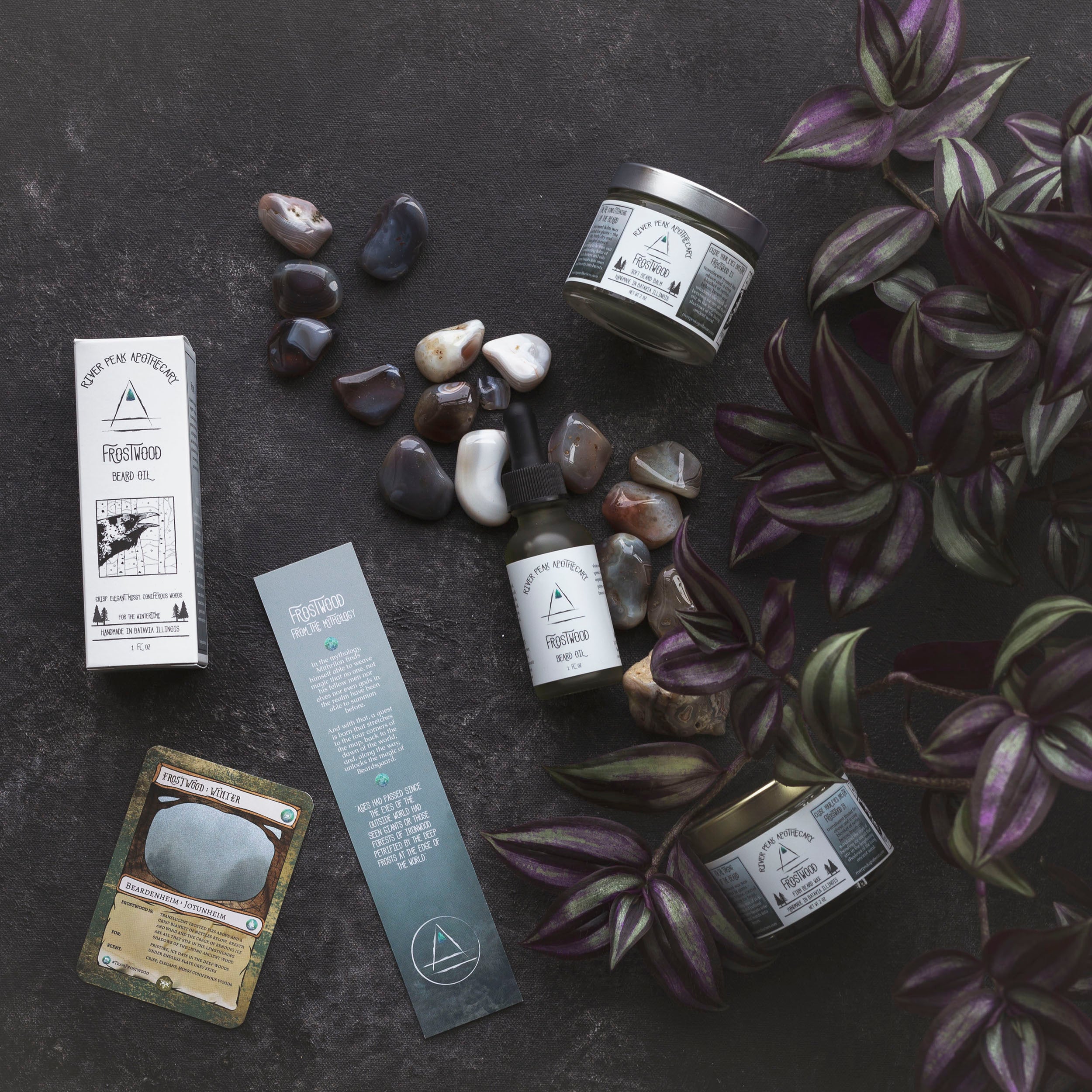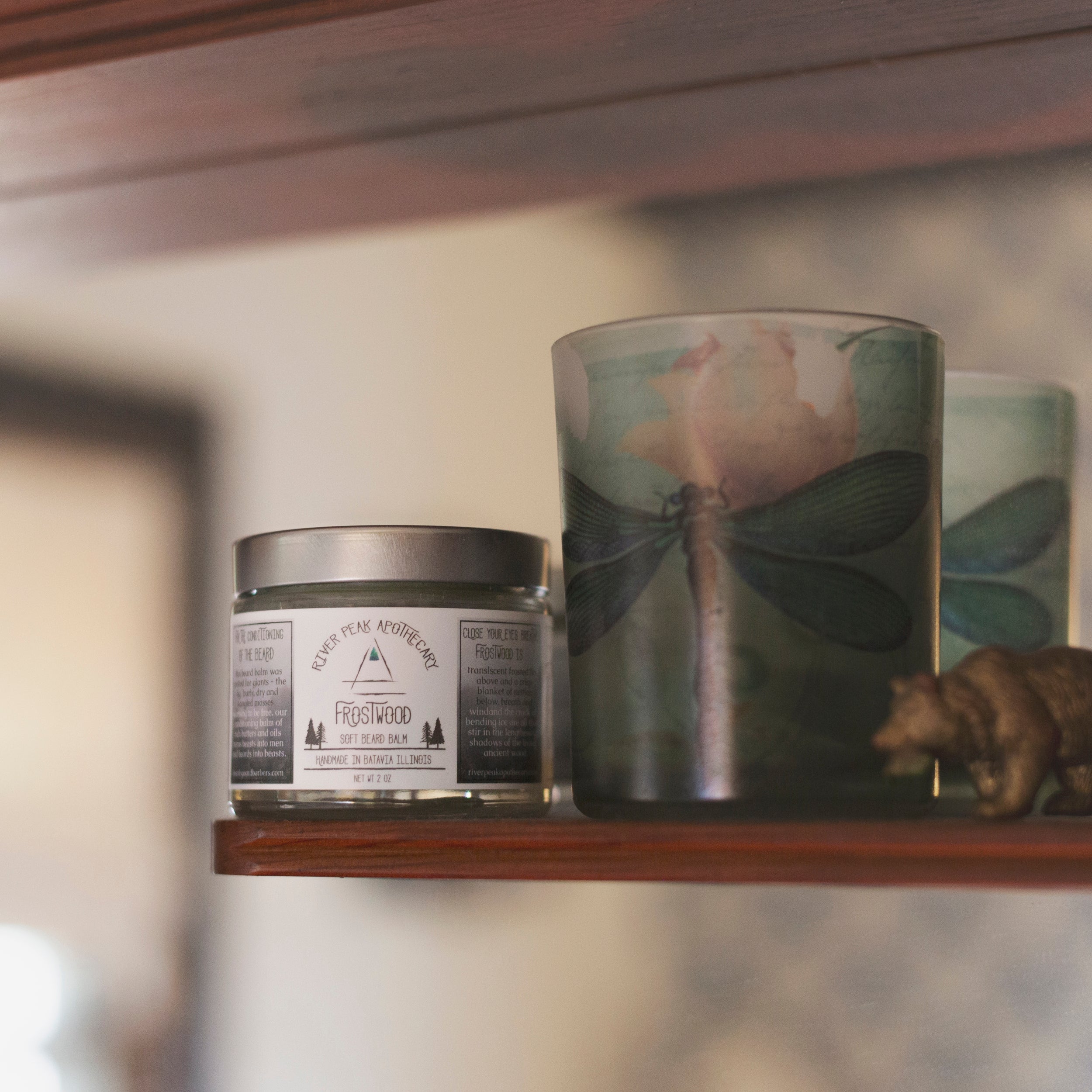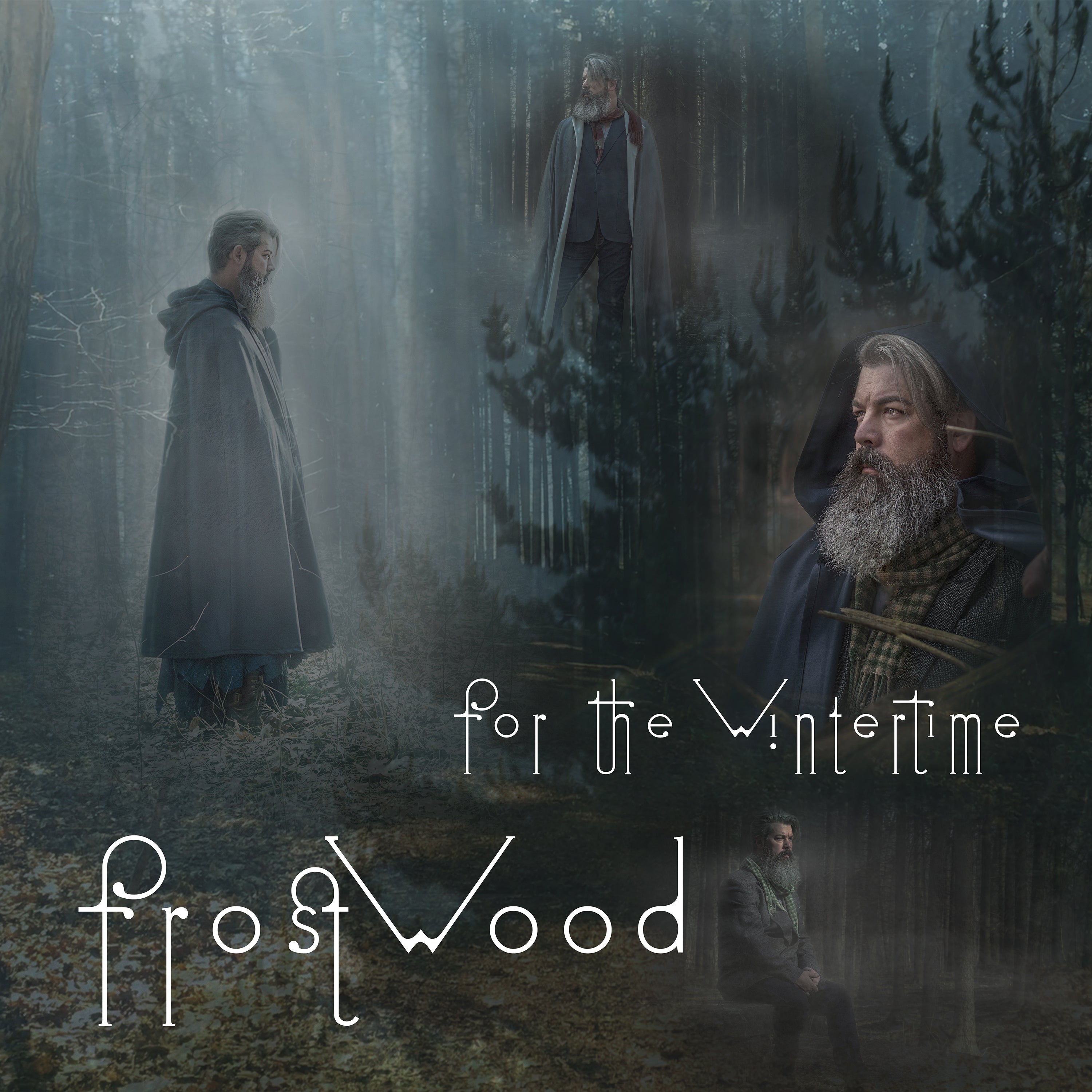 Frostwood Beard Balm • Winter
$ 30.00
FOR CONTROL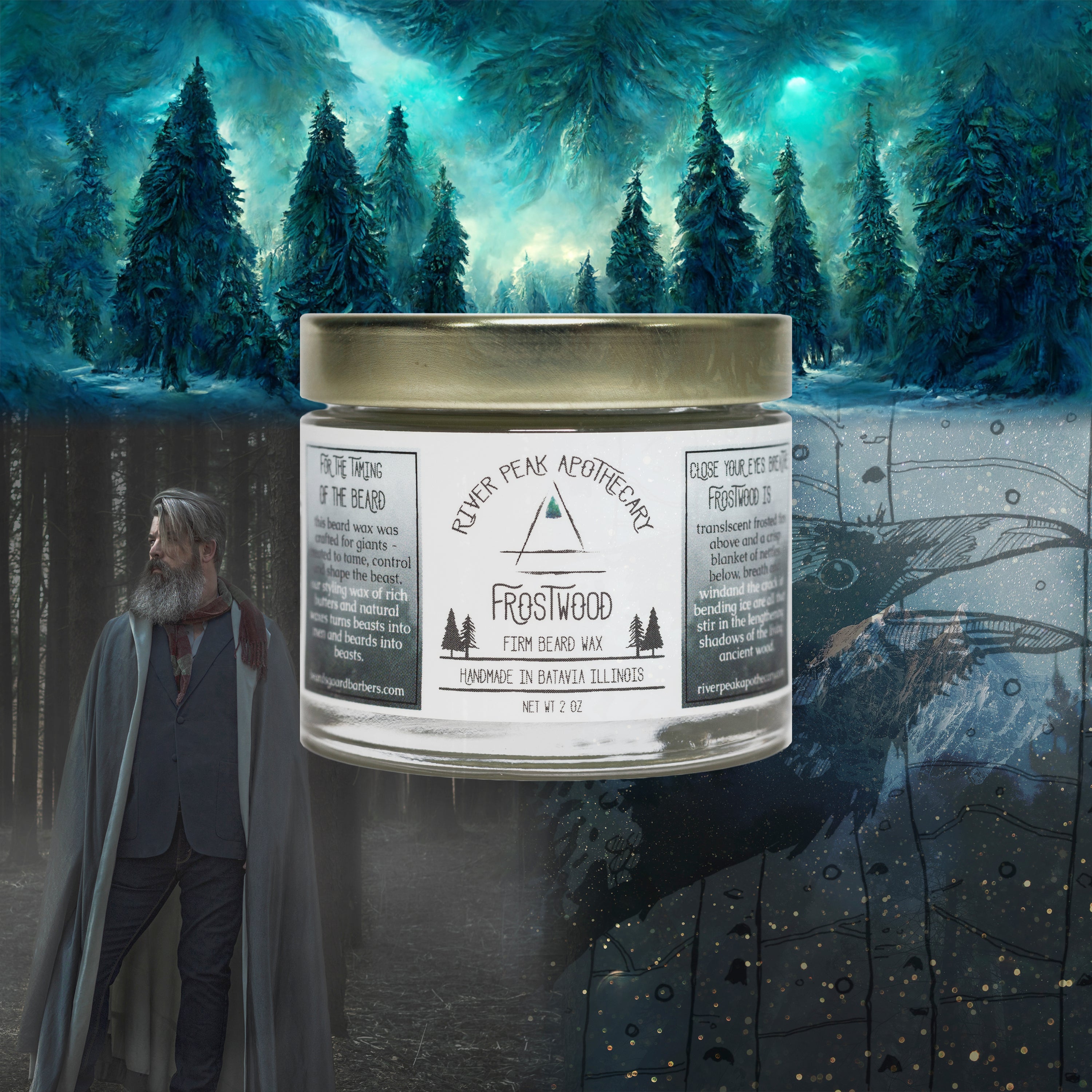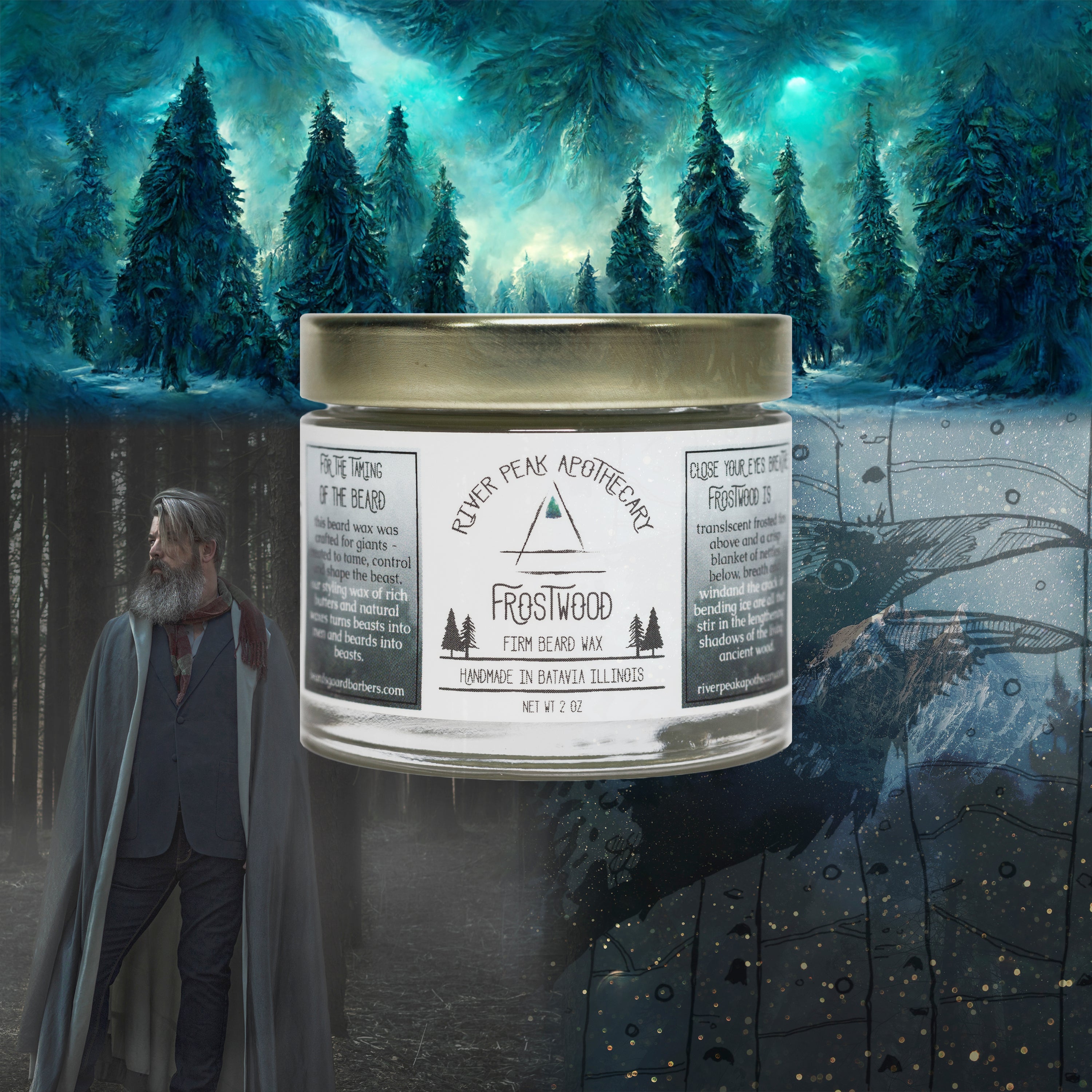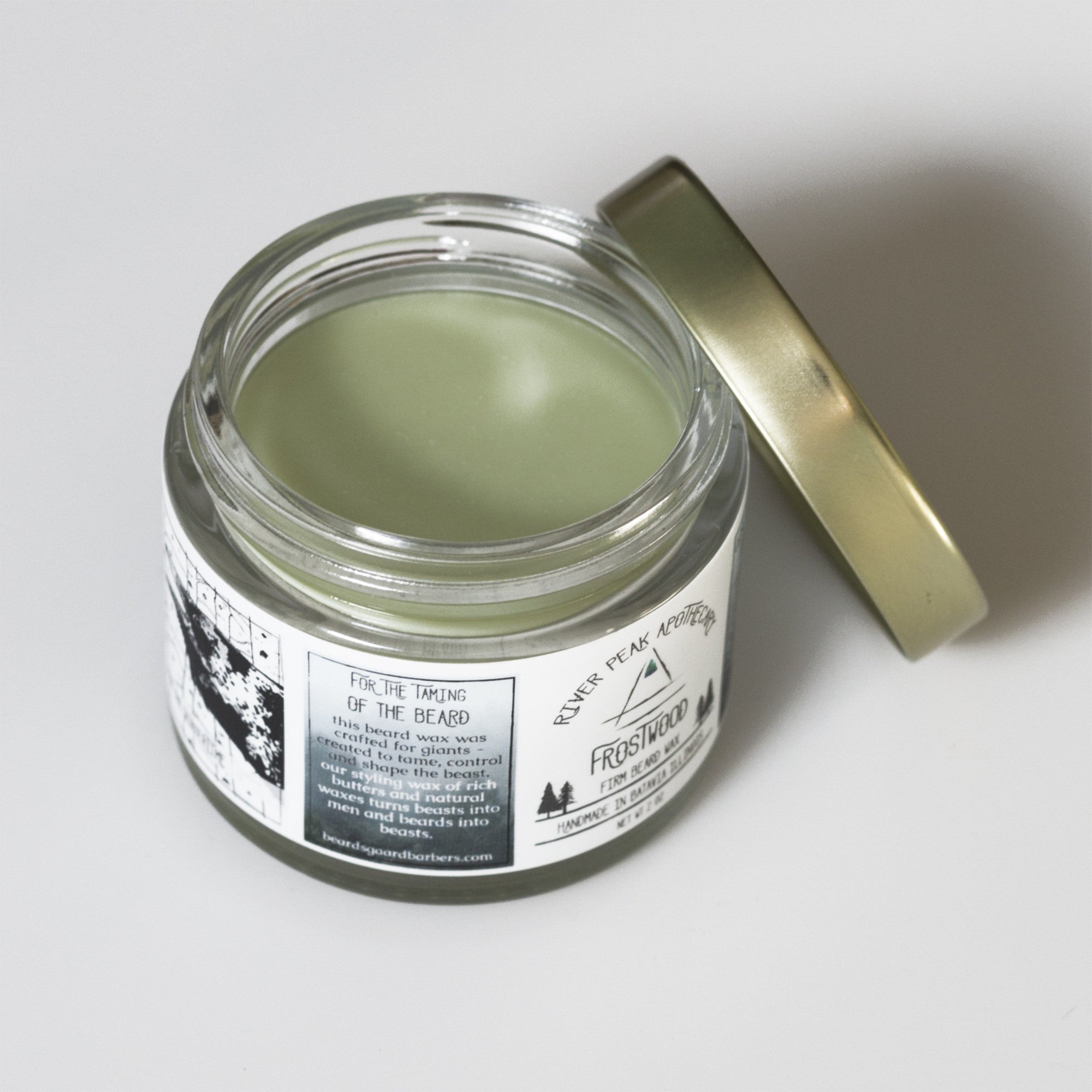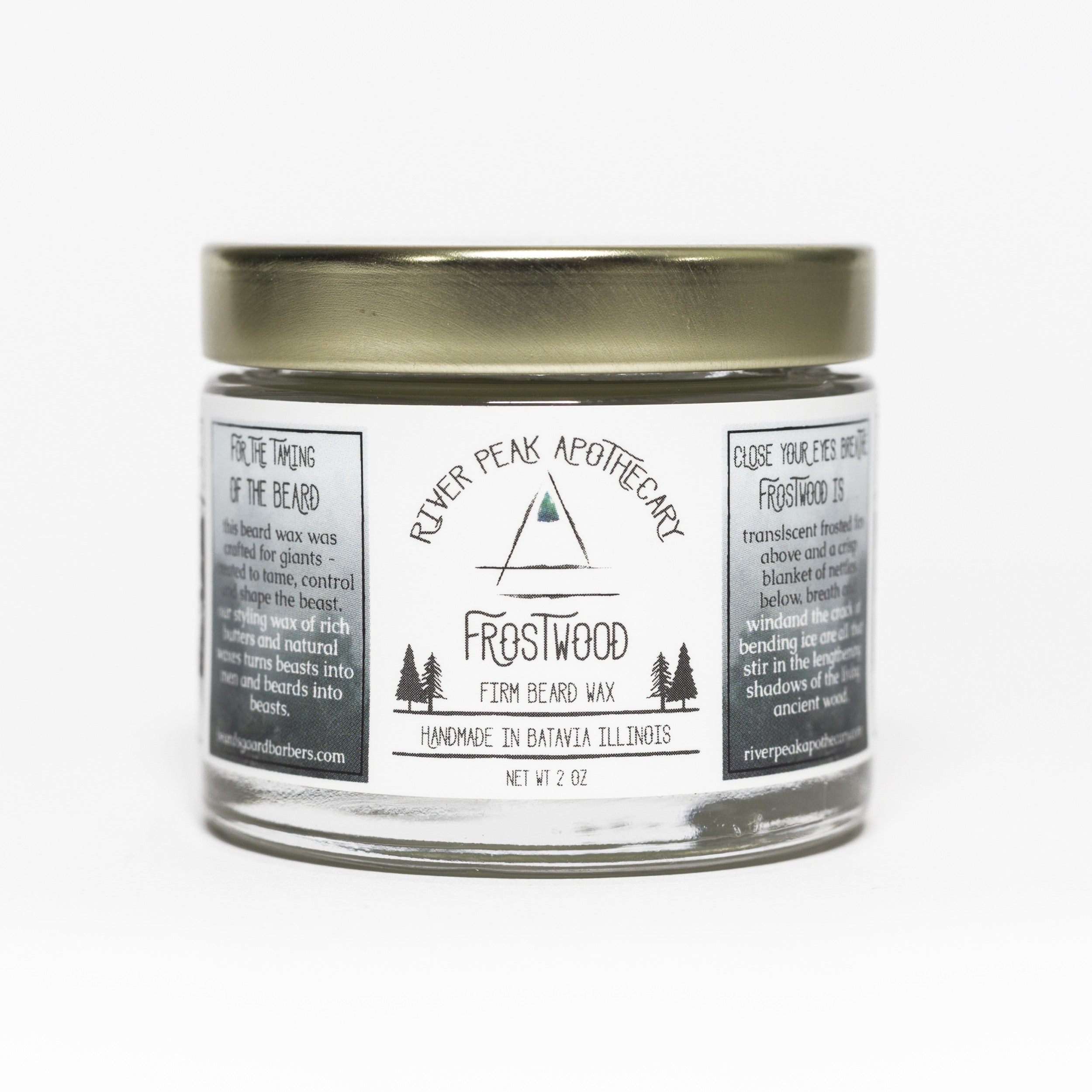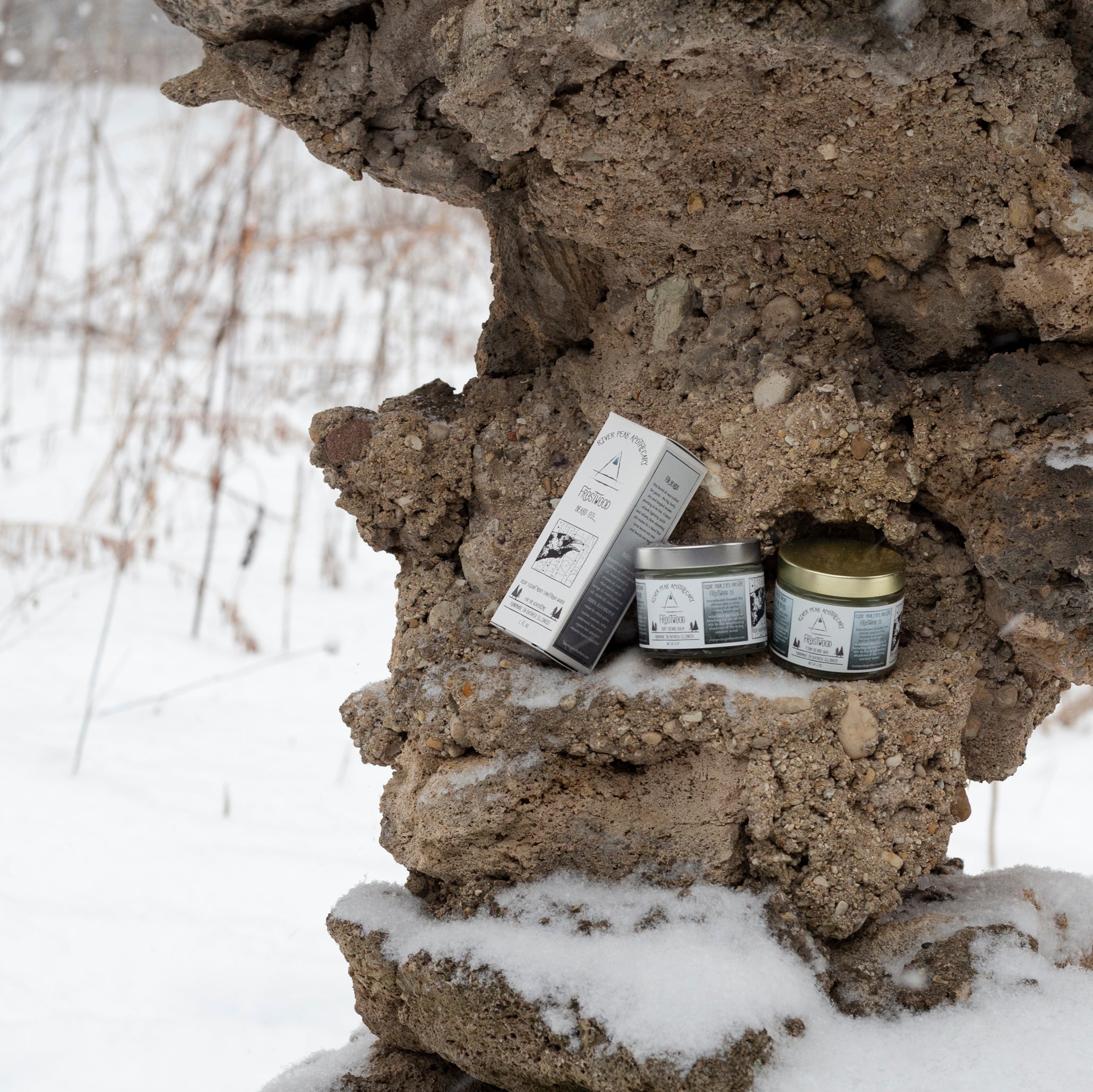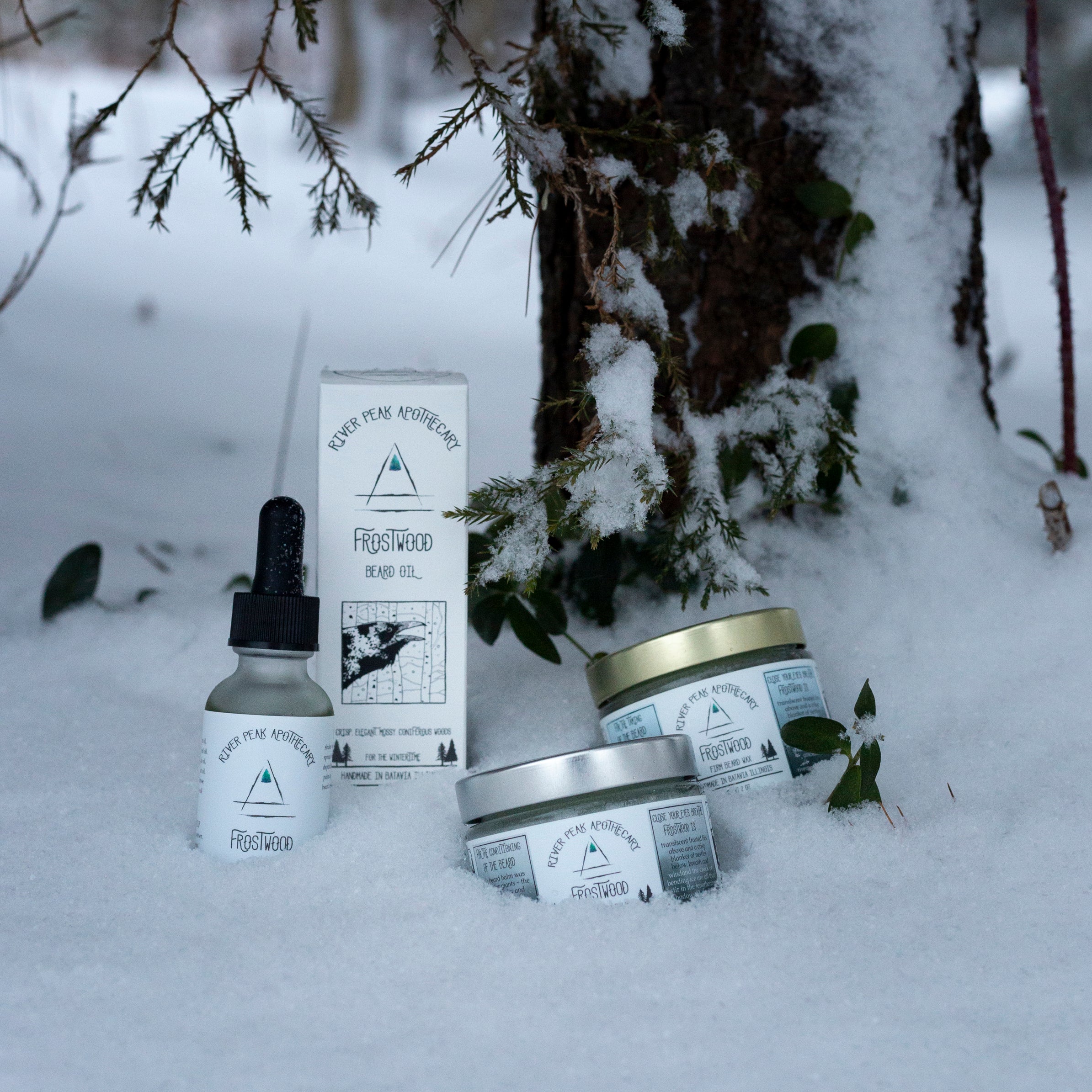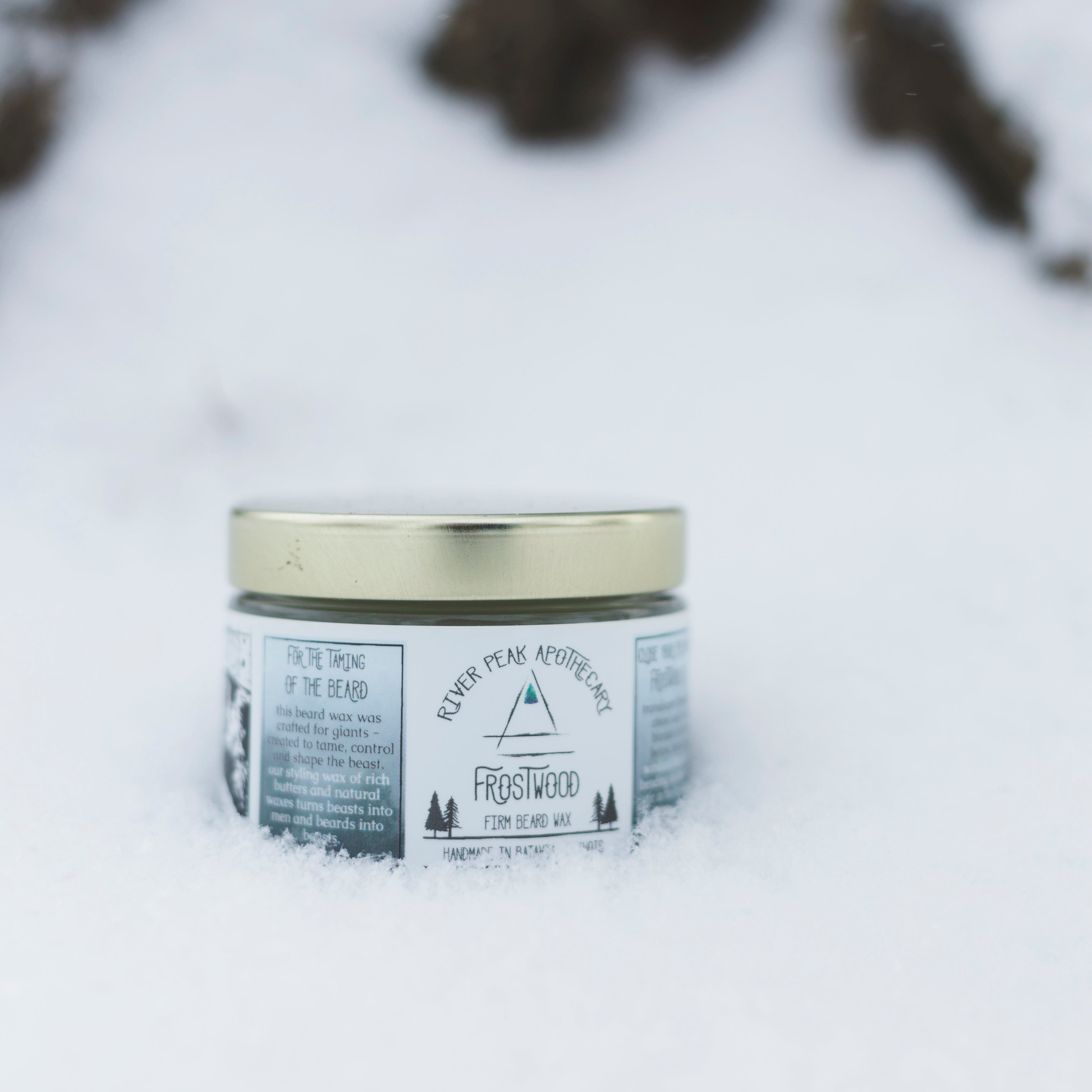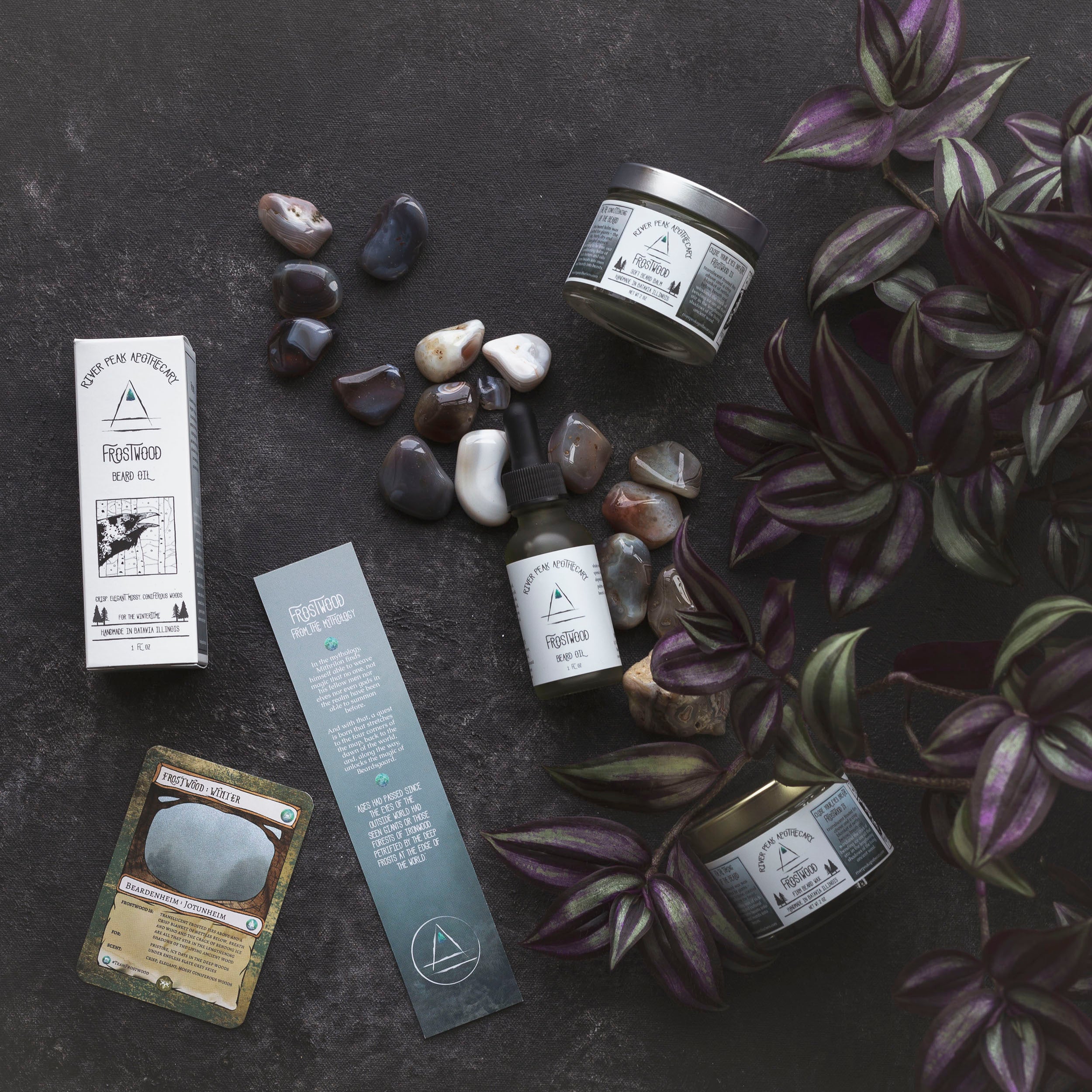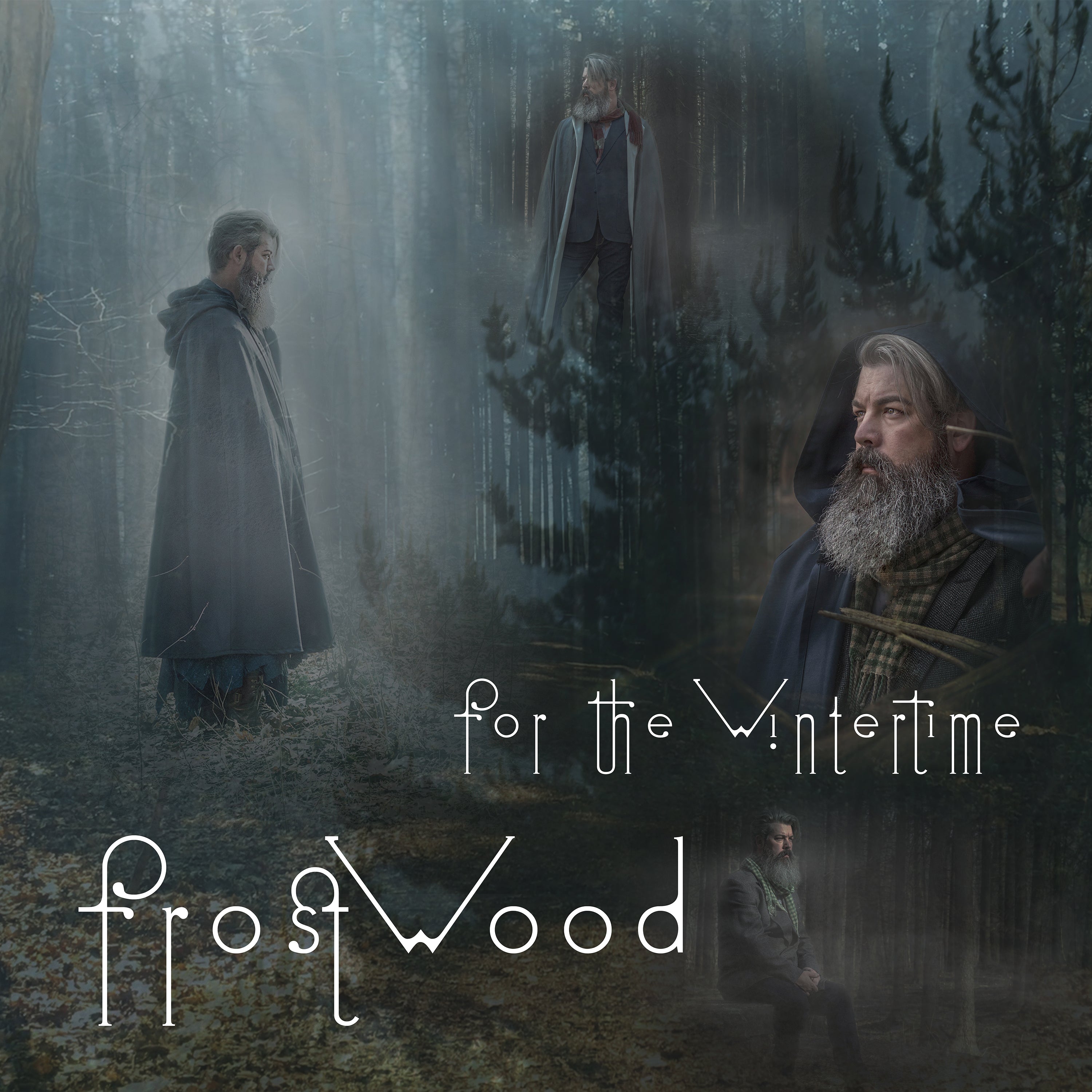 Frostwood Beard Wax • Winter
$ 30.00
FOR INDECISION
THE FACE • THE HAIR • THE MODEL
What happens when you take a legendary artist with a head so spectacular a pair of married barbers fight over it to a mystical spruce plot in the middle of snowless span of winters for a winter photo shoot? Not the winter we imagined, but we did the thing anyway.

We have often joked that we started two businesses to have the excuse to run around in the woods in costumes with camera, buuut, it's only so much a joke.

This is pretty much our favorite part of work, and despite the mud and bugs and sweat and occasional poison ivy, we can't get enough of it.
Location: Morton Arboretum • Lisle, Illinois
Two years we waited for snow, and it didn't really start falling until the year Brian moved far away to the western shores to do art for Tinseltown. We aim to reshoot this one day, because his hair and beard are just as good, but he lives near some of the biggest trees anywhere now. Perhaps a road trip is in order...
One of our founders grew up deeply obsessed with Tolkien, and fantasy in general, so the fact that this business is set in a fully mapped fantasy Realm shouldn't be much of a surprise. The fact that said Realm has its own World Anvil might be.
Of course it doesn't end there. It's said that there are no happy endings, because nothing ends. With over 5000 years of history and bloodlines and mythology, we may never run out of stories to tell. Because you may come for the beard oils and scrubs and lip butters and whathaveyou, but you keep coming back for the epic tales of wizards and elves and god-powered, power hungry gerbils.

And three jars of beard butter at a time, because y'all are maniacs.
This is a taste one of those stories...
In the most epic chapter of the mythology yet, we follow Mithrilon from a young lad living with his father on the edge of the fire lands in Midgard, where luck led him to discover a shiny new trinket, or, as it happens, a second of a set of stones of power in the Realm.

When he had grown to manhood and began to step into the family business, luck again intervened to reveal that he was somewhat more than a simple Human. He then found himself swept into a quest that would, by the nature of it taking many centuries, prove that his Humanity was the least of it.

Somewhere in there he meets his grandmother (although he doesn't know that) an Infernal of blended heritage, who seems just as keen to eat him as help him.

With all that detail and lore poured into one season of JUST beard products, you can imagine how much care we put into researching, formulating and making them.

There are far more product launches and lore to come, so be sure to follow along on Facebook, Instagram, YouTube, and now TikTok, sign up for our newsletter at the bottom of the page. We're so glad to have you in the fellowship, fair frand.
FOLLOW US IN THE WEBS OF INTER