You are ancient Viking in your soul. You pine for the foggy fjords. You occasionally sacrifice to the old gods and have an uneasy alliance with the forest fae. Fjordmist is your beard scent.
THE IDEA
When we begin imagineering a new product, the first thing we must conjure to mind is a place, and how one would feel in that place, and the scents floating on the air there.

Then we turn to our fantasy artist client friend Brian Busch to illustrate it, this time spilling out a yard about Elven Viking plant shepherds.

For a springtime beard line like what would become Fjordmist beard oil, balm and wax, we dreamed of deep glacially-carved canyons from the mountains to the sea, a hushed fog settling like a blanket on the dew dripping first greens of spring.
THE SCENT
To create the hushed misty scent we were after, we first turned to Wild Lavender, underlaid by the deep, verdant, mossy green of Violet Leaf.

To conjure the new green shoots, we chose powdery Galbanum, known by ancient Romans as "the smell of green."

To make the flushed tree boughs pushing forth new leaves, enchanting Petitgrain was employed, and over it all, the first unfurling petals on the trees, played by the poor man's Jasmine, Ylang Ylang.

While she loves all her children equally, this is the formulator's favorite scent.

THE FORMULA
Our beard goods may smell spectacular, but they wouldn't be as popular as they are without base formulas that do what they're supposed to do: make your face AND beard hair soft, supple and controllable.

With protective barrier oils like *Castor and Avocado, fast absorbing oils like *Grapeseed and Sunflower, nutrient-packed oils like Hemp, Borage, and Vitamin E, as well as luxurious liquid silk-like Oat oil, these formulas are carefully engineered by barbers to give your beard just what it needs.

*present in balms and waxes, as well as beard oils

THE MYTH
Sometimes the photo shoots come first, sometimes the mythology comes first, but as they are made, each product takes its place as a location on our map of the Realm of Beardsgaard.

Being big old fantasy nerds, we write a mythological story centered on that location, which also enters our Dungeon & Dragons world in which we game (find BeardsgaardBarbers on Twitch!)

And most fun of all, we take clients, locals and friends out into nature, dress them up in costumes and shoot them. With camera, to create the characters and scenes of products just like...Fjordmist.

While we often use stock photography to create our fantasy images, this one was taken by founder Blademaiden at a lavender farm halfway up a volcano!
Beard Oil
Beard Balm
Beard Wax

THE SCENT INSPIRATION
Pale misted air settles heavy about green and growing things, broad white sky above. Loamy earth, lapping water new life blooms in the flora and fauna, cacophony layered upon silence.

NATURAL PERFUMERY
River Peak Apothecary products are formulated with the tenets of perfumery in mind, their scents imparted with natural ingredients like essential oils, CO2 extractions and select Absolutes.

This one is for spring days after a rain when the early trees are in full bloom, and smells of watery, leafy, green herbal florals.
TOP NOTES
Galbanum
Lavender
MIDDLE NOTES
Petitgrain
Ylang Ylang
FOR MOISTURE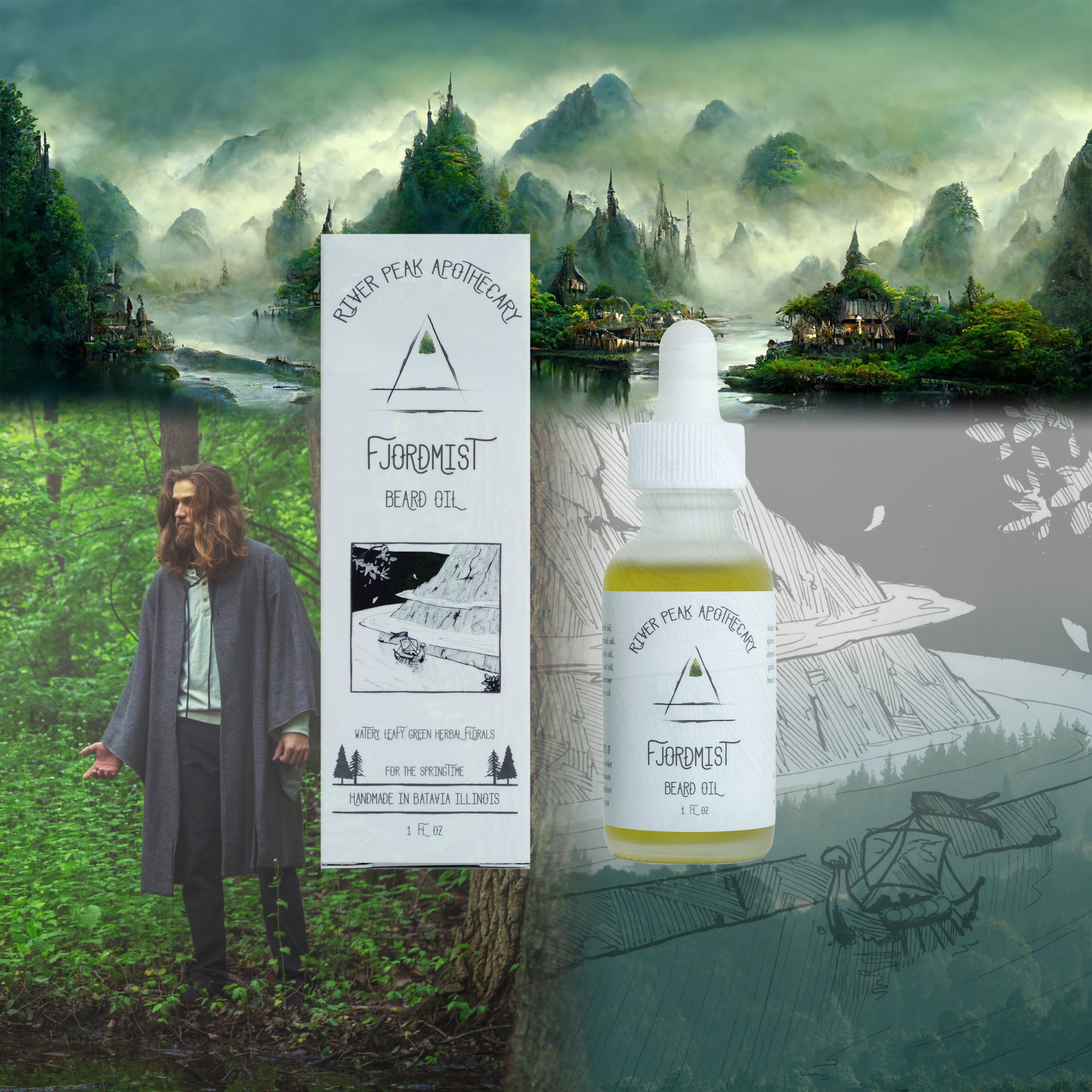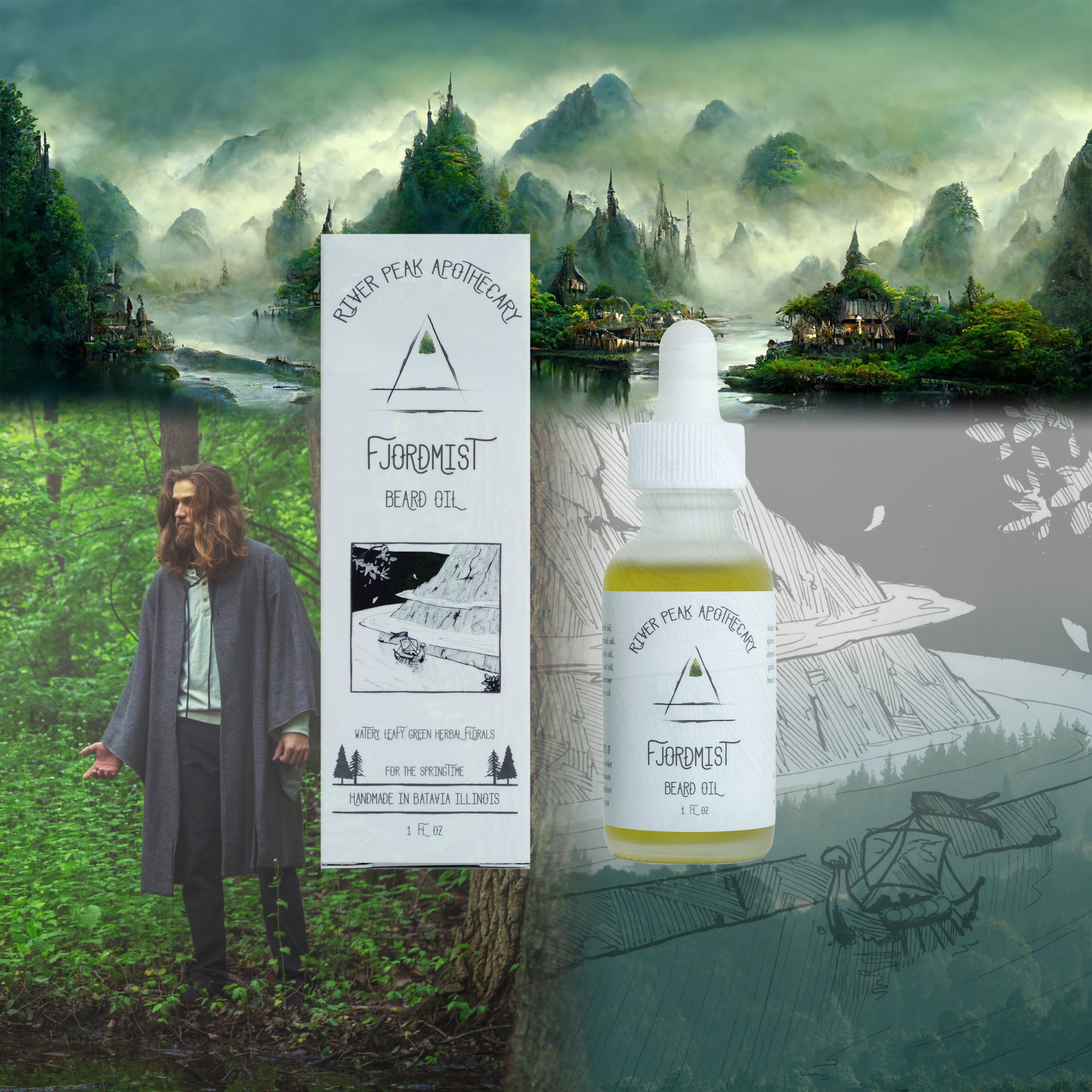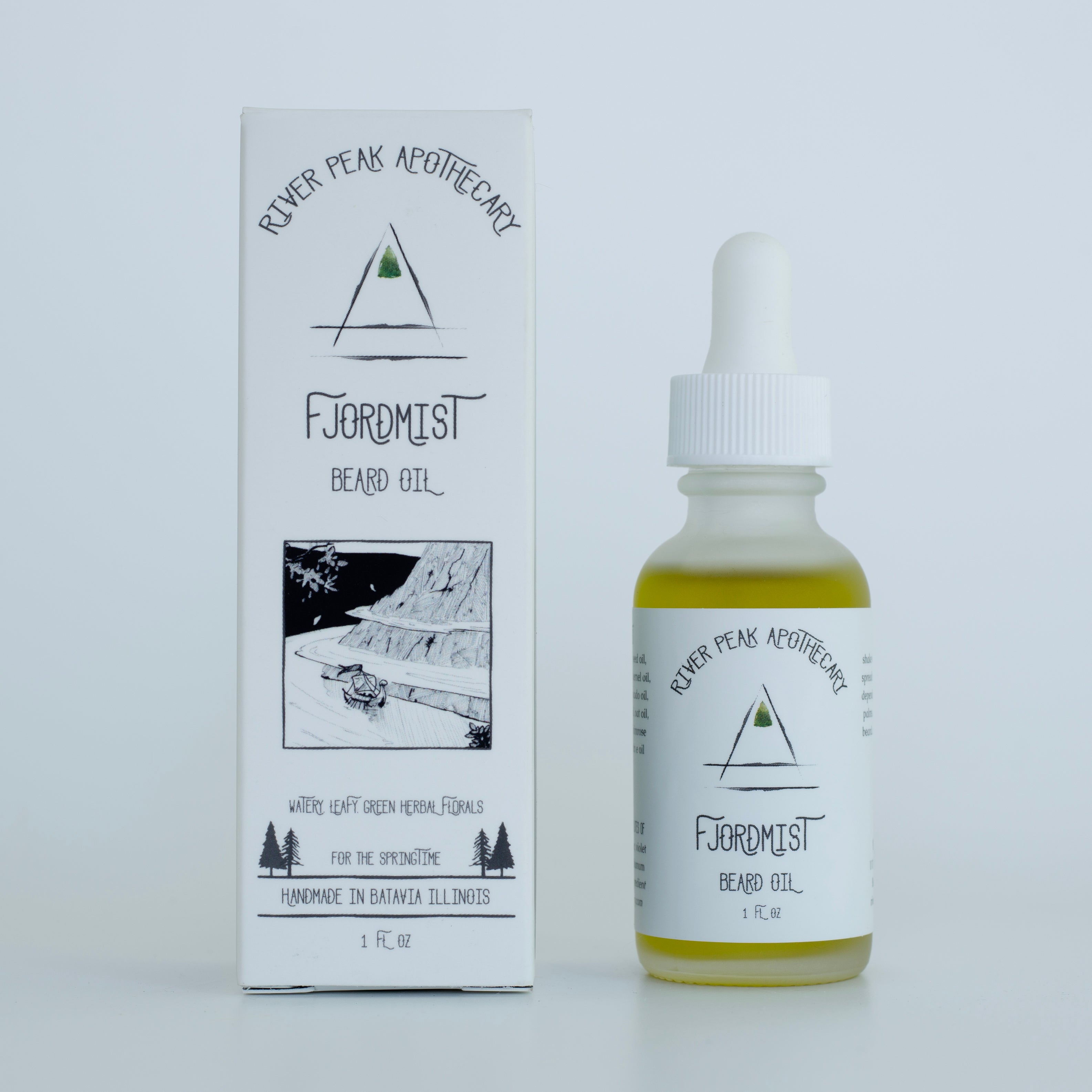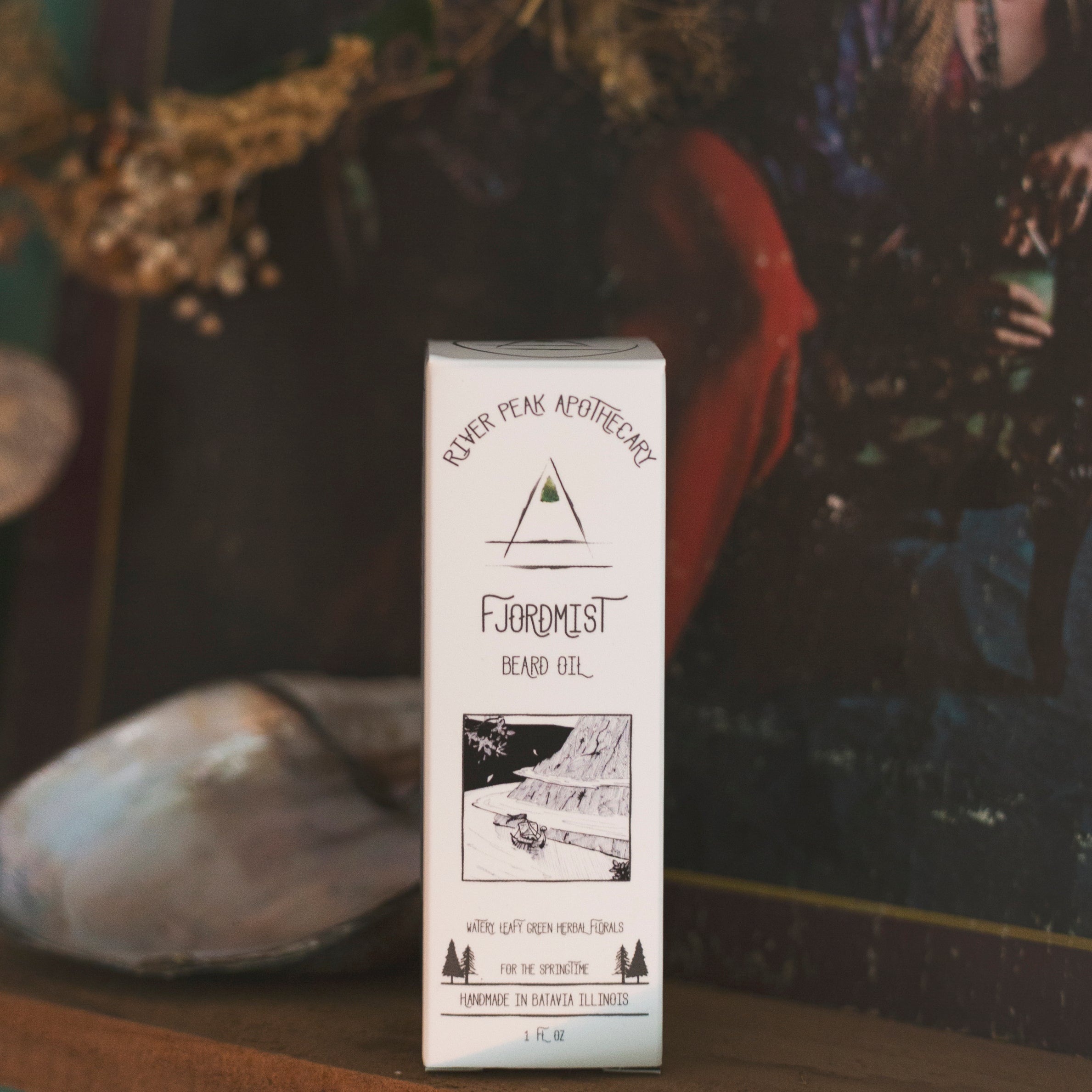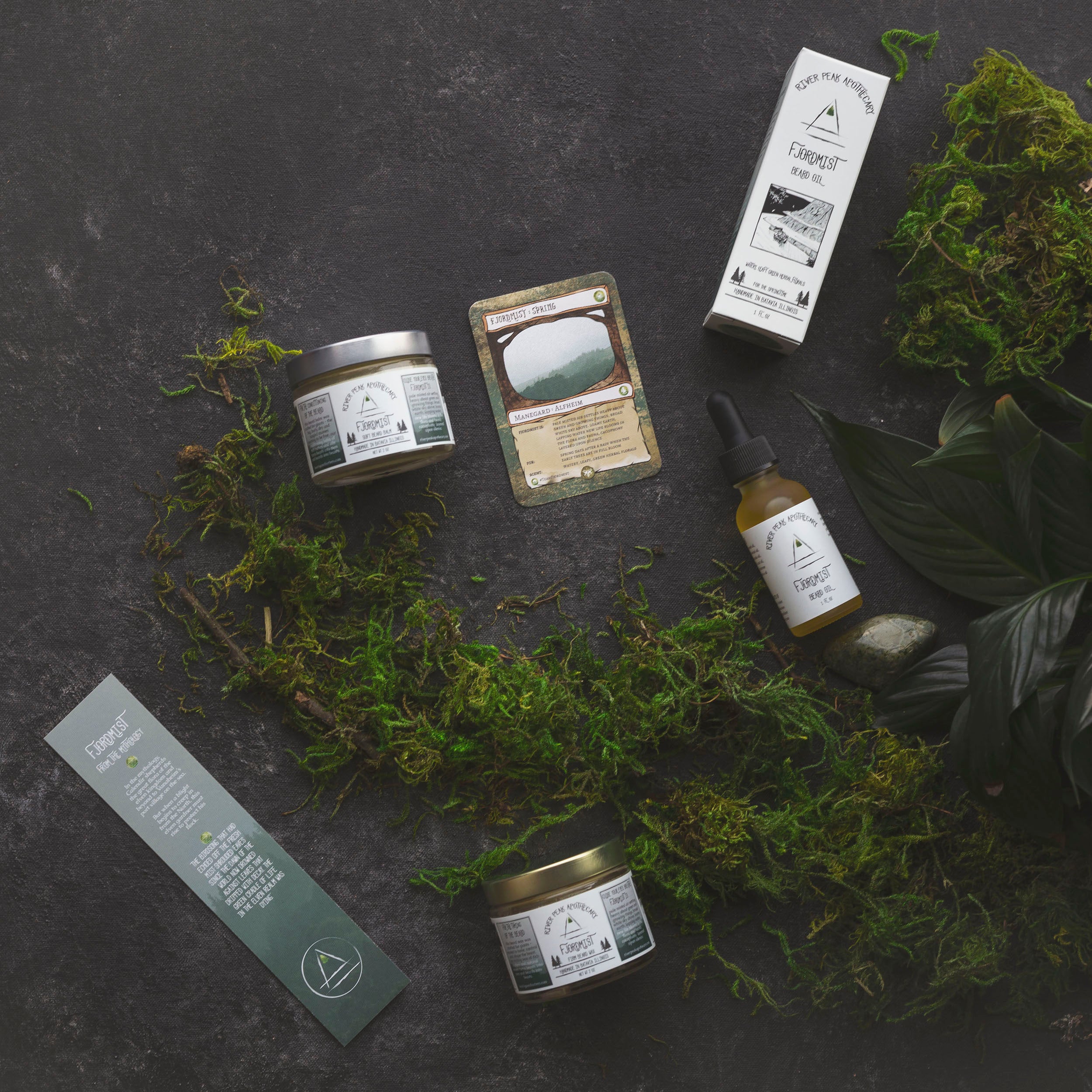 Fjordmist Beard Oil • Spring
$ 26.00
FOR BOTH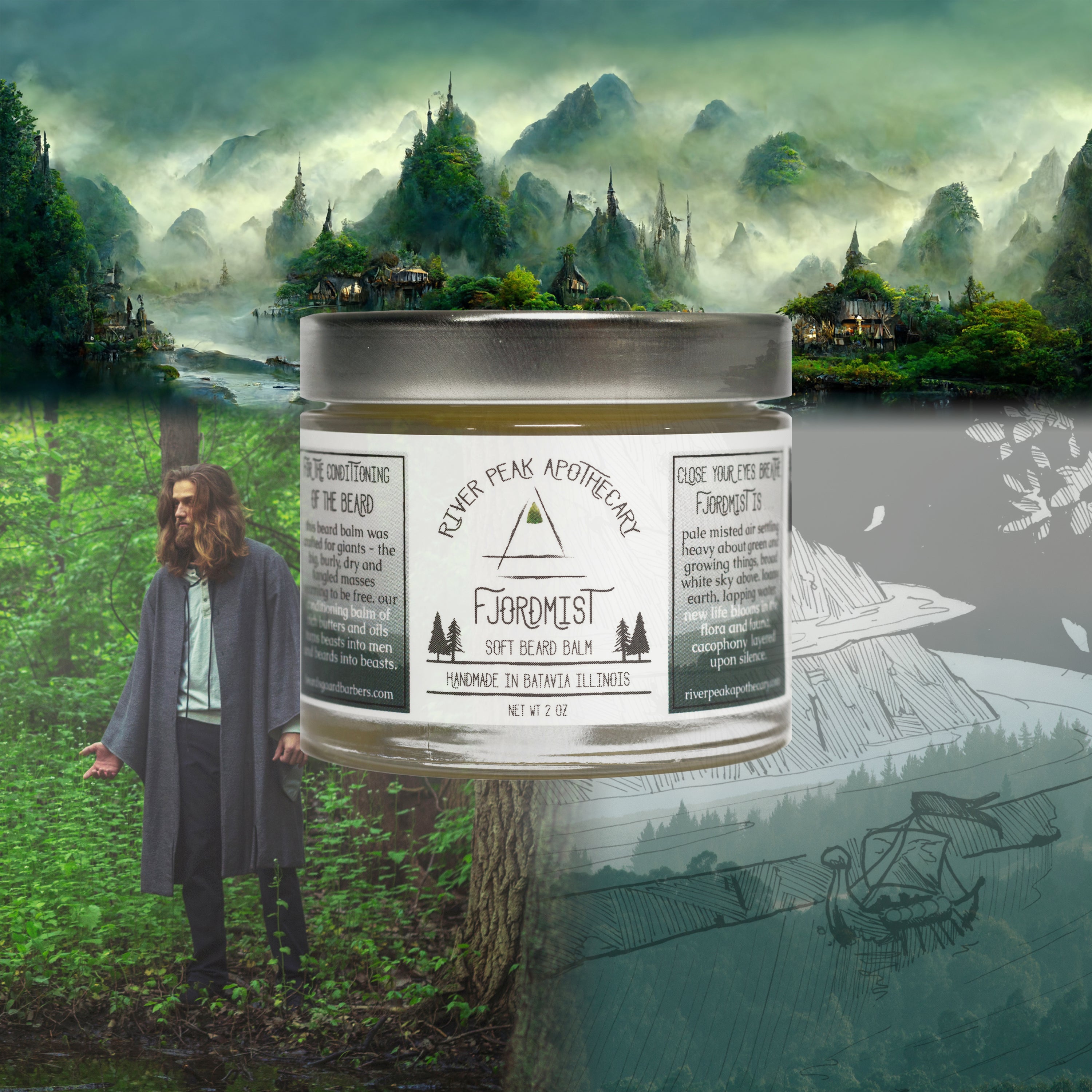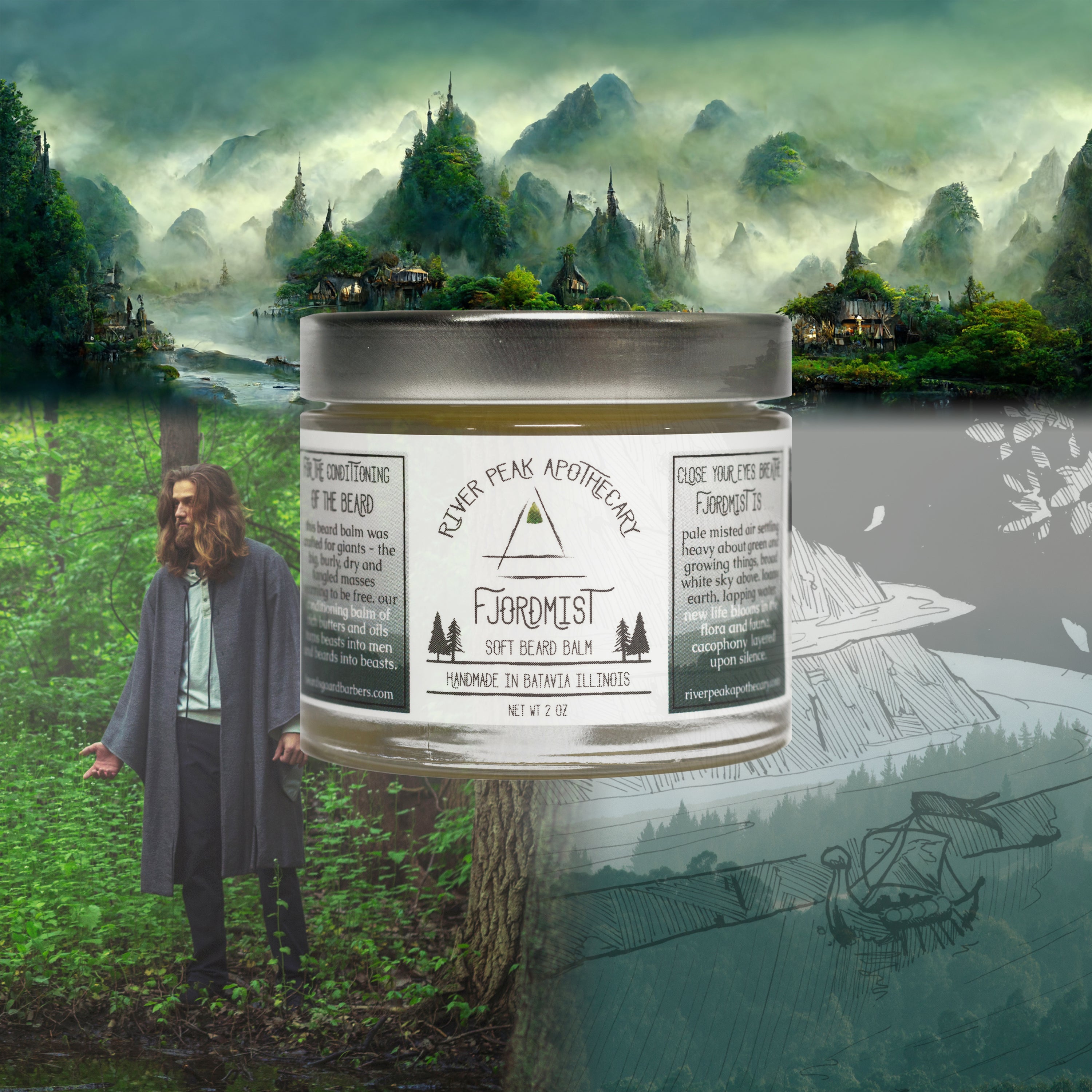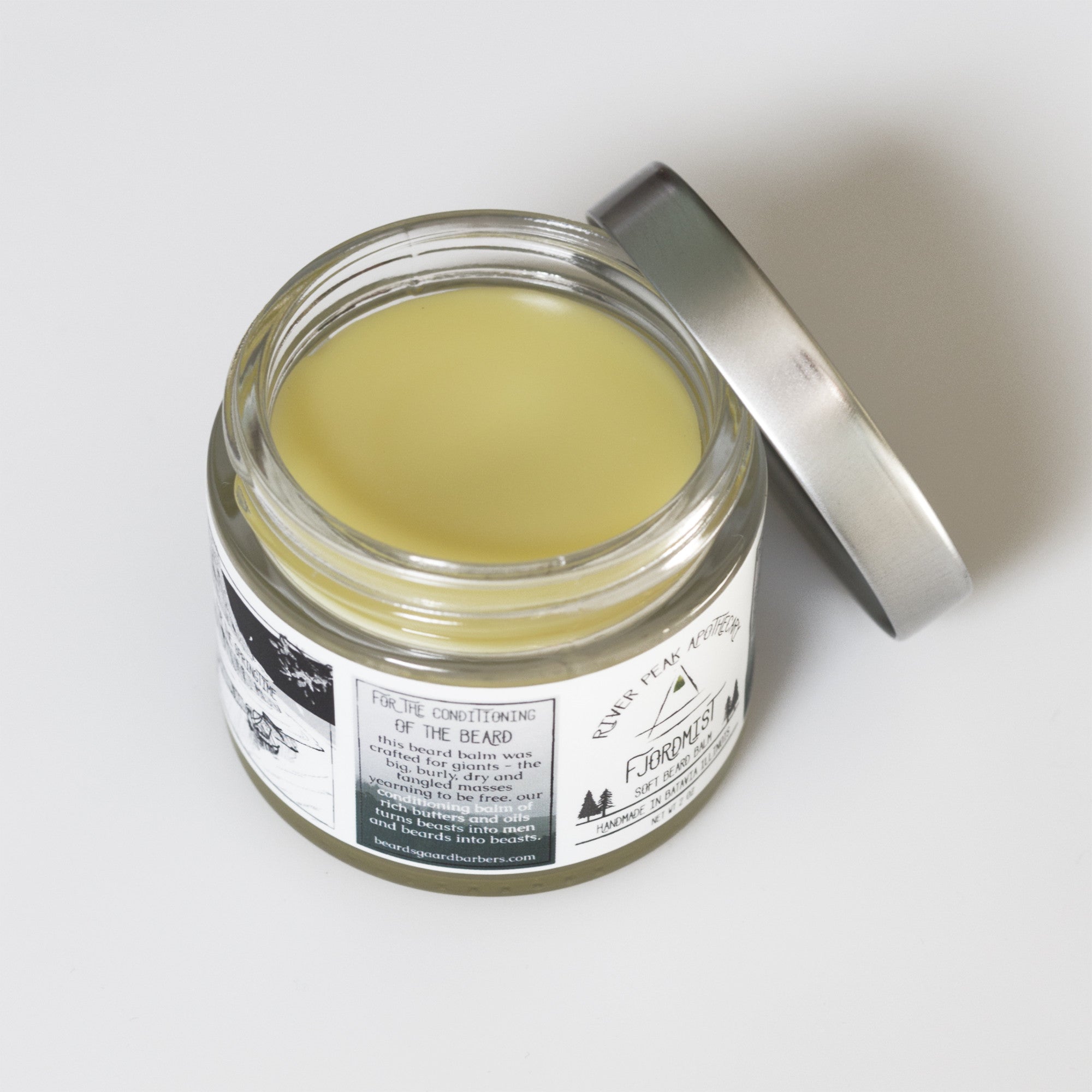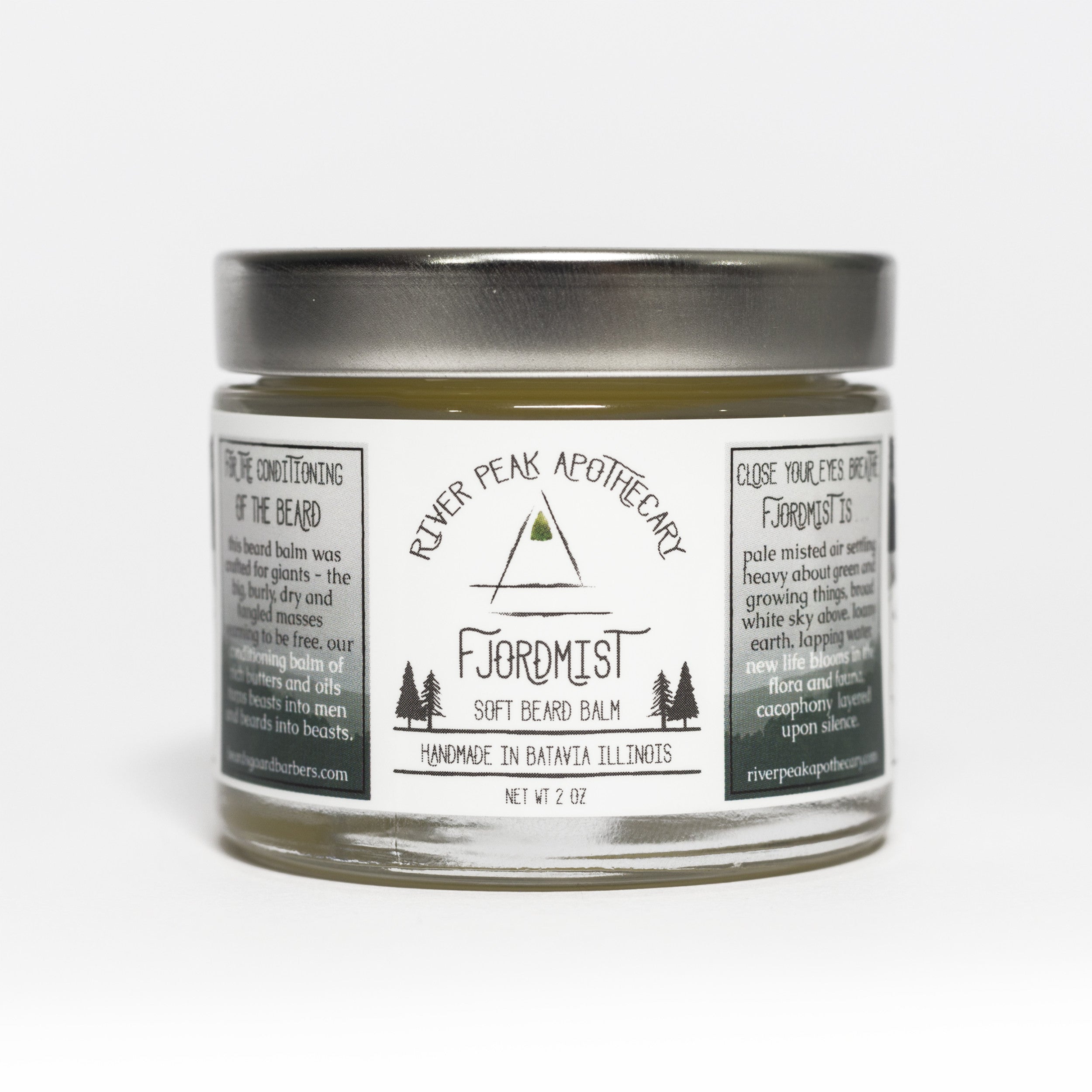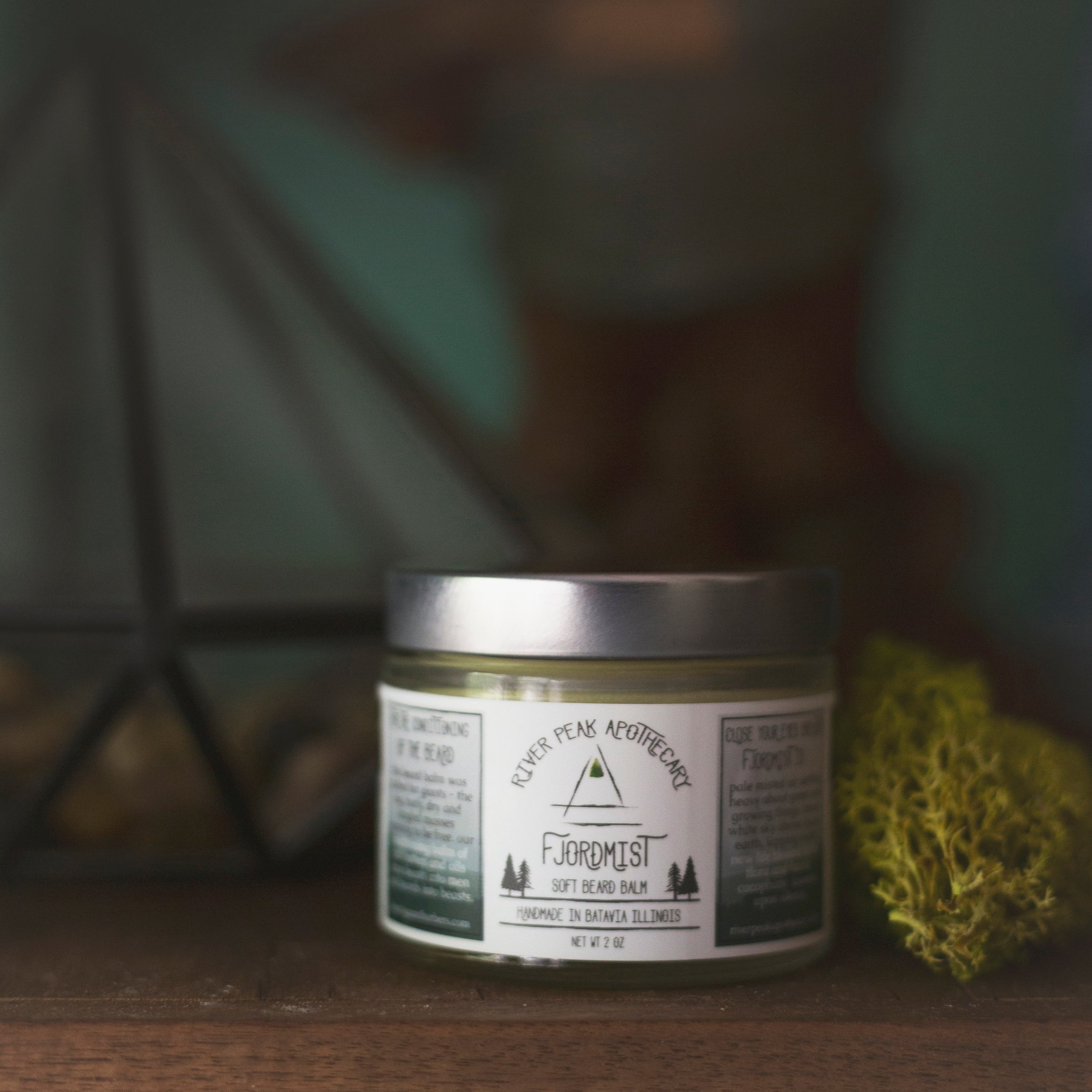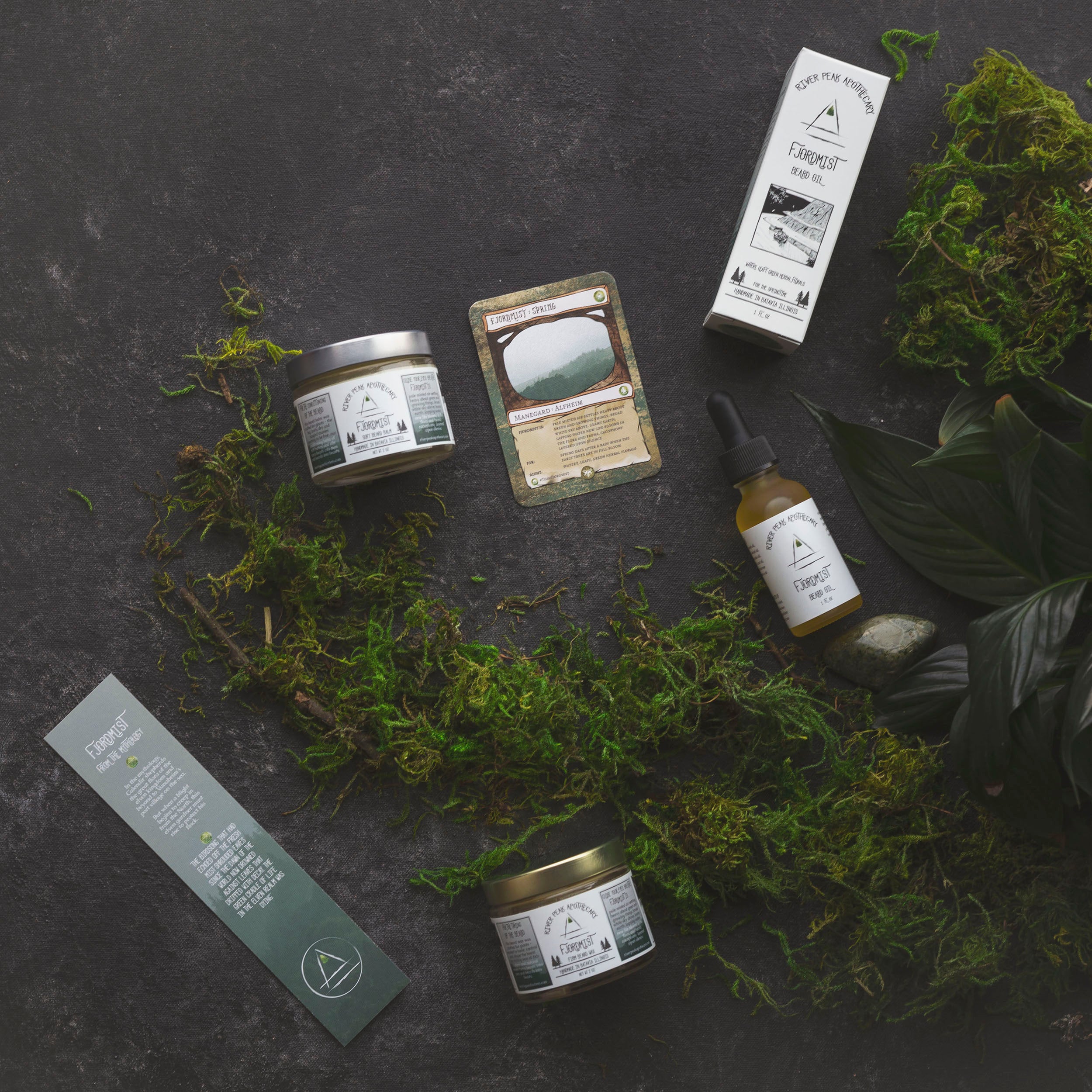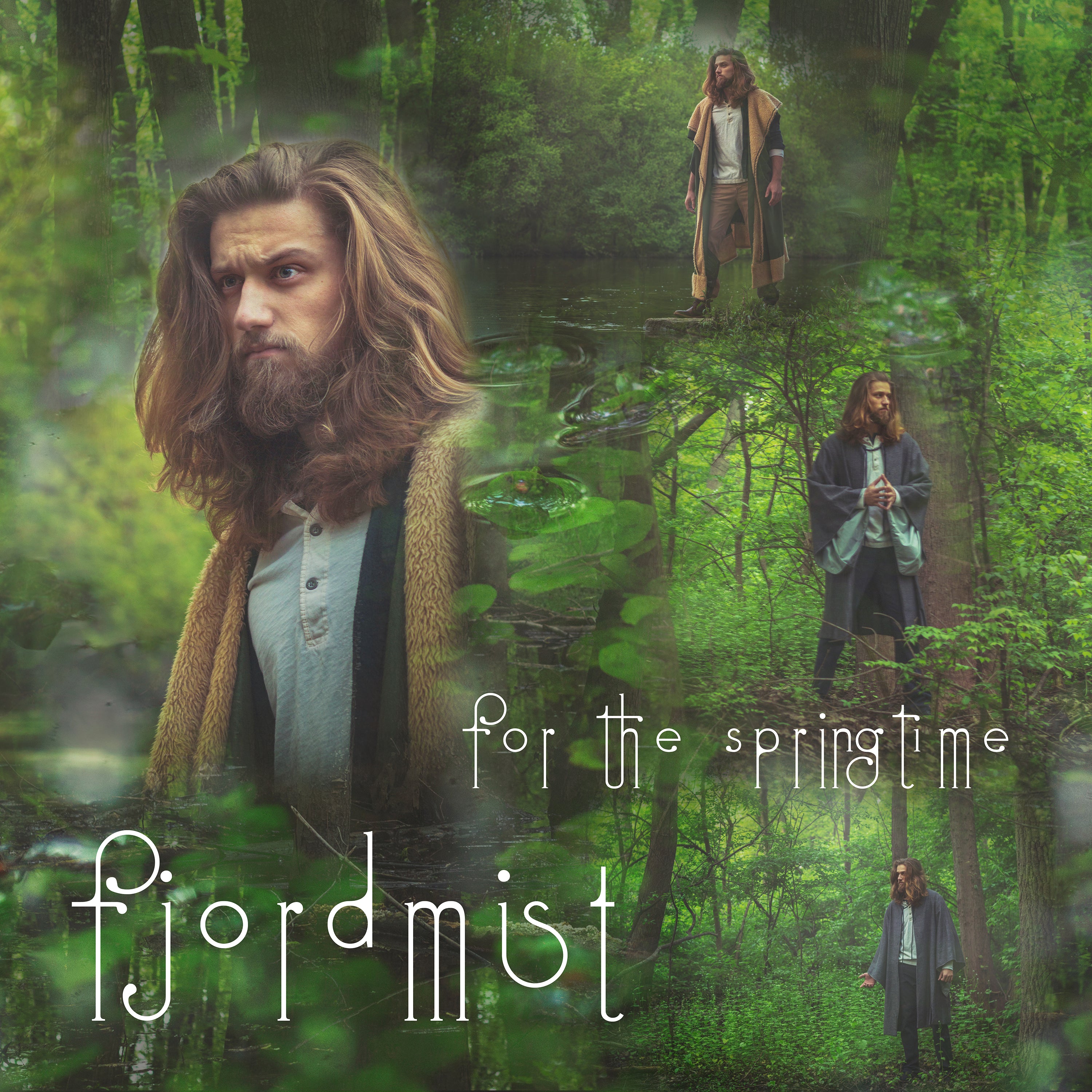 Fjordmist Beard Balm • Spring
$ 30.00
FOR CONTROL
FOR INDECISION
THE FACE • THE HAIR • THE MODEL
What happens when you take a ridiculously good looking client who is also a dedicated nurse who also has insanely good hair, wrap him in a couple of cloaks and watch him be surprisingly peppy when y'all wake up at 4 am to hit up a local forest preserve at dawn? Viking Elf magic.

We have often joked that we started two businesses to have the excuse to run around in the woods in costumes with camera, buuut, it's only so much a joke.

This is pretty much our favorite part of work, and despite the mud and bugs and sweat and occasional poison ivy, we can't get enough of it.
Location: Les Arends Forest Preserve • Batavia, Illinois
Good thing we packed our wellies for this one, because it was WET. And buggy. We almost lost shoes. If you go to Les Arends Forest Preserve in early May at the butt crack of dawn after a week of rain, you know what you're getting into. Worth it.
One of our founders grew up deeply obsessed with Tolkien, and fantasy in general, so the fact that this business is set in a fully mapped fantasy Realm shouldn't be much of a surprise. The fact that said Realm has its own World Anvil might be.
Of course it doesn't end there. It's said that there are no happy endings, because nothing ends. With over 5000 years of history and bloodlines and mythology, we may never run out of stories to tell. Because you may come for the beard oils and scrubs and lip butters and whathaveyou, but you keep coming back for the epic tales of wizards and elves and god-powered, power hungry gerbils.

And three jars of beard butter at a time, because y'all are maniacs.
This is a taste one of those stories...
In the mythology, fleshed but yet to be published (there are some chapters to go until we get to this story), we follow a young Day Elf named Calendir.

Every spring, he travels from his coastal village of Fjordmist to the Alfheim capitol. There he gathers the tender young shoots of the rare plants that grow around the great waterfalls. Only select elves tasked with their conservation are allowed to gather these precious plants to be distributed to the Realm's healers.

But last year he found shoots rotting at their roots on the Svartalfheim banks, and this year it has spread south. To protect the Elvish kingdoms from the creeping rot, he travels north to the night lands to find the source and put an end to it.

With all that detail and lore poured into one season of JUST beard products, you can imagine how much care we put into researching, formulating and making them.

There are far more product launches and lore to come, so be sure to follow along on Facebook, Instagram, YouTube, and now TikTok, sign up for our newsletter at the bottom of the page. We're so glad to have you in the fellowship, fair frand.
FOLLOW US IN THE WEBS OF INTER