You are a simple kind of human. You don't need fancy scents, you need simple beard care that does what it says it's going to do, and if it is made with care by real humans, all the better. Deepwell is your beard butter.
THE IDEA
When we begin imagineering a new product, the first thing we must conjure to mind is a place, and how one would feel in that place, and the scents floating on the air there.

Then we turn to our fantasy artist client friend Brian Busch to illustrate it, this telling him a (for once) relatively simple story of dwarves and mines, but also mountain butter.

For an unscented beard line like what would become Deepwell beard oil, balm and wax, we dreamed of caves lit by firelight for the first time in history, shining with life-changing ore.
THE SCENT
By design, Deepwell Beard Balms and Waxes have no scent at all, with even the base ingredients chosen for their lack of scent.

Not quite so with Deepwell Beard Butter. Deodorized Cocoa Butter does exist, but with its rich, dreamy, white chocolatey scent, it makes us sad to think of such a process.

Even so, with more processing comes fewer nutrients, so we go for the raw, virgin, least processed, most full-bodied Cocoa Butter we can find. Only problem is, clients keep threatning to eat it.

We promise, it does not taste as good as it smells. Did we check? We'll never tell.

THE FORMULA
Our beard goods may smell spectacular, but they wouldn't be as popular as they are without base formulas that do what they're supposed to do: make your face AND beard hair soft, supple and controllable.

With protective barrier oils like *Castor and Avocado, fast absorbing oils like *Grapeseed and Sunflower, nutrient-packed oils like Apricot Kernel and Vitamin E, as well as luxurious liquid silk-like Oat oil, these formulas are carefully engineered by barbers to give your beard just what it needs.

*present in balms and waxes, as well as beard oils and butter

THE MYTH
Sometimes the photo shoots come first, sometimes the mythology comes first, but as they are made, each product takes its place as a location on our map of the Realm of Beardsgaard.

Being big old fantasy nerds, we write a mythological story centered on that location, which also enters our Dungeon & Dragons world in which we game (find BeardsgaardBarbers on Twitch!)

And most fun of all, we take clients, locals and friends out into nature, dress them up in costumes and shoot them. With camera, to create the characters and scenes of products just like...Fjordmist.

Tripods may not have been allowed in this massive cave system under the Appalachian mountains (which are literally older than BONES), but when taking this long exposure on the floor, she almost lost the tour folk. Getting the heebie jeebies even thinking of it now, years later. Older than BONES.
Beard Butter
Beard Balm
Beard Wax

THE INSPIRATION
The deep, warm places of the earth, gleaming golden by dwarven torchlight, thing and places as they have been for time unending

This one is for the tough times, when you want to get soft
BASE NOTES
Cocoa Butter We Guess (just in the butter, in the balm and wax, nothing)

FOR MOISTURE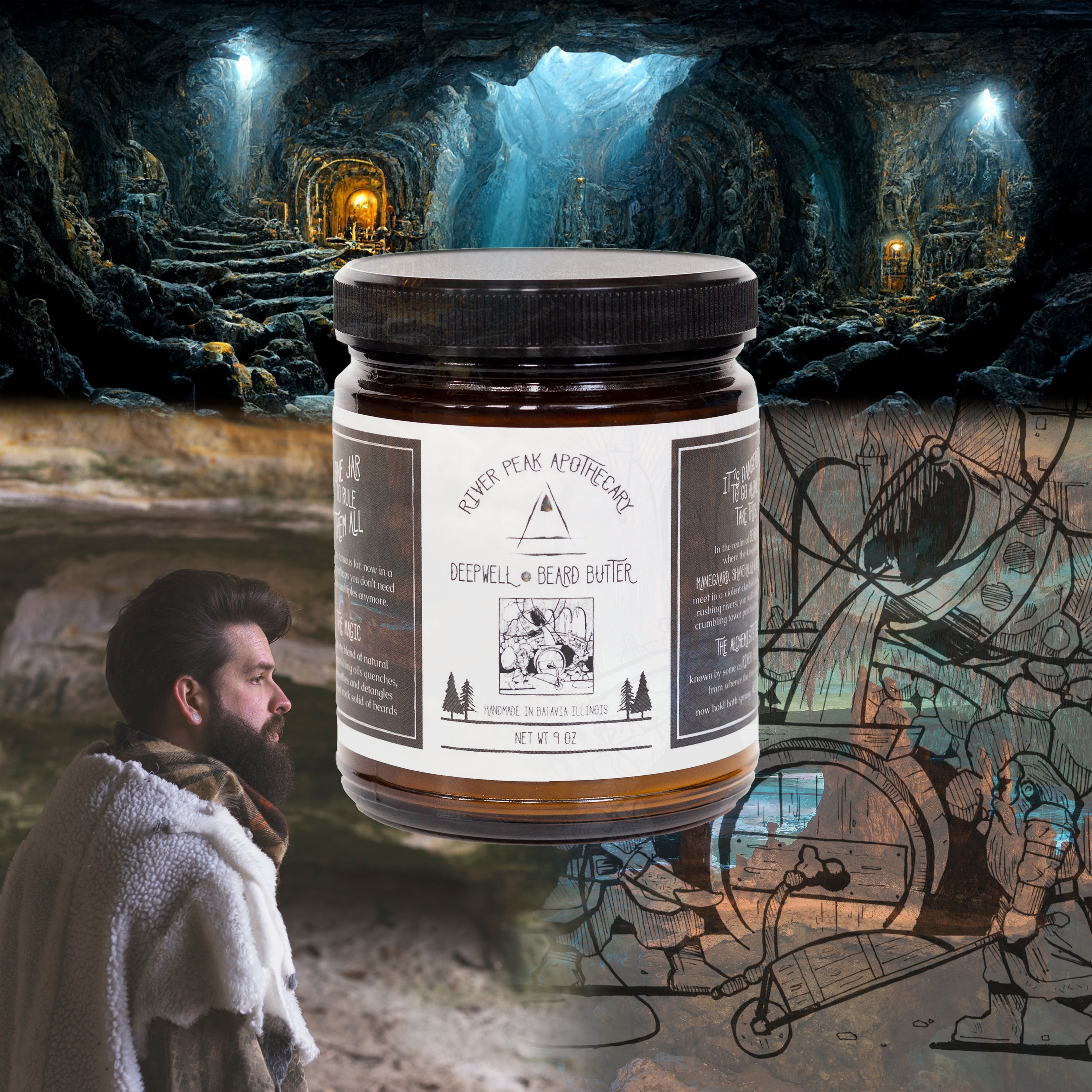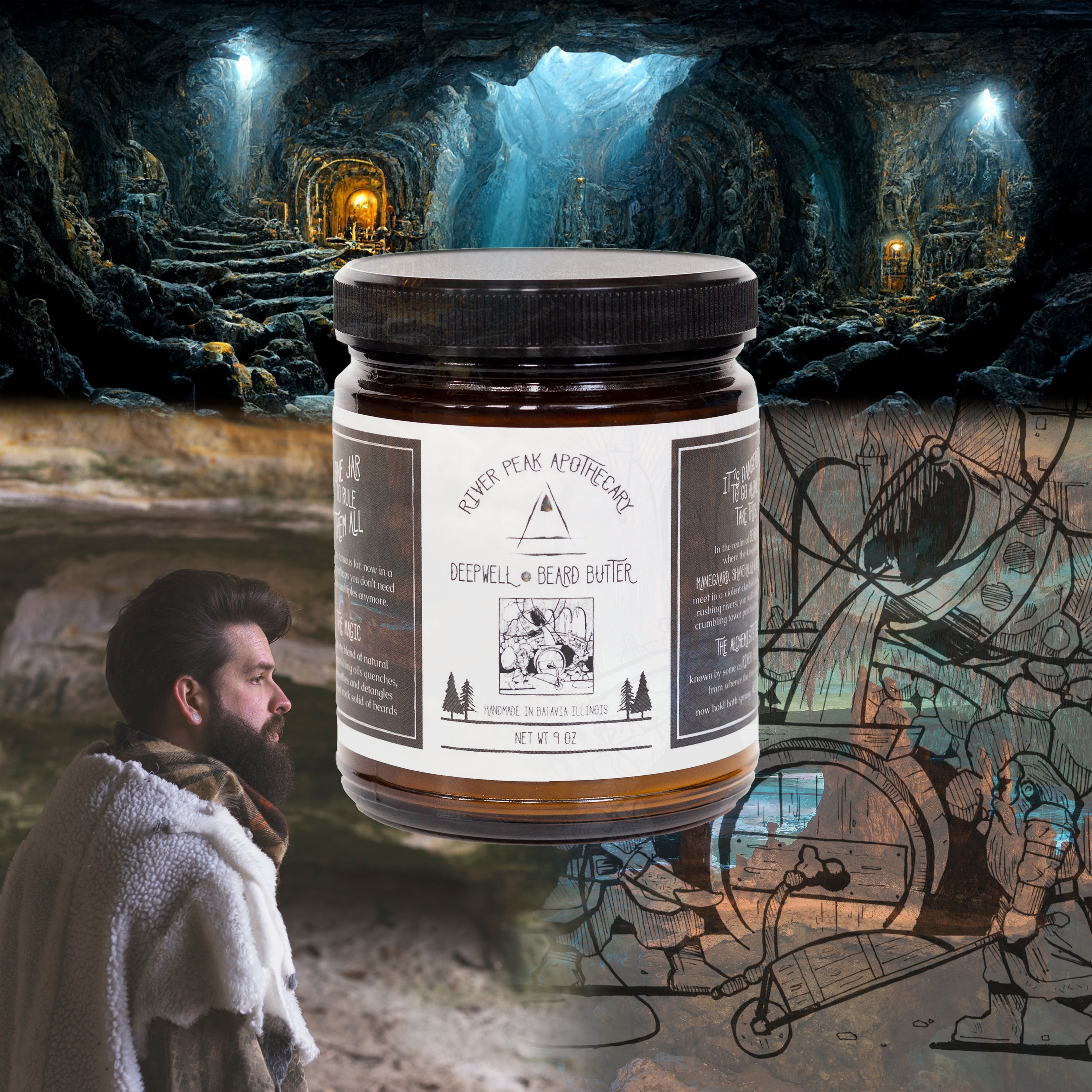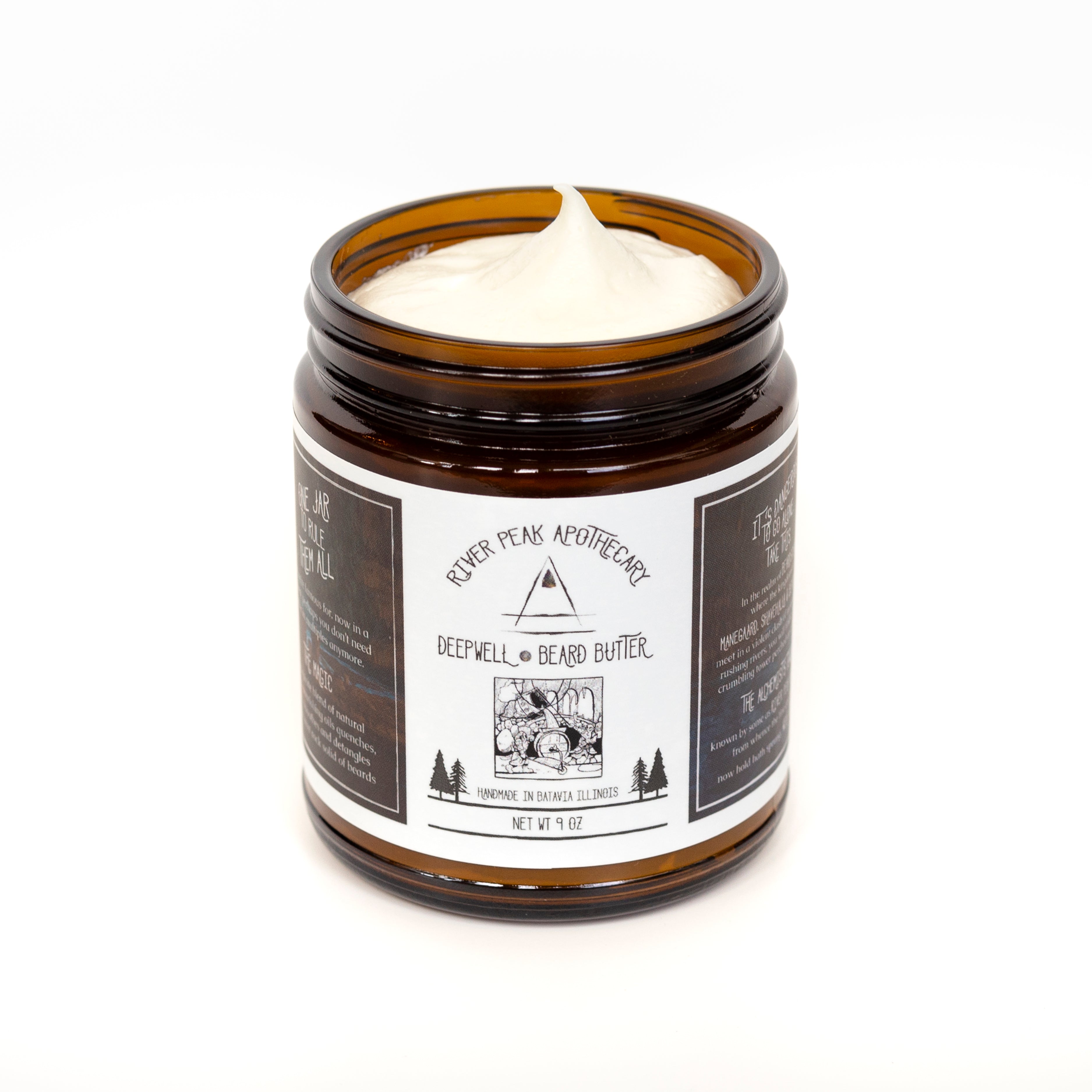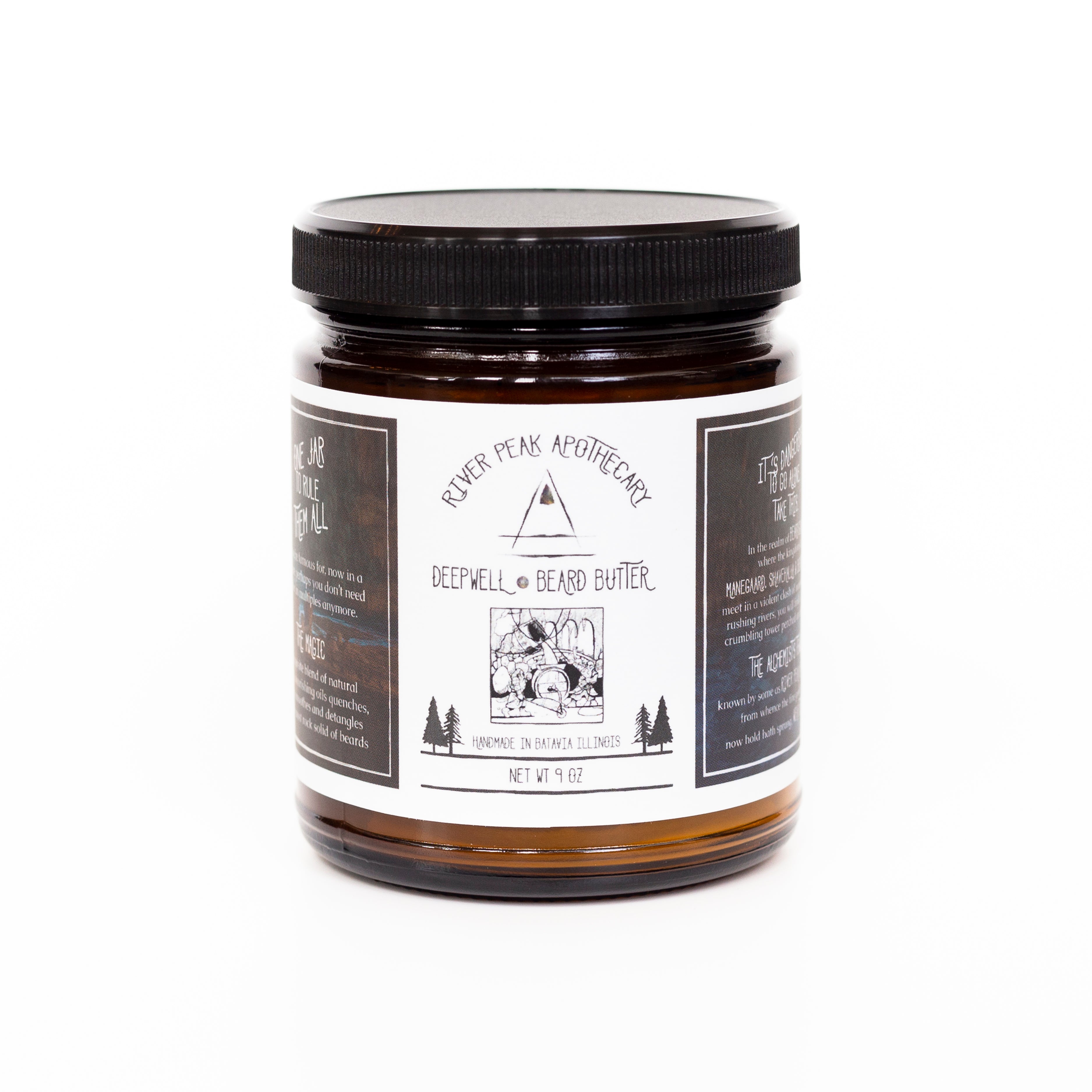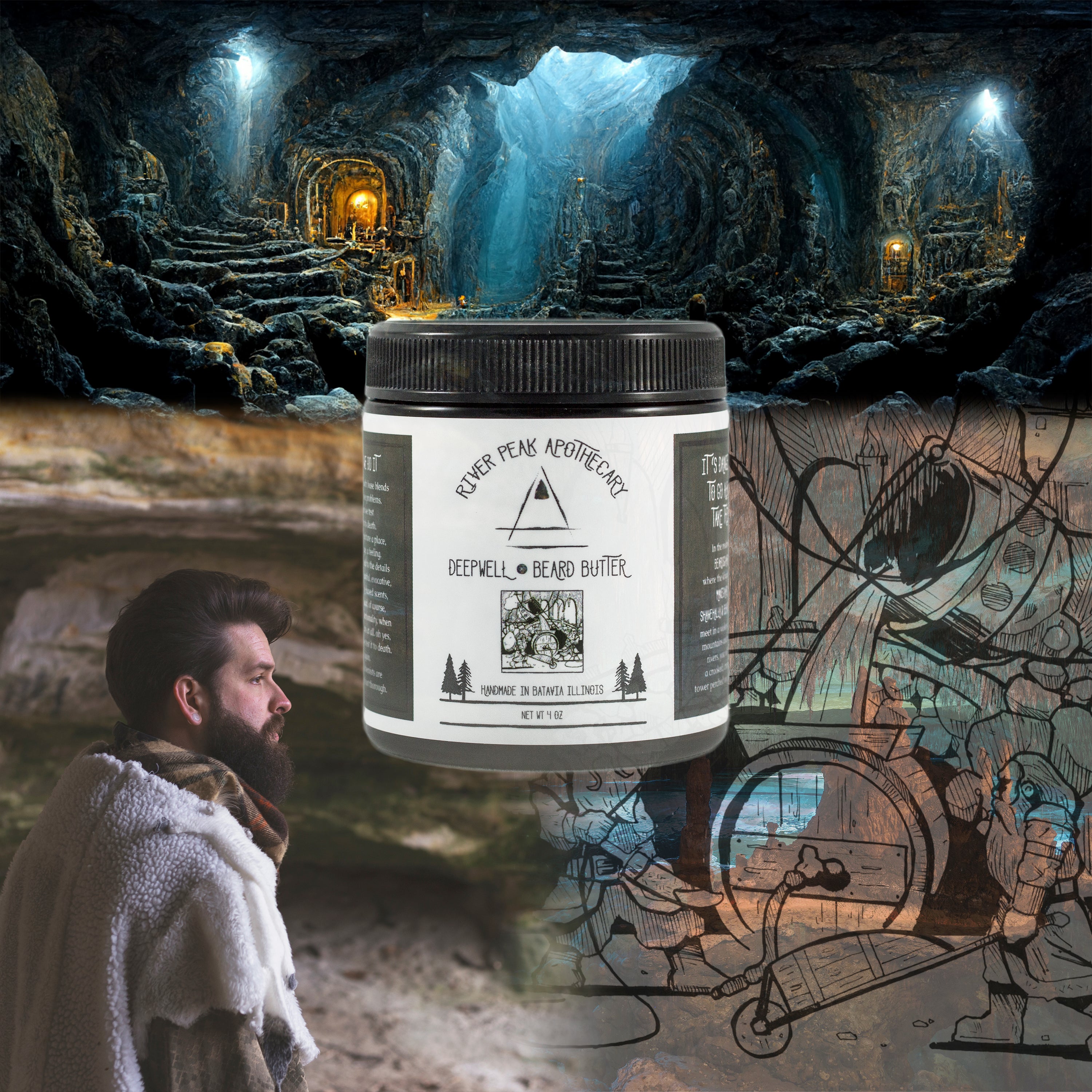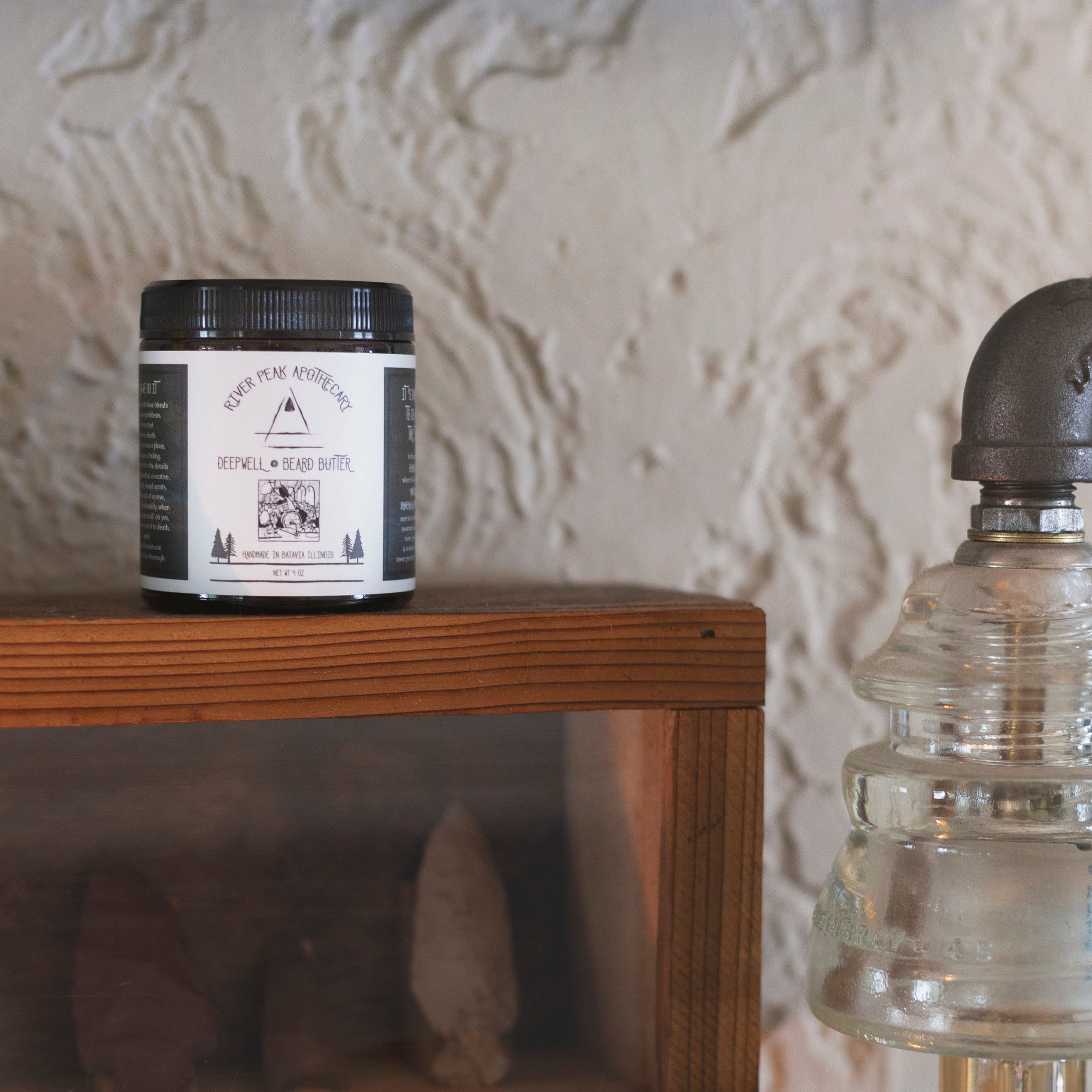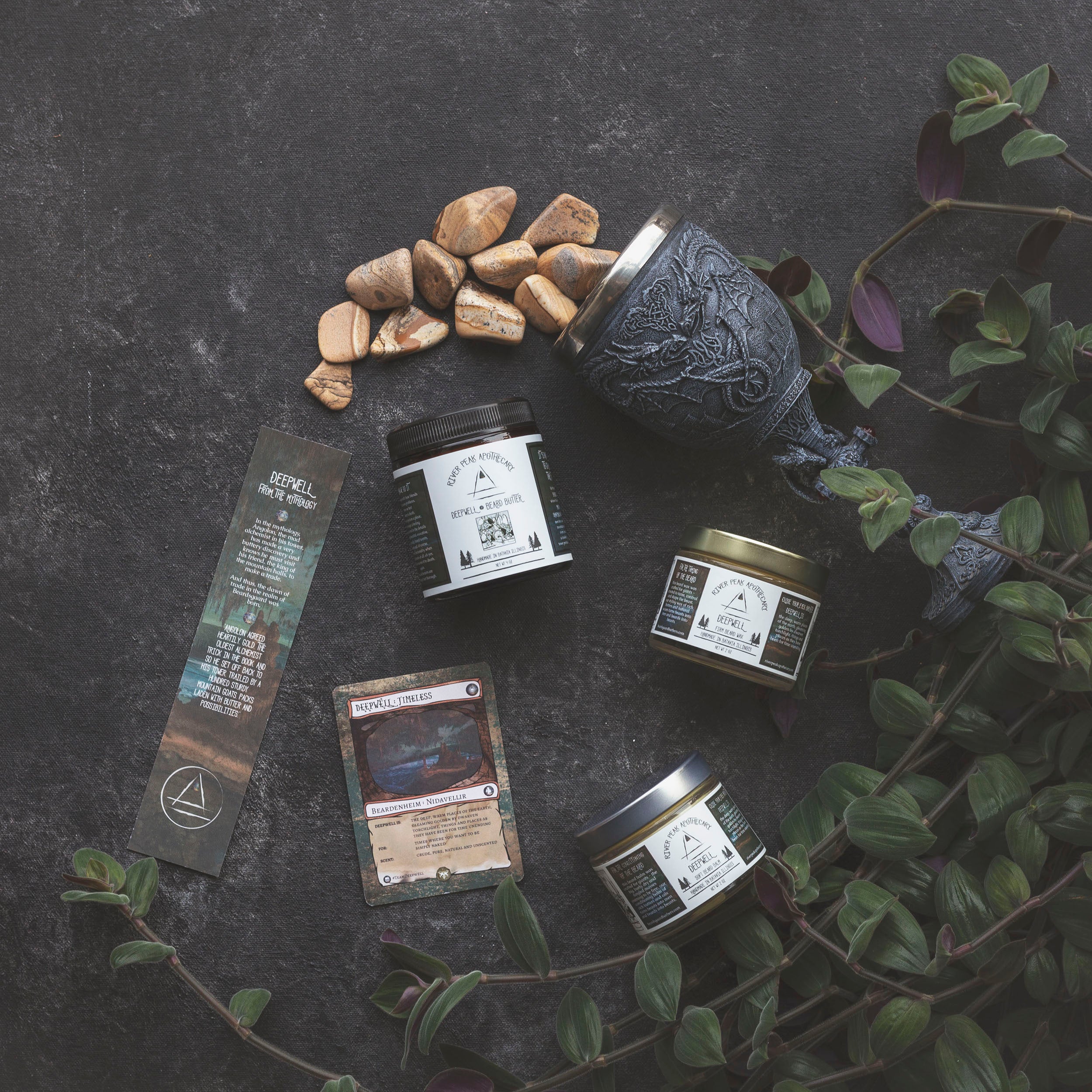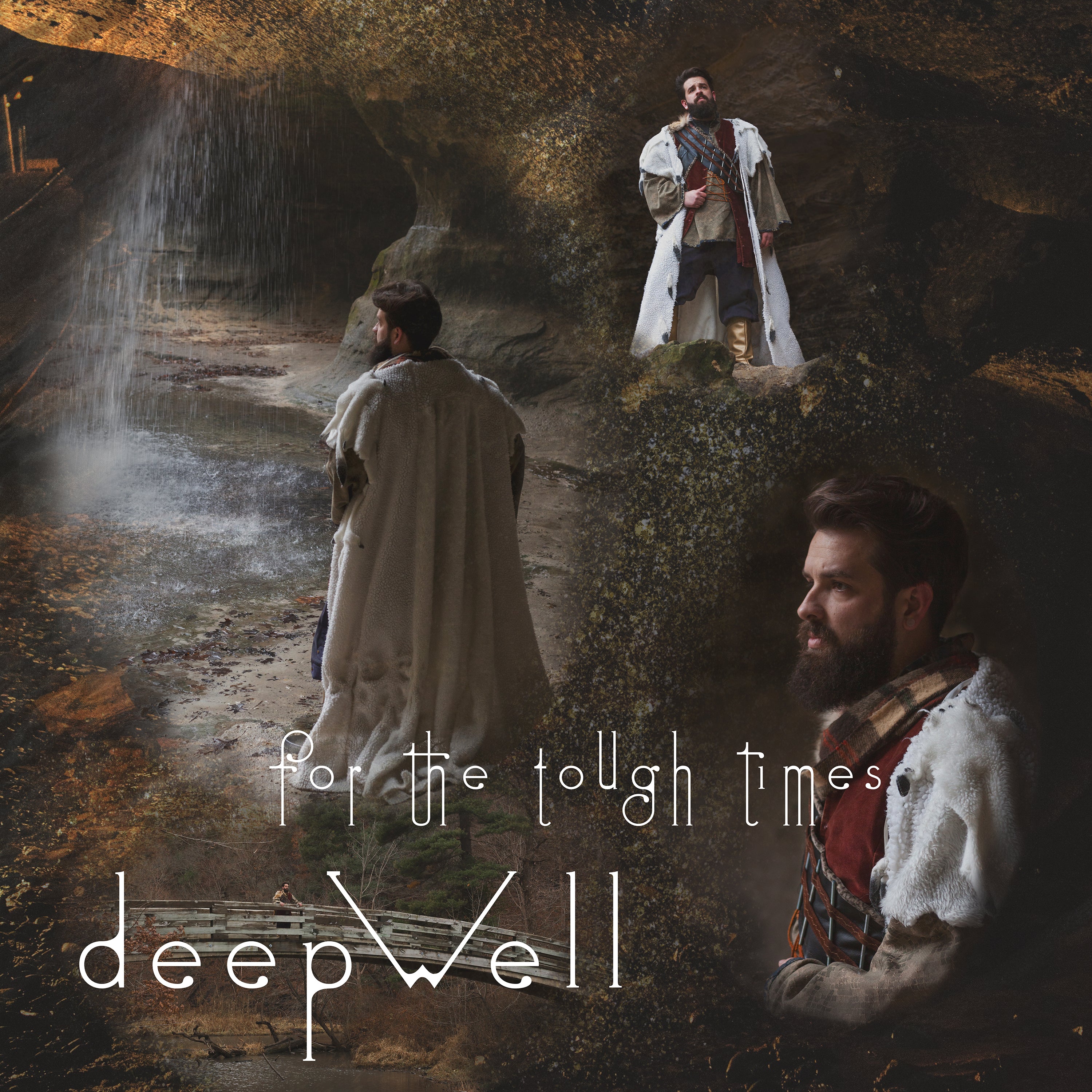 Deepwell • Beard Butter • No Scent Added
$ 22.00
FOR BOTH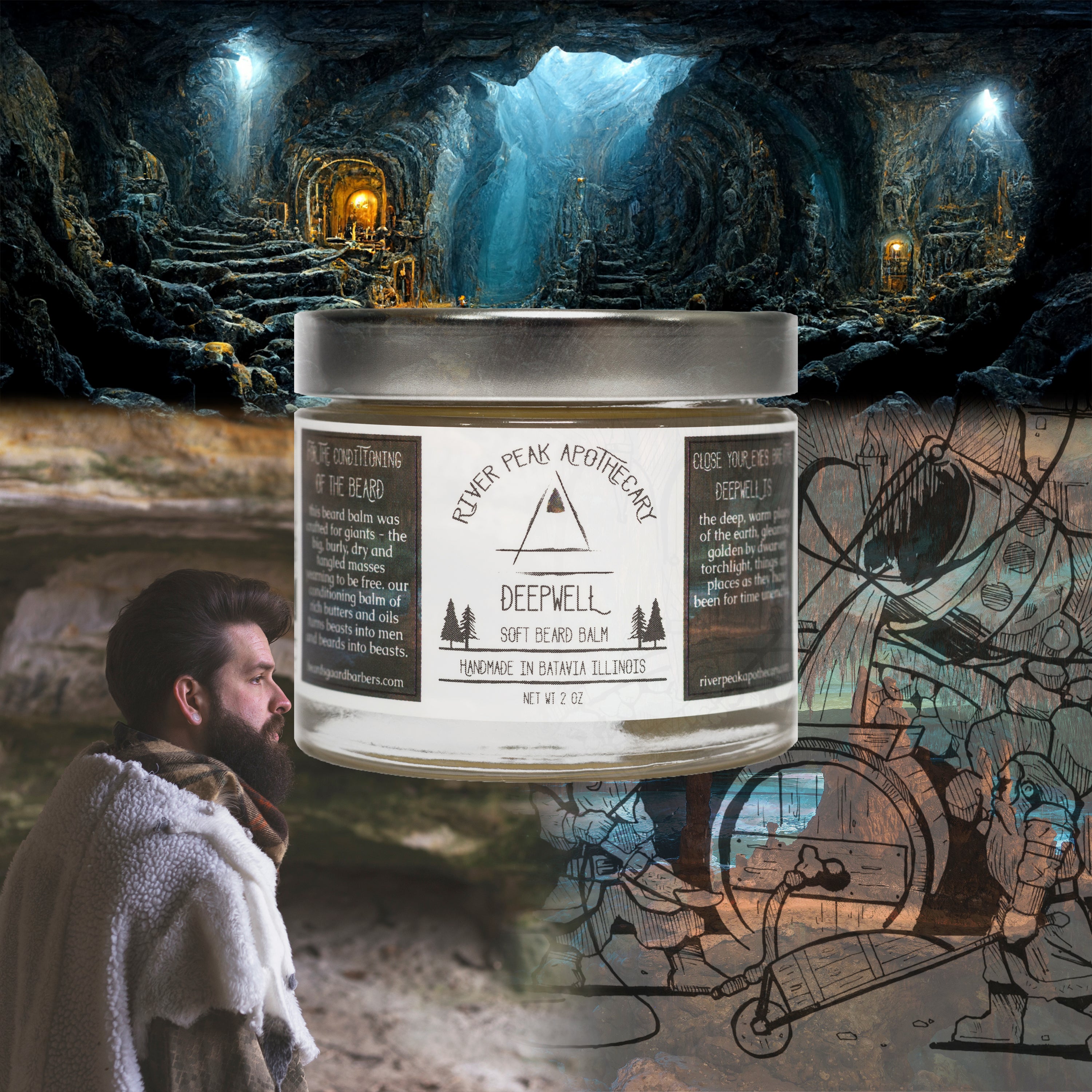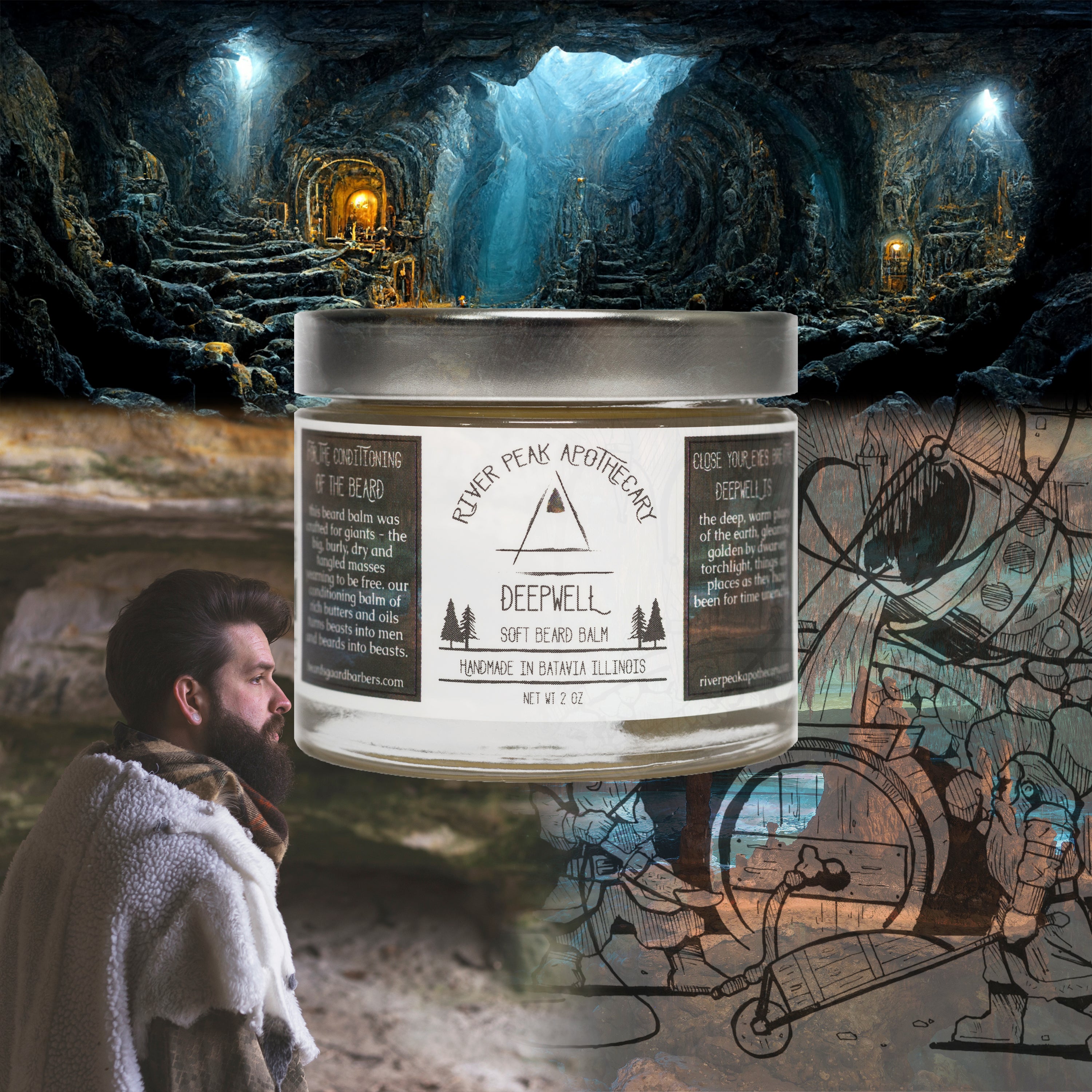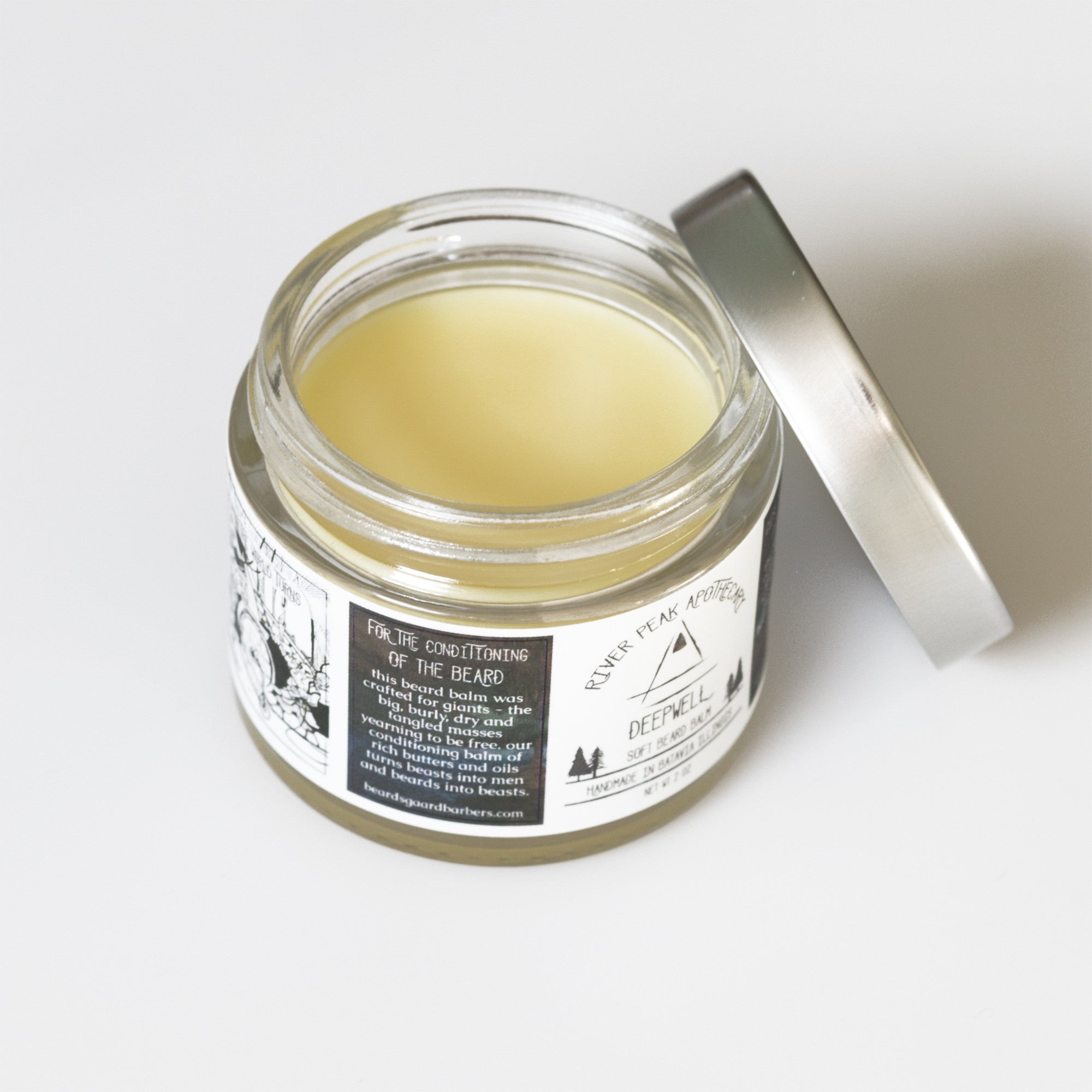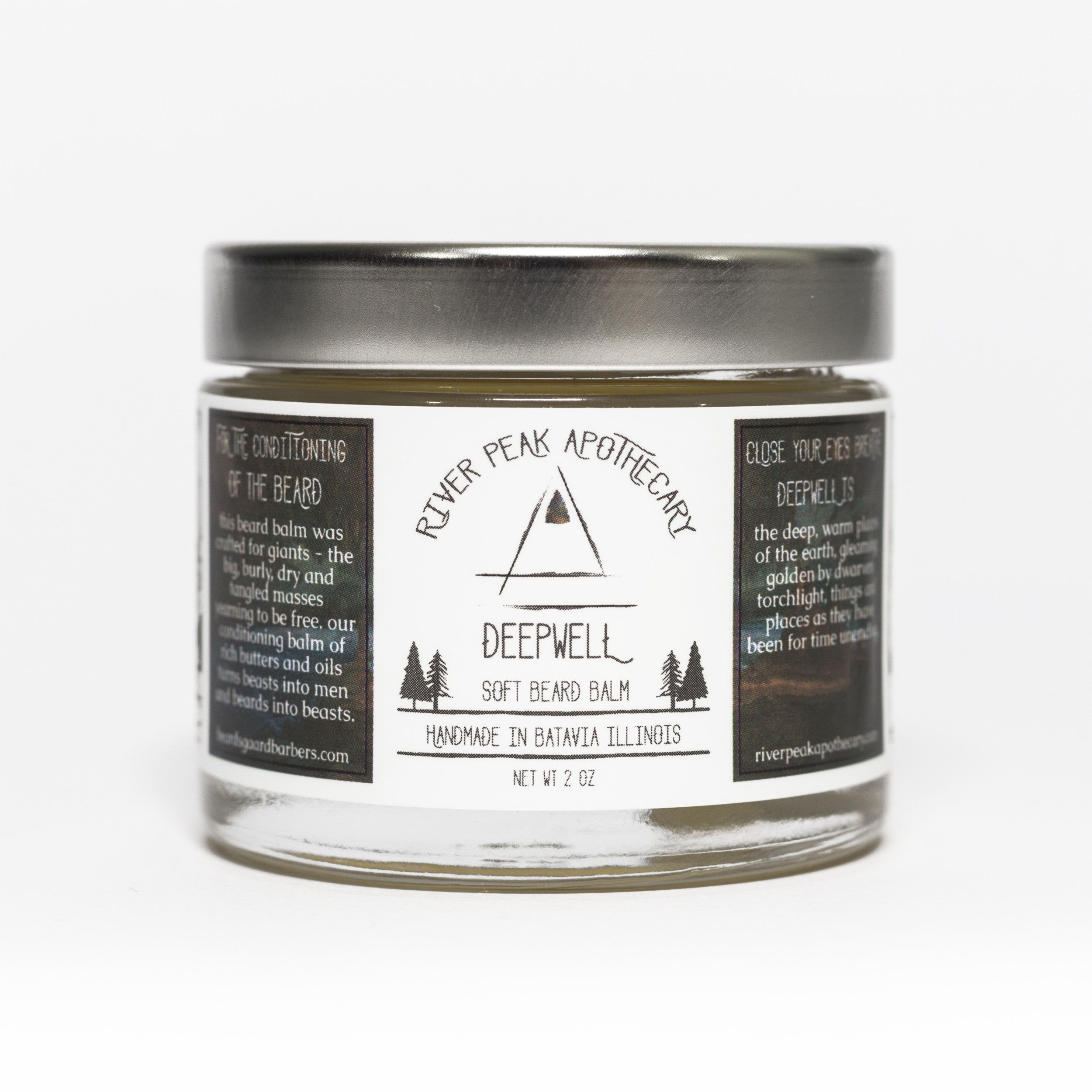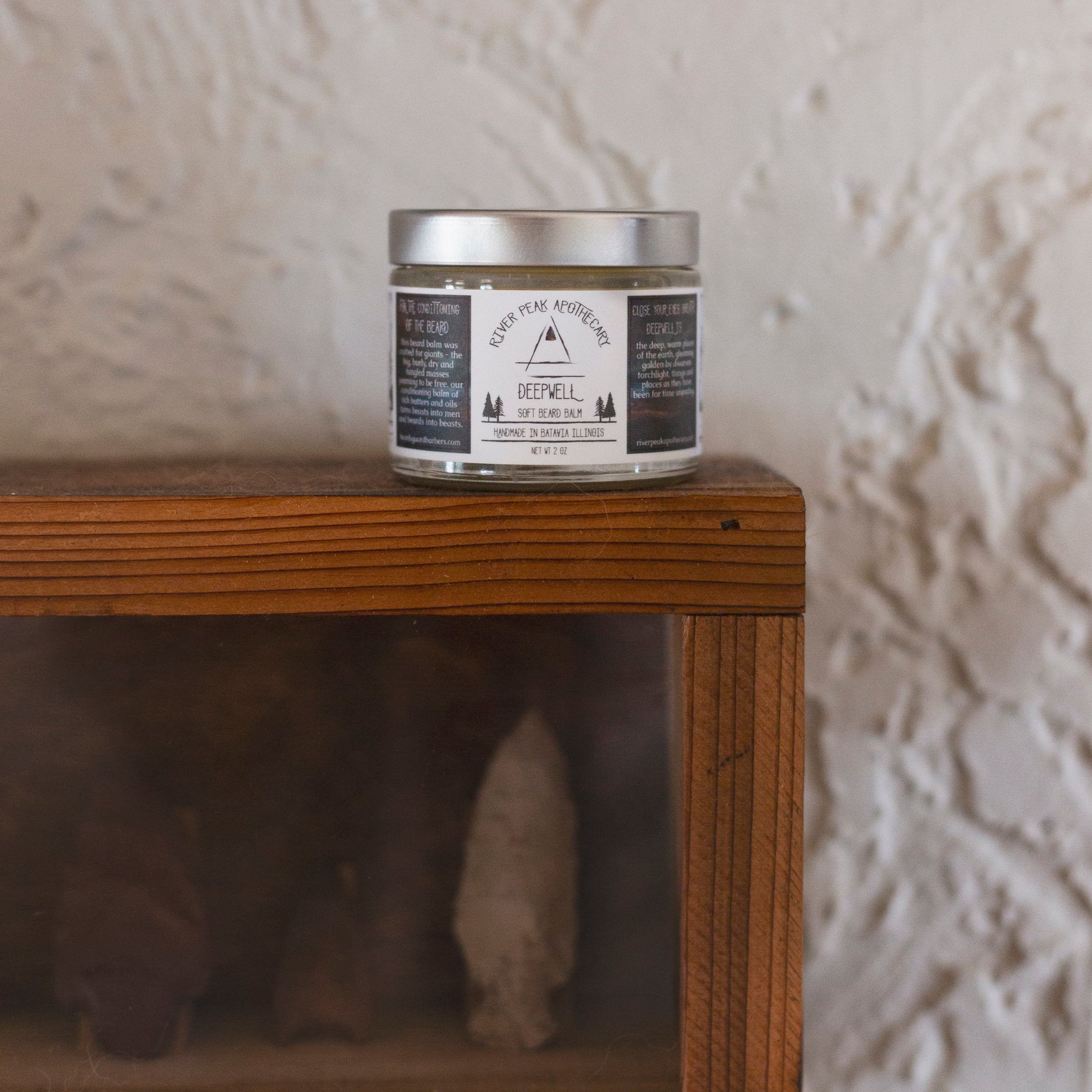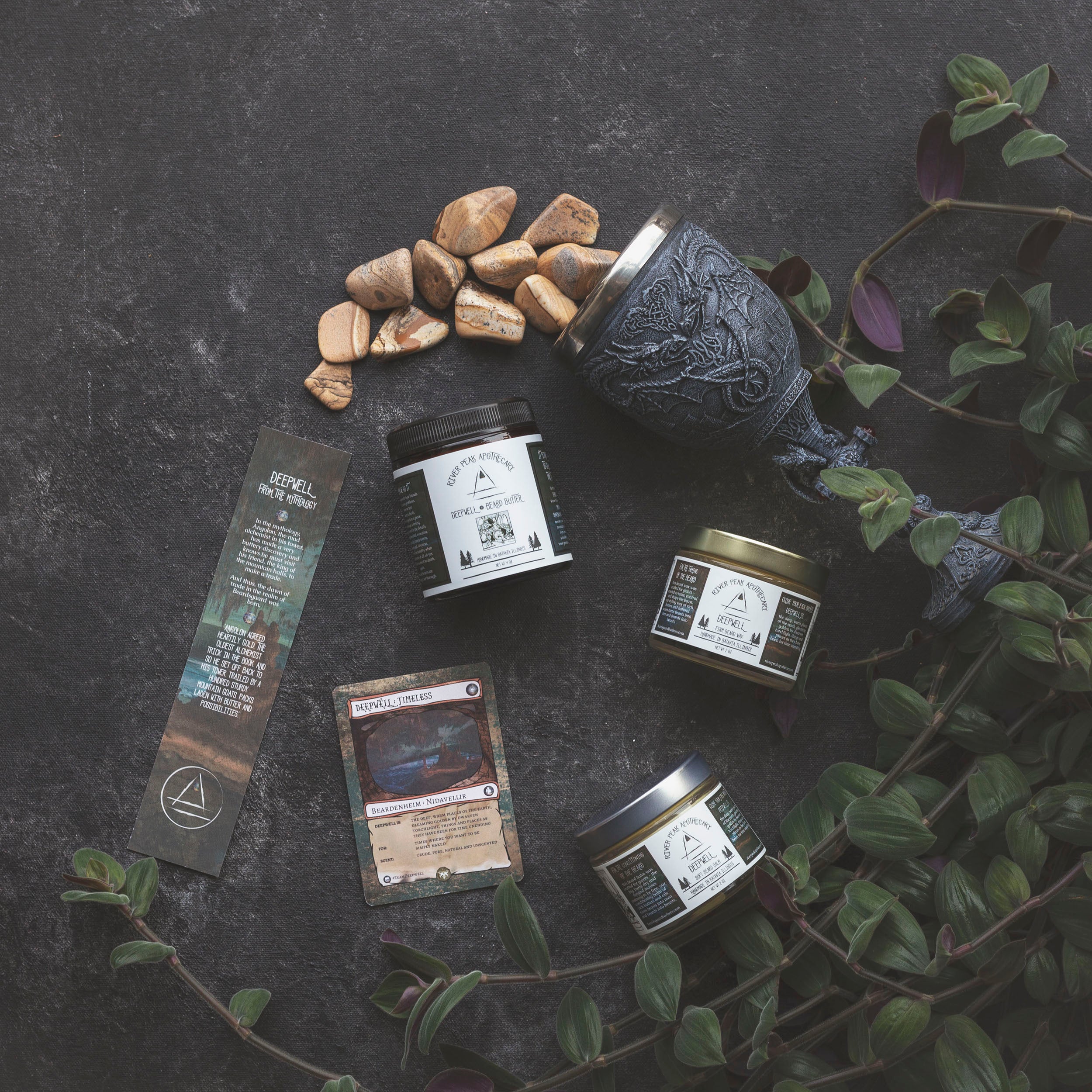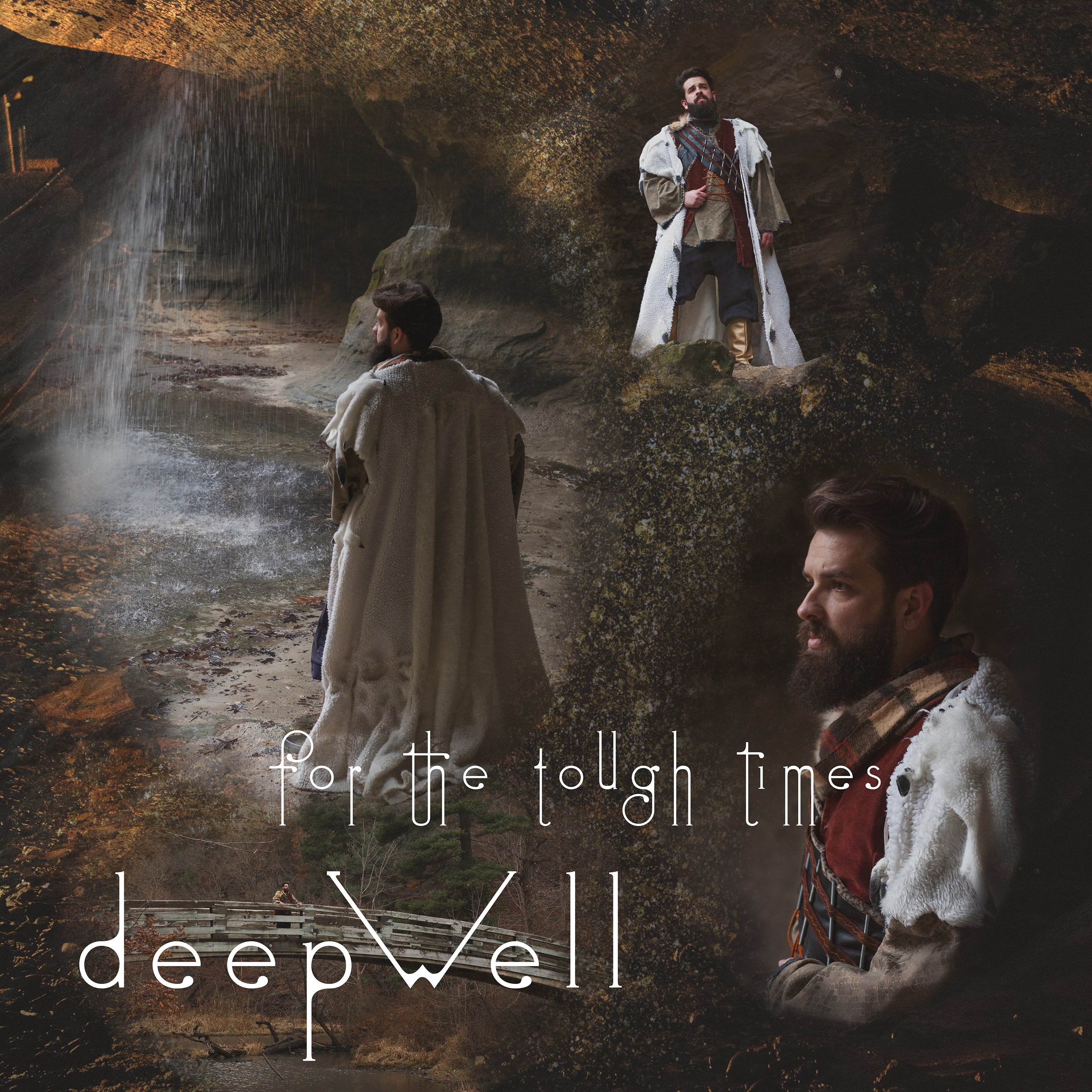 Deepwell Beard Balm • No Scent Added
$ 30.00
FOR CONTROL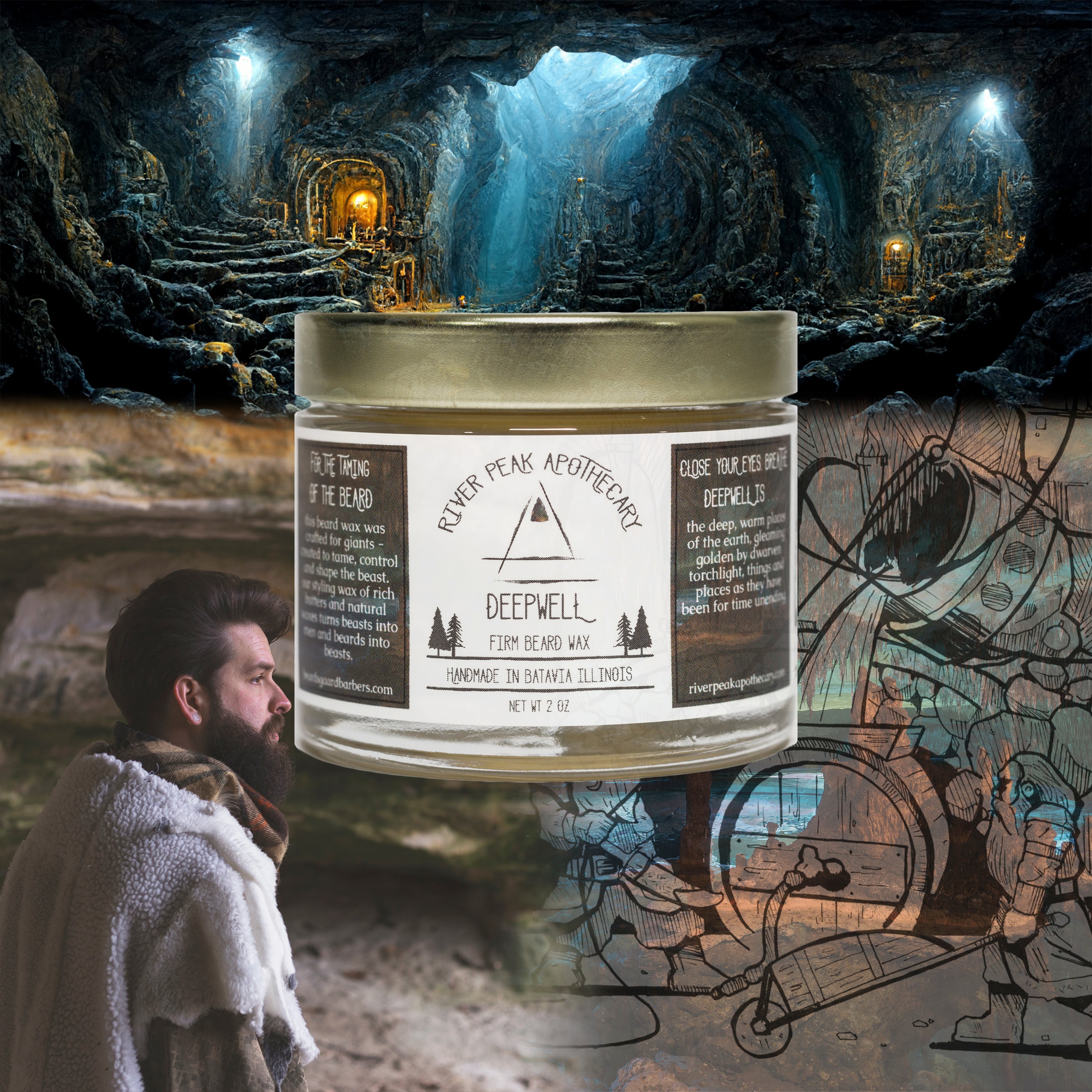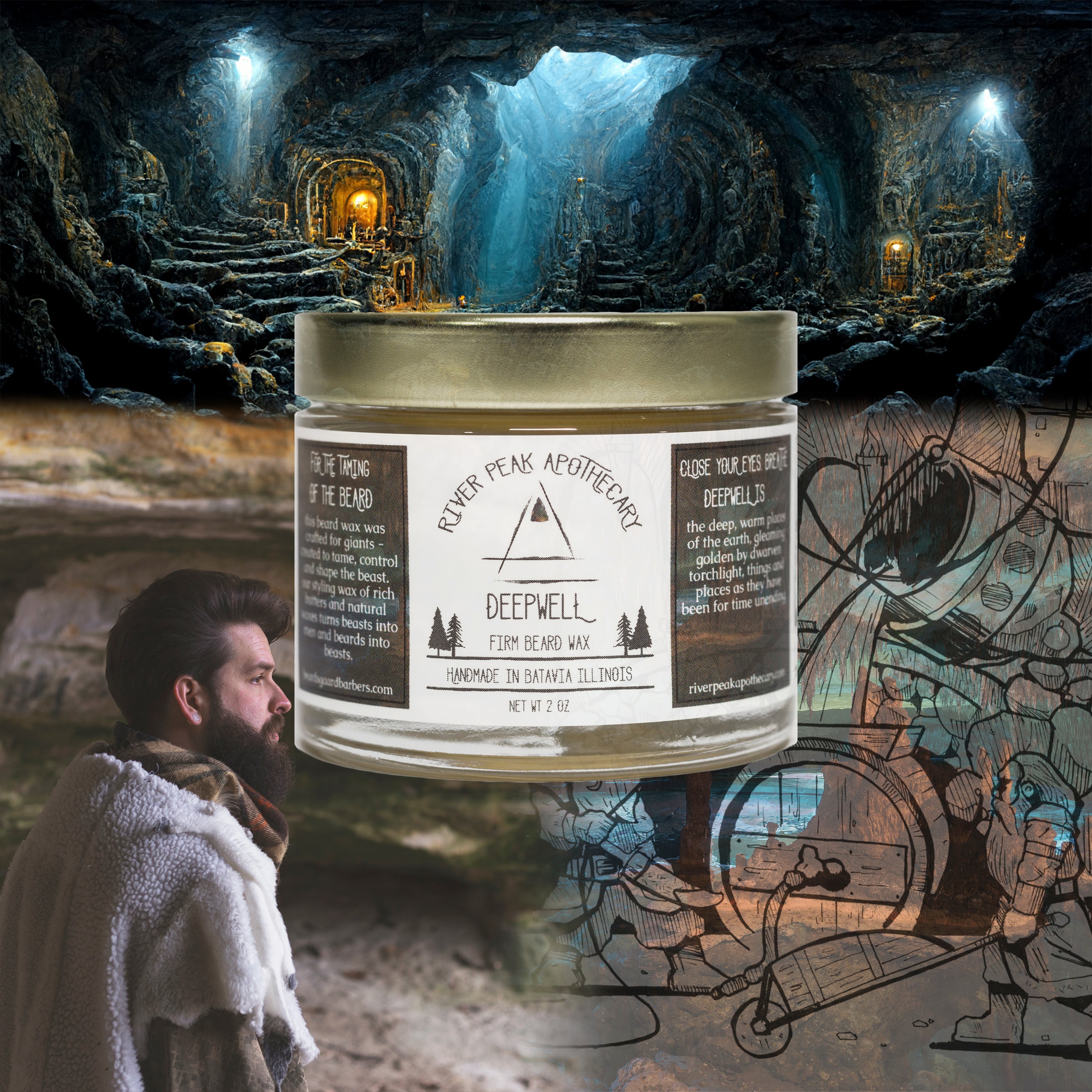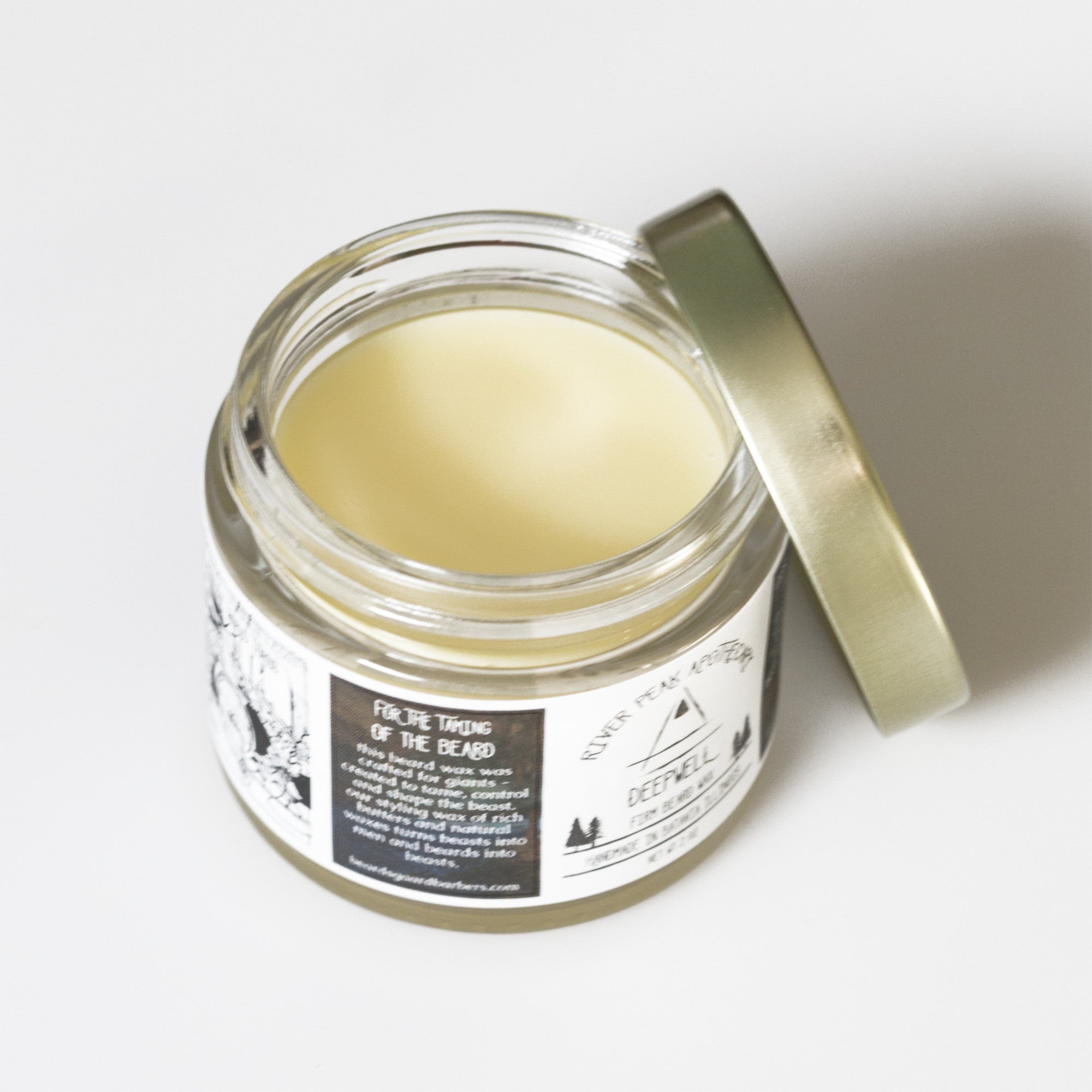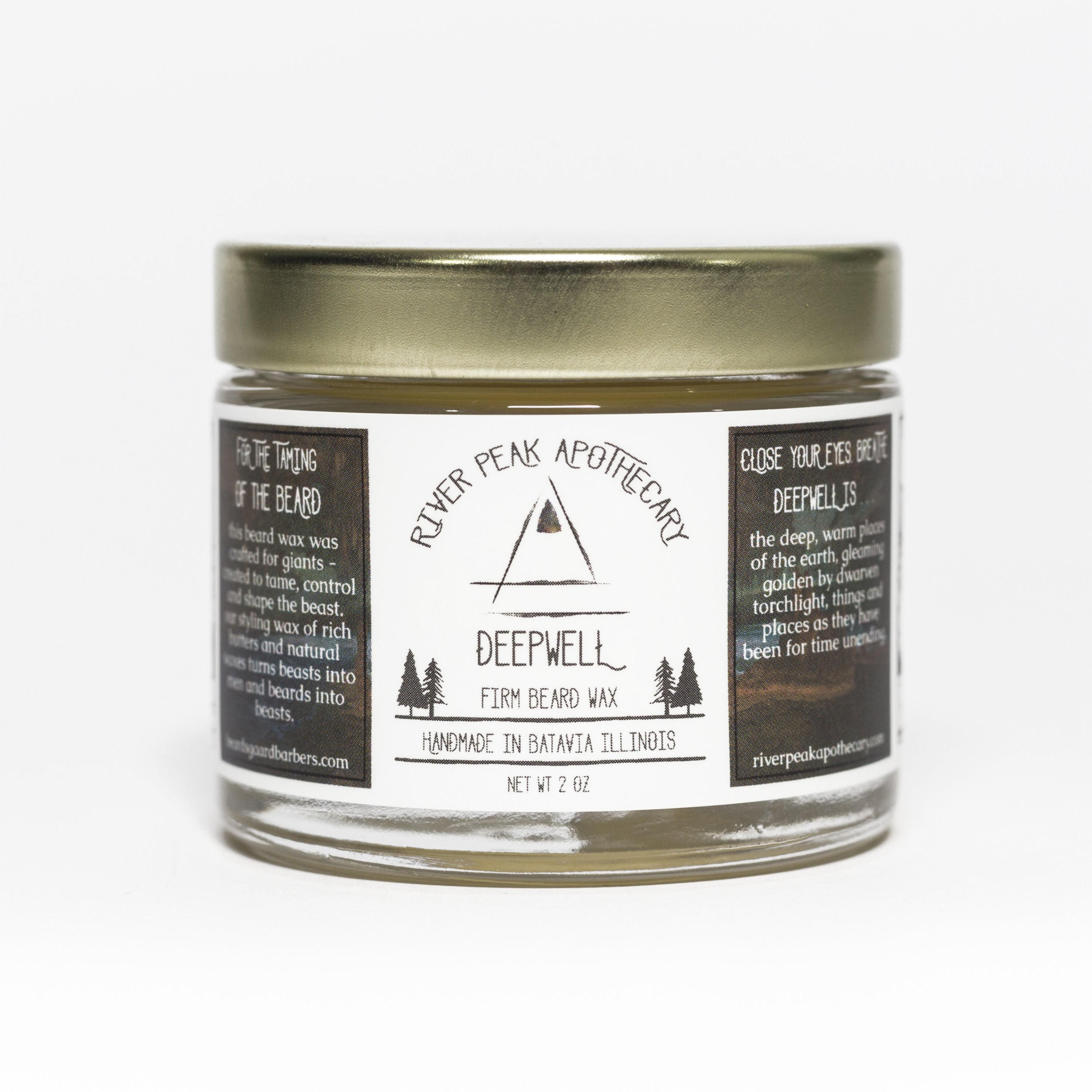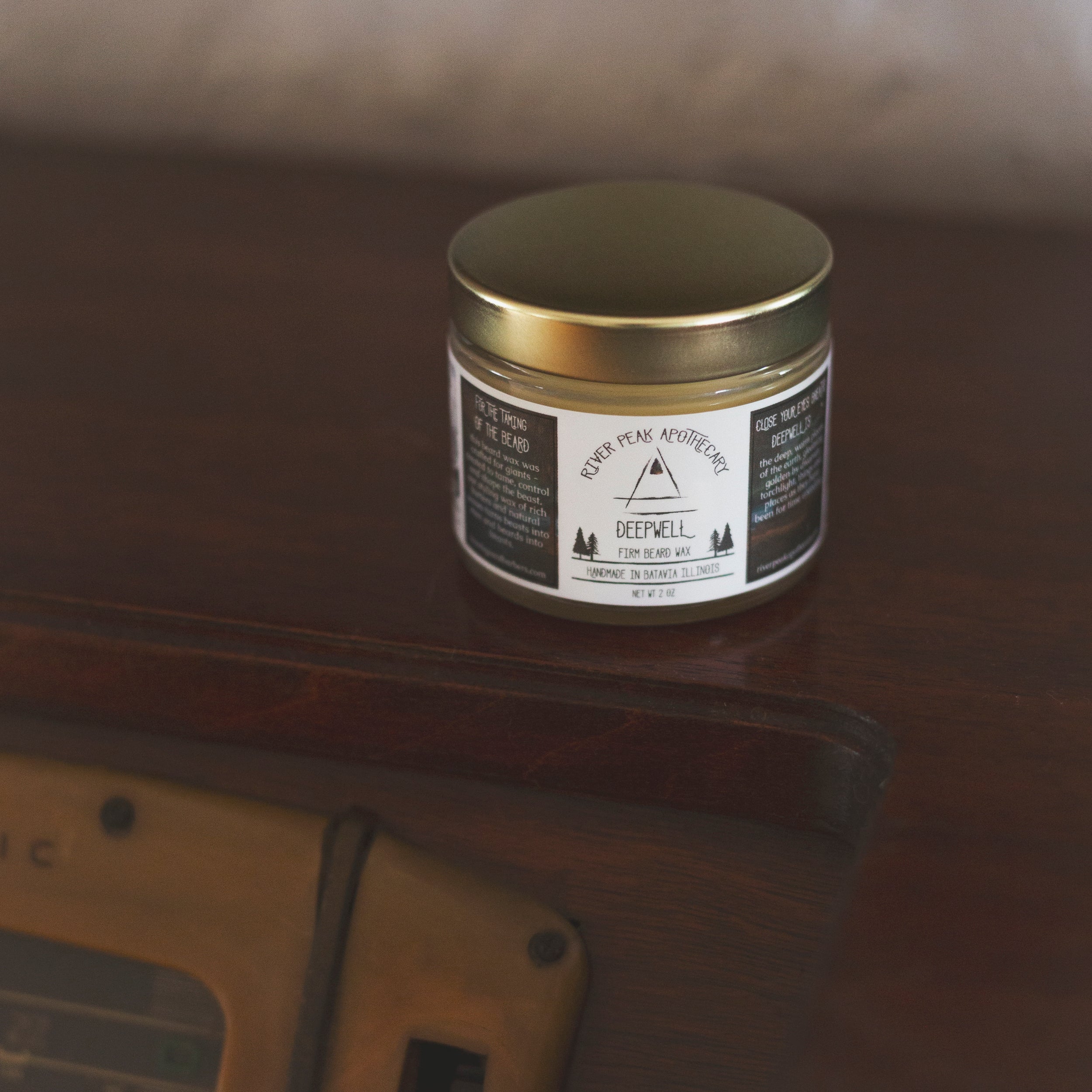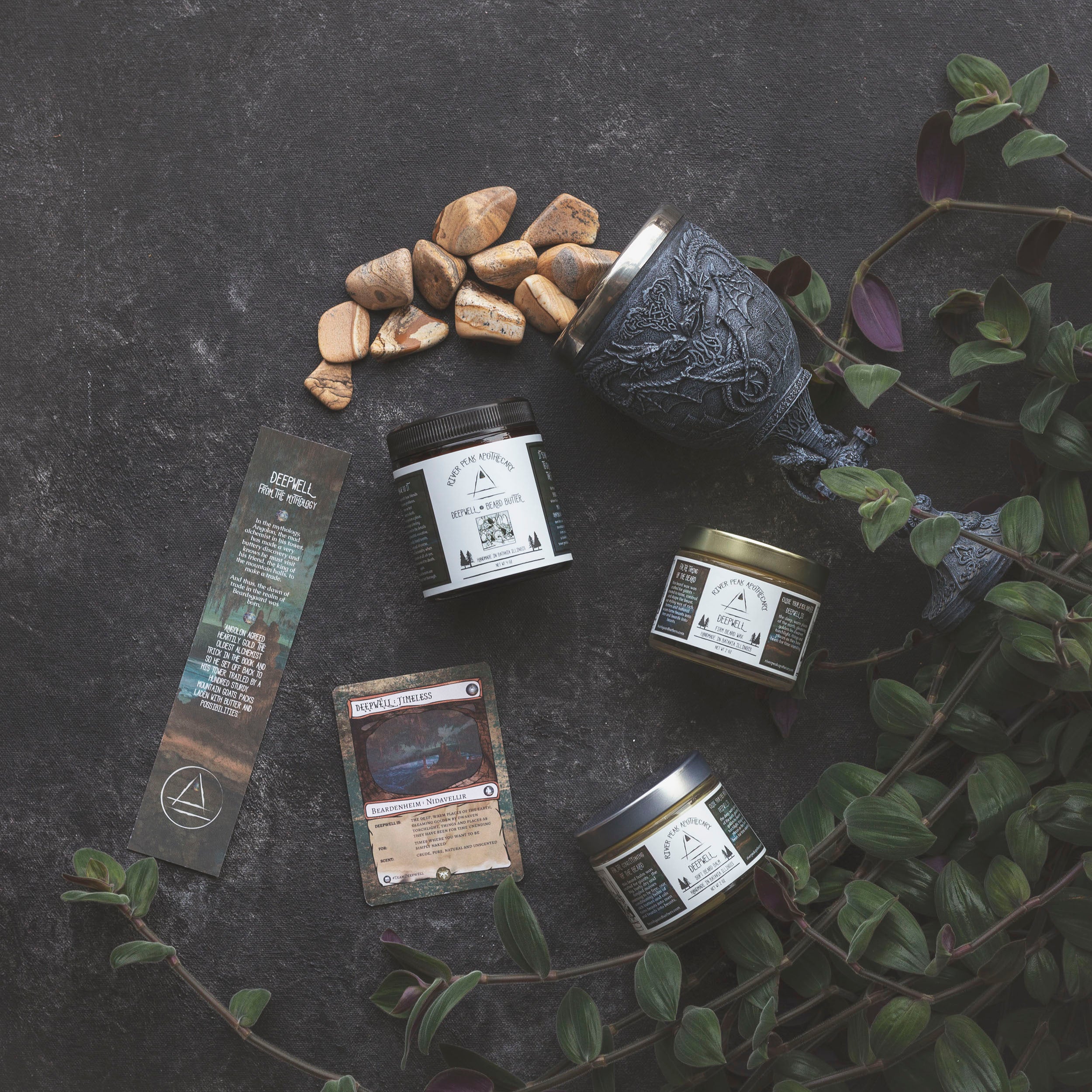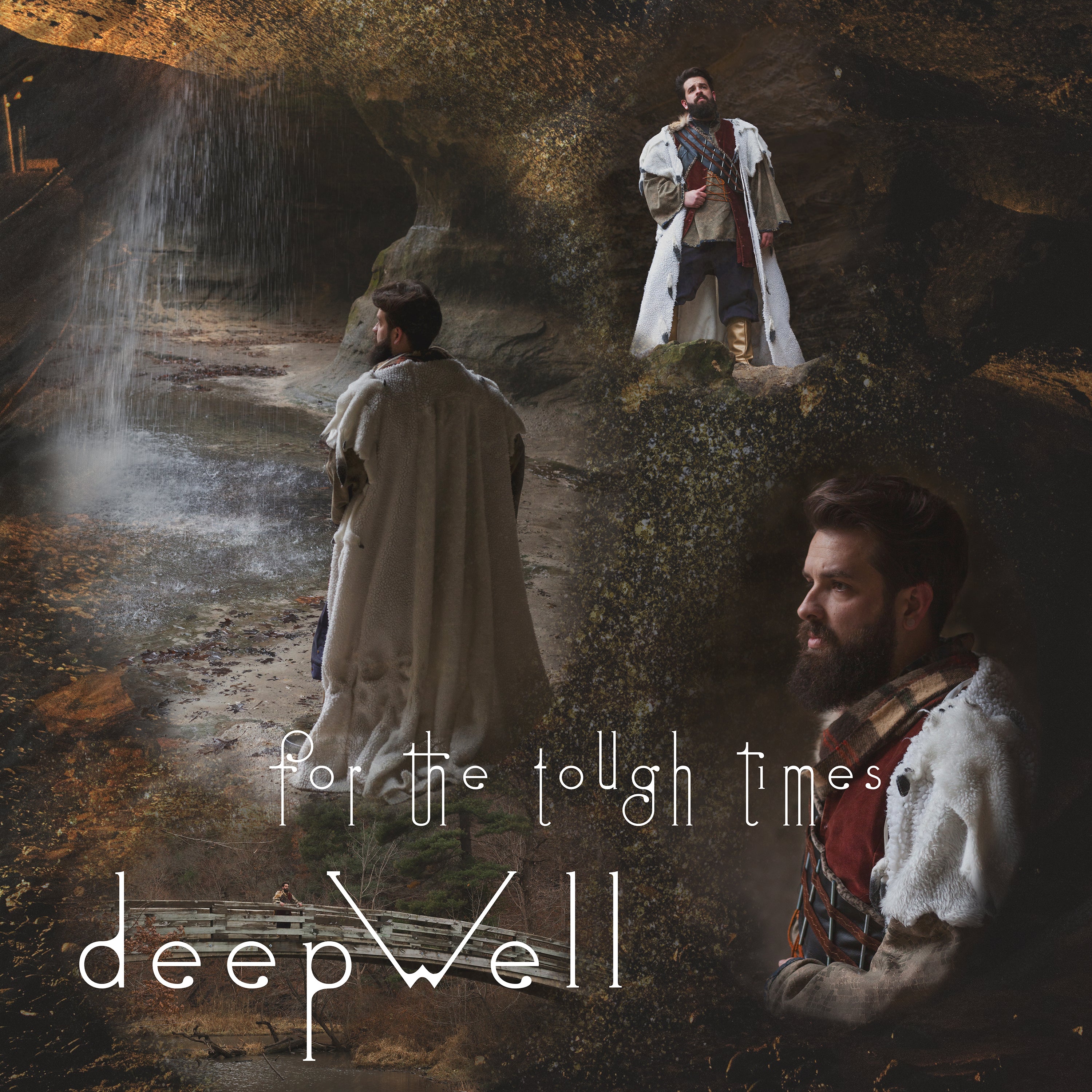 Deepwell Beard Wax • No Scent Added
$ 30.00
FOR INDECISION
THE FACE • THE HAIR • THE MODEL
What happens when you take a particularly goofy barber coworker, drape him in a bunch of rented ferret skins and cloaks, then take him tromping through a state park in the middle of December where you keep passing confused hikers? Way more majesty than the sum of its parts.

We have often joked that we started two businesses to have the excuse to run around in the woods in costumes with camera, buuut, it's only so much a joke.

This is pretty much our favorite part of work, and despite the mud and bugs and sweat and occasional poison ivy, we can't get enough of it.
Location: Starved Rock State Park • Oglesby, Illinois
We always worry about the comfort of our models, but with all those cloaks and furs and layers, Joey may have been dressed more warmly than his photo companions. With a familiar model, a dear coworker of many years, and a familiar location that we can navigate like the back of our hands, the weather was the only real challenge of this shoot.
One of our founders grew up deeply obsessed with Tolkien, and fantasy in general, so the fact that this business is set in a fully mapped fantasy Realm shouldn't be much of a surprise. The fact that said Realm has its own World Anvil might be.
Of course it doesn't end there. It's said that there are no happy endings, because nothing ends. With over 5000 years of history and bloodlines and mythology, we may never run out of stories to tell. Because you may come for the beard oils and scrubs and lip butters and whathaveyou, but you keep coming back for the epic tales of wizards and elves and god-powered, power hungry gerbils.

And three jars of beard butter at a time, because y'all are maniacs.
This is a taste one of those stories...
In the mythology, the first of the product myths written (and a bit simple, so due to be revisited in a followup chapter), the Alchemist Angolon discovers a new use for a natural resource, and the age of trade is born.

As we said, simple.

Mountain butter, as the ore is called, is mined deep under Nidavellir by the dwarves.

In collaboration with the mad wizard, who sports a great tangle of beard, they create a beard dressing that changes the game in the Realm, and a general buttery substance for a great many uses in Nidavellir, the Apothecary and beyond.

With all that detail and lore poured into one season of JUST beard products, you can imagine how much care we put into researching, formulating and making them.

There are far more product launches and lore to come, so be sure to follow along on Facebook, Instagram, YouTube, and now TikTok, sign up for our newsletter at the bottom of the page. We're so glad to have you in the fellowship, fair frand.
FOLLOW US IN THE WEBS OF INTER