River Peak Apothecary
Magewick Shave Oil • Summer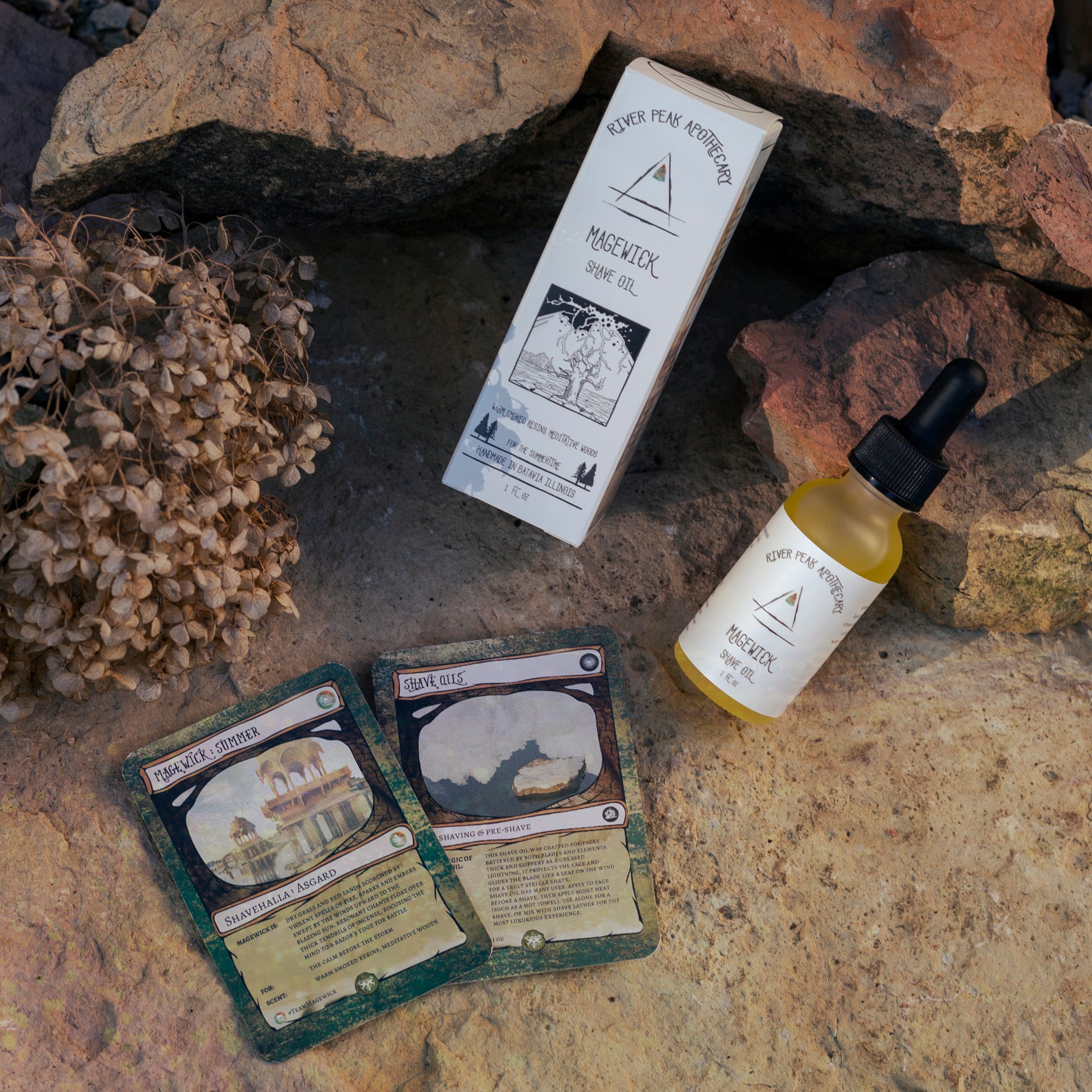 FOR YOUTHFUL & ACNE-PRONE SKIN
Season: Summer
Scent Profile: Warm smoked resins, meditative woods
MAGEWICK IS...Dry grasses and red sands scorched by violent spells of fire, sparks and embers swept by the winds upward to the blazing sun, resonant chants floating over thick tendrils of incense, focusing the mind to a razor's edge for battle.
Benefits: We have never met a beard and shave oil that does both as well as ours do their jobs. This stellar shave oil formula took a dozen barbers 2 years to agree upon, but the wait was worth it. Our shave oil scent blends are made with more purpose than simply good smells. All of Strongfell's essential oils are chosen for their ancient reputations for hostility toward microscopic beastlies, and friendliness toward young, oily, sun-ravaged, and blemish-prone skin
Tips from the Alchemist: Shave oils can be used in a great many stages of your shaving routine. Pick the parts that fit your routine, it can be as simple or involved as you make it, but we at the apothecary encourage you to treat yourself.
How to Use Shave Oil:
Pre-Shave: Apply to face before using a hot towel or other steam source. If desired, follow with a gentle scrub or other exfoliation method for an even closer shave and better finish.
Beard Lining: When you aren't shaving a whole face, try shave oil by itself. Making crisp edges around beards, mustaches or other facial hair is much easier when your shave medium is transparent.
Full Shave: Our barbers are split on the better method here, which tells you both are great options: 1) Apply shave oil, top with shave cream; 2) mix shave cream and oil, especially by dripping half a dropper on top of a shave soap puck before whipping with a badger brush. Perfection.
The Lore: In the Realm, the Isle of Magewick in the Gilded Sea between Muspelheim and Asgard is home to the Temple of Amagwelnaurnen, the finest elemental mage academy in the Realm.
Each of our products bear the names and scents of locations in the fantasy Realm of Beardsgaard, where we of Beardsgaard Barbers go on Dungeons & Dragons adventures every other week. Sign up for our newsletter to find out which locations are coming up in-game so you can experience D&D smell-o-vision on premiere nights!
Read more about the lore of Magewick on World Anvil and catch up on D&D episodes on YouTube.
Essential Oils, CO2s & Absolutes Of: Immortelle, Dark Patchouli, Pink Peppercorn, Calendula, Davana, White Grapefruit, Lemon, Frankincense
Ingredients: *Castor Oil, Grapeseed Oil, Ricebran Oil, Sesame Oil, Jojoba Oil, Avocado Oil, Vitamin E Oil *denotes organic ingredient
How to Use Shave Oil: Shake well (some oils may settle).
Size: 1 oz