River Peak Apothecary
Moonsands Body Butter • Spring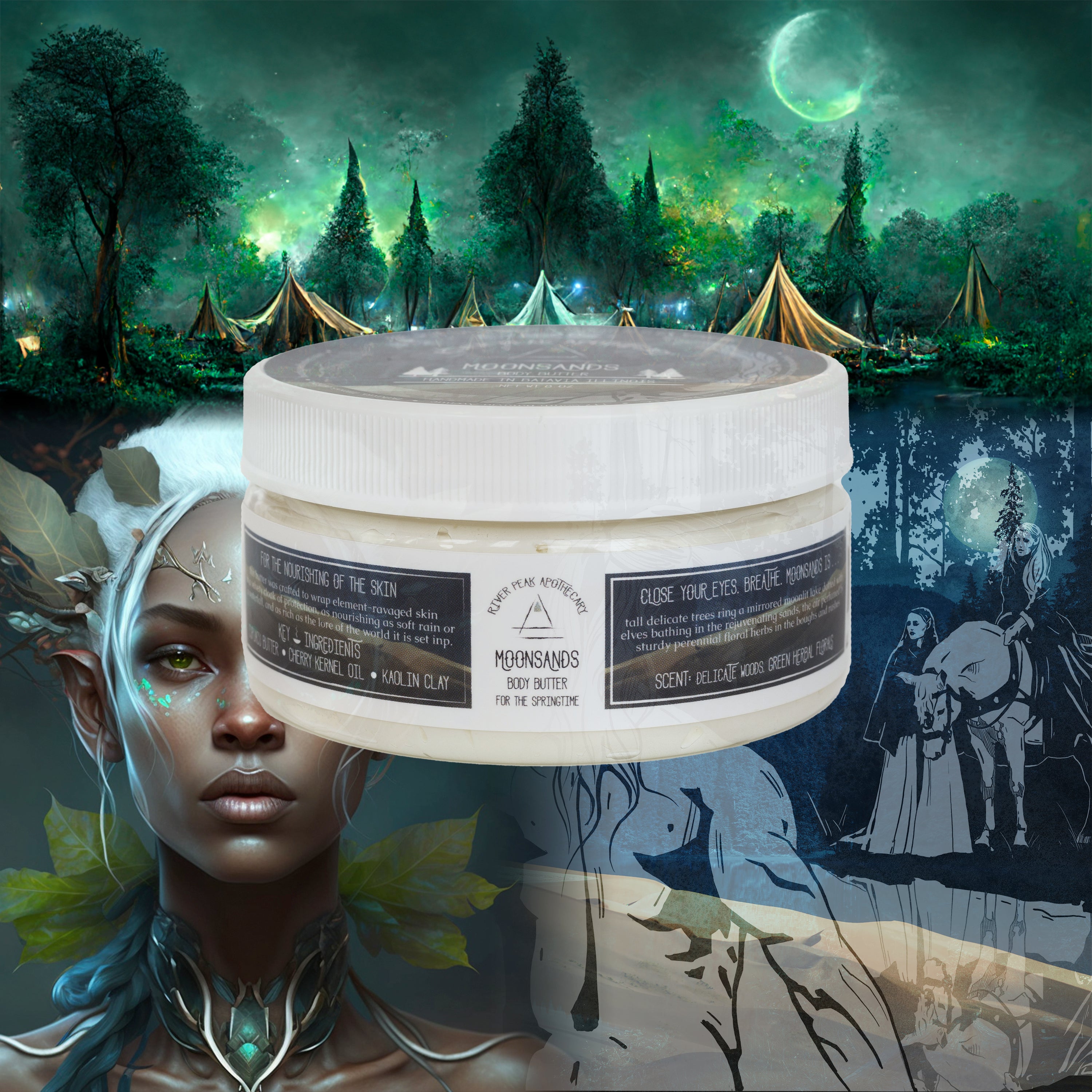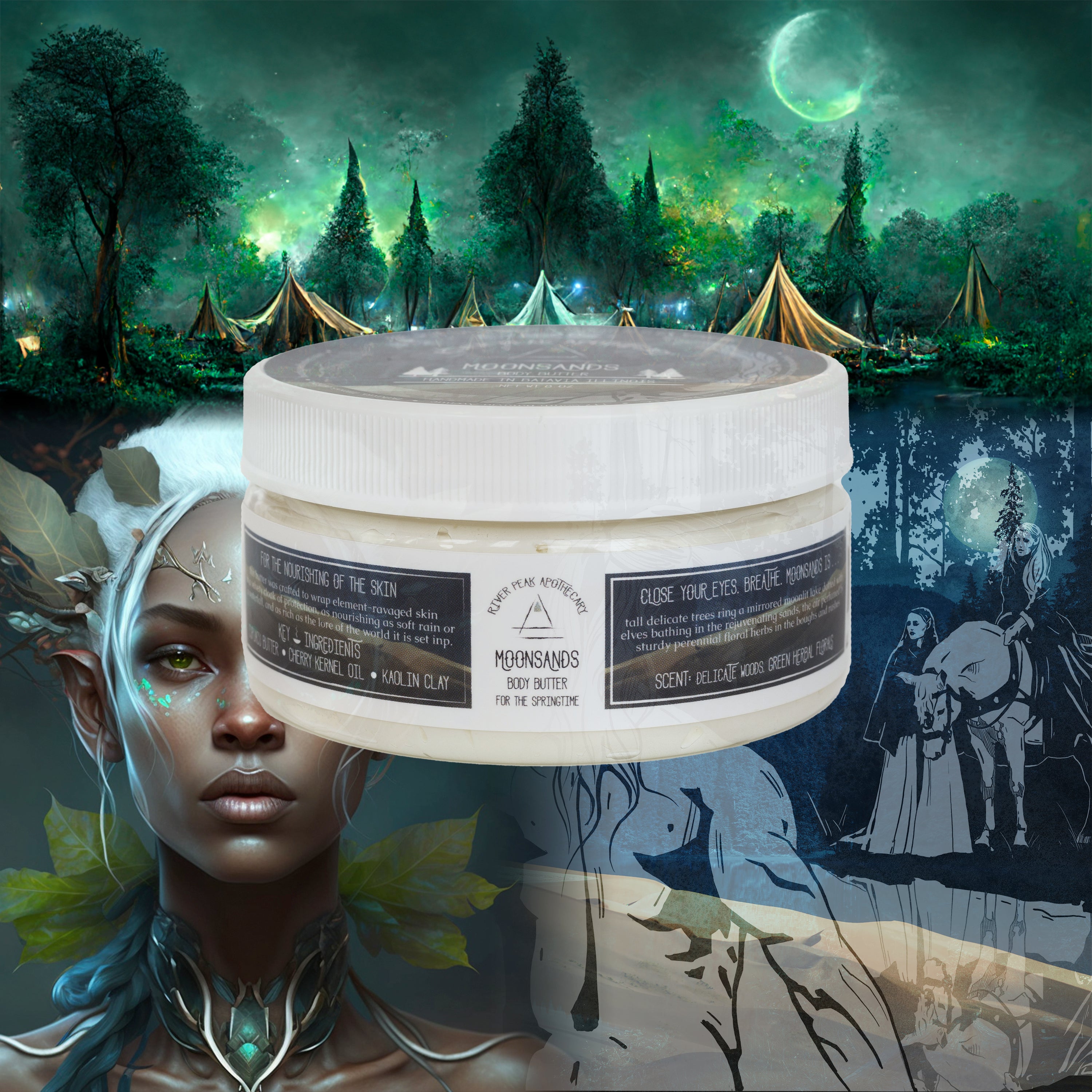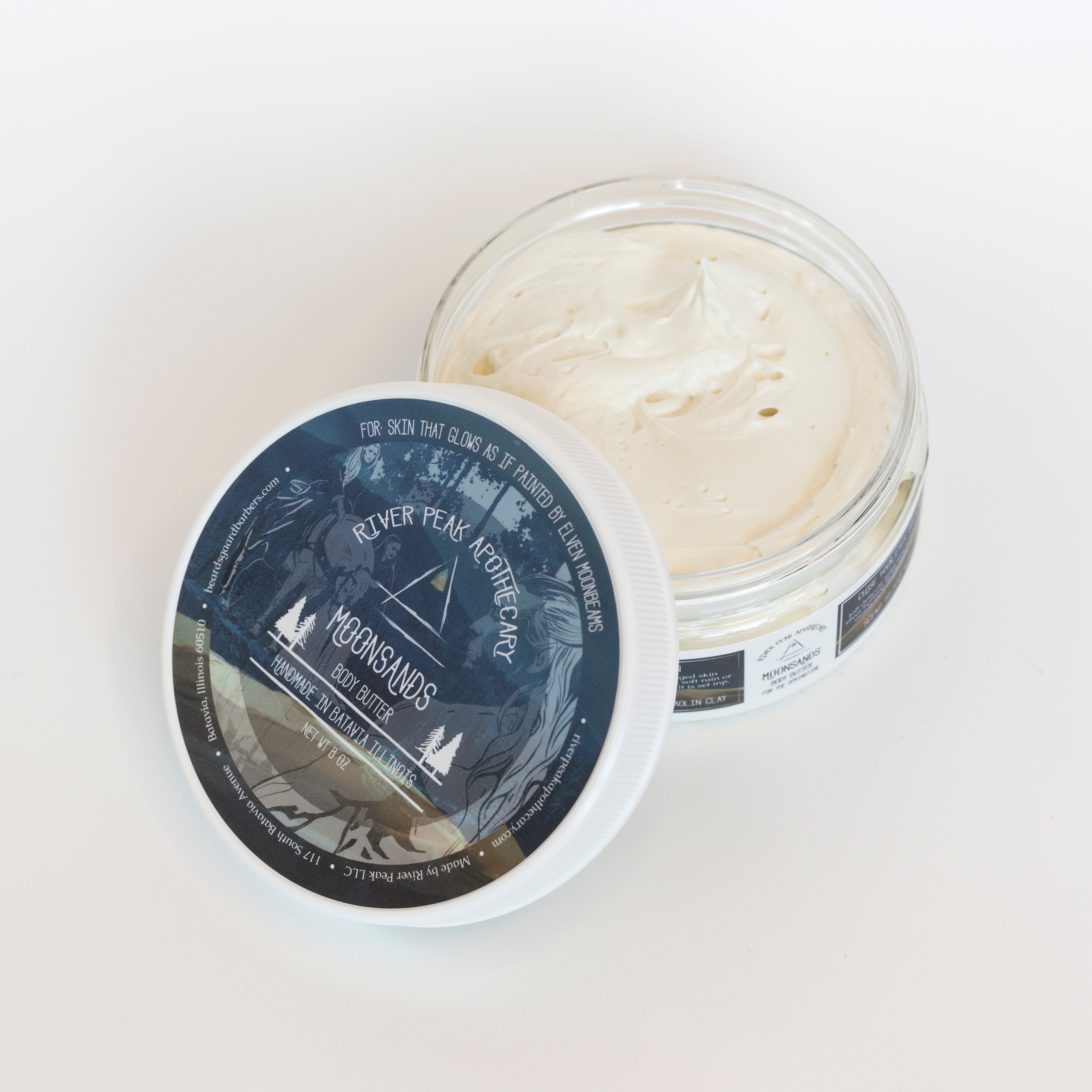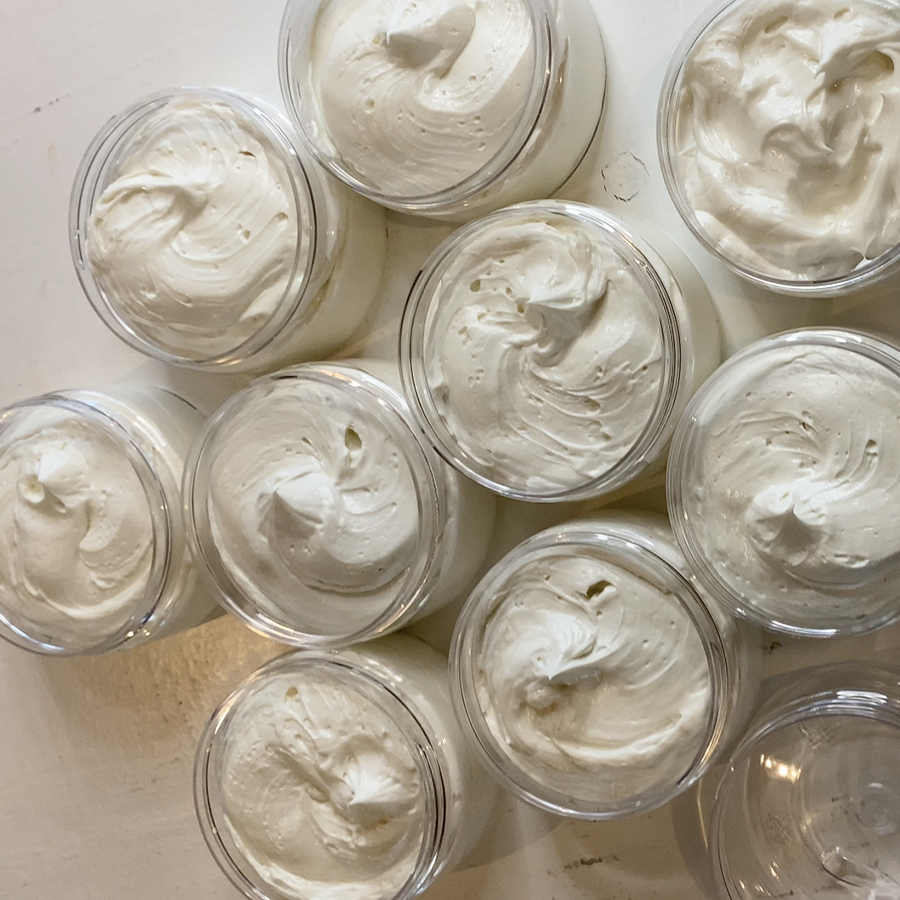 FOR DRY & STRESSED SKIN
KEY INGREDIENTS
Cupuacu Butter • Cherry Kernel Oil • Kaolin Clay
Season: Spring
Scent Profile: Delicate woods, green herbal florals
MOONSANDS IS...Tall delicate trees ringing a mirrored moonlit lake dotted with elves bathing in the rejuvenating sands, the air perfumed by sturdy perennial floral herbs in the boughs and rushes.
Benefits: Whipped butters are what made our name, but unlike beard butter, these are for anyone with skin. With carefully chosen oils and butters, each formula is unique to its season's skin concerns, plus a pinch of clay for color, and to absorb just enough oil to leave your skin protected and silky smooth once the butter absorbs fully.
This particular body butter is crafted from Cupucau Butter for skin suppleness and elasticity, and Cherry Kernel Oil, rich in Vitamin A and lovely for large pores. Kaolin Clay whisks away excess oil and leaves a satiny smooth finish, for skin that glows as if painted by elven moonbeams.
How to Use Body Butter: For best results all over, use just after bath or shower before drying. melt desired amount between hands and pat over body before rubbing butter and water into skin. For extra rough spots, apply more to dry skin.
Tips from the Alchemist: We research all our ingredient melt points and calibrate our whipped butter blends to be able to take a bit of warming without melting, but you don't get a texture like this without a little fragility. Keep in a cool, dry place out of direct sunlight.
The Lore: In the Realm, the Moonsands Festival Grounds in the elven lands of Alfheim is the ancient site of an annual sexy elven party on the shores of a moonlit lake.
Each of our products bear the names and scents of locations in the fantasy Realm of Beardsgaard, where we of Beardsgaard Barbers go on Dungeons & Dragons adventures every other week. Sign up for our newsletter to find out which locations are coming up in-game so you can experience D&D smell-o-vision on premiere nights!
Read more about the lore of Moonsands on World Anvil and catch up on D&D episodes on YouTube.
Essential Oils, CO2s & Absolutes Of: *Atlas Cedarwood, *Petitgrain Sur Fleurs, Lavender Maillette, Clary Sage, Hinoki Wood, *Geranium
Ingredients: Soy Butter, *Shea Butter, Cupucau Butter, Grapeseed Oil, Cherry Kernel Oil, Kaolin Clay, (Vegetable Oil-Derived Emulsifier: Cetearyl Alcohol, Sodium Cetearyl Sulfate) *denotes organic ingredient
Size: 8 oz
Please Note: Due to the low melting temperature of this product, the original texture may not survive summer shipping intact, and we cannot be held liable for melting that occurs in the postman's truck. If you don't want to risk it during the hot months, choose Moonsprings Sugar Scrub instead for in-shower skin buttering. If this product does melt, return to room temperature and whip with a fork to restore (see how here). Either way, it still works beautifully.